Liam Fox's International Trade department is not fit to secure post-Brexit deals, warns report
Watchdog warns it 'has not yet defined the range of capabilities and level of capacity it will require to undertake its role in delivering an independent UK trade function'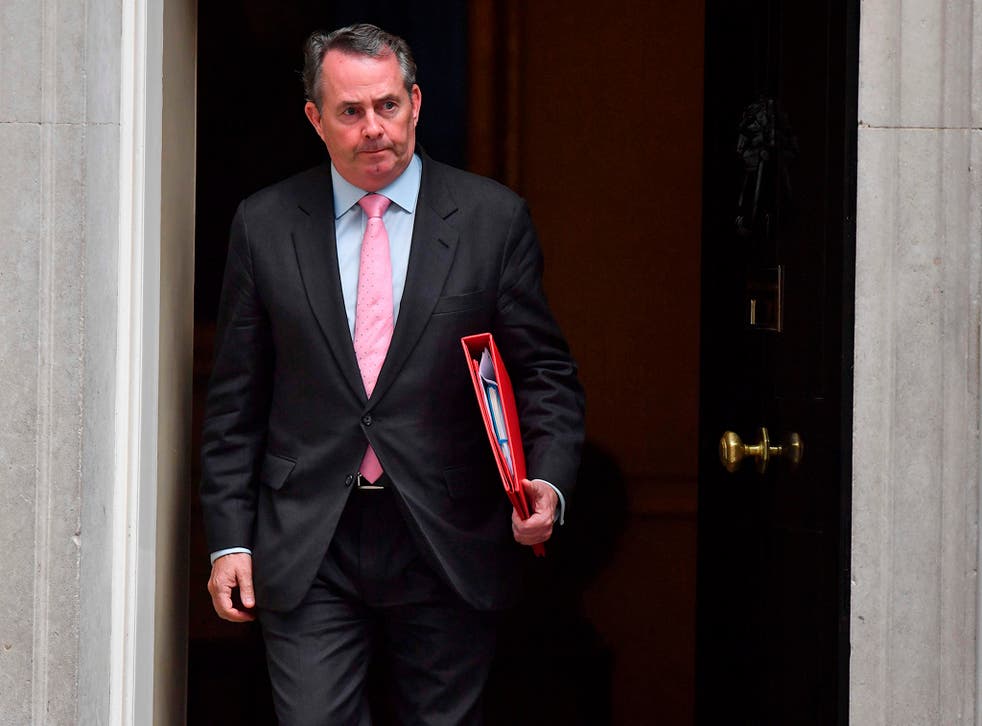 The department charged with securing trade after Brexit is not fit for the role and has been forced to delay projects as it struggles with a skills shortage, a damning report warns today.
Liam Fox's running of the Department for International Trade (DIT) is criticised for failing to even properly set out the "capabilities and level of capacity" it will need to deliver for British business.
The National Audit Office (NAO) also raises fears that DIT will never secure the "specific trade and negotiation skills" required, because of rapid turnover in the civil service.
What was described as a "deeply worrying" report is published after Wilbur Ross, Donald Trump's Commerce Secretary, placed further hurdles in the way of future trade talks by describing the US as a victim of a global trade war.
The rest of the world should expect more tariff hikes from Washington in retaliation, he warned – after the US imposed tariffs of up to 50 per cent on imports of washing machines and solar panels from China and South Korea, Mr Ross said.
"Trade wars are fought every single day," Mr Ross, speaking at the World Economic Forum in Davos, said. "And, unfortunately, every single day there are also various parties violating the rules and trying to take unfair advantage.
Liam Fox: No deal on Irish border until EU leaders agree "end state" of UK/EU trading arrangements
"So, trade wars have been in place for quite a little while; the difference is the US troops are now coming to the ramparts."
The warning comes amid a transatlantic trade dispute after the US government imposed a 219 per cent tariff on a new model of passenger jet built by one of Northern Ireland's biggest employers, Bombardier.
Brexit: the deciders

Show all 8
A Downing Street spokesman declined to say whether the fears of growing US protectionism would be raised in talks between Mr Trump and Theresa May in Davos, to take place on Thursday.
He told The Independent the UK's aim for a trade deal with the US "has not changed", adding: "We want to strike a broad deal that's in the interests of both countries."
The NAO study is a further blow to Brexiteer boasts that Britain will enjoy a trading boost when Brexit is completed and the Government is free to strike its own trade deals across the world.
Instead, the head of the powerful Commons Public Accounts Committee, which shadows the NAO, said it was a "deeply worrying" picture of missed deadlines and an inability to recruit top trade negotiators.
"Failure to get the right trade deals in place from day one of Brexit could mean higher prices, lost jobs, and companies going out of business," Meg Hillier said.
"So, it is deeply worrying that the NAO's report says DIT is already behind schedule, and it is not clear how it will be able to get the negotiators it needs.
"The Department urgently needs to talk to British businesses and work out how to help them secure their future after we leave the EU."
The NAO report follows repeated criticism that Dr Fox has failed to sign up experienced negotiators, who have instead been poached by the EU – ahead of its trade talks with the UK.
EU trade deal after Brexit like trying to 'blow up a bridge without bankrupting yourself', warns negotiator Cristophe Bondy
Last year, The Independent revealed that, when asked to list how many experienced trade professionals it employs, DIT – set up when Theresa May came to power, in 2016 – could list only one.
Just months after the Brexit vote, Dr Fox accused British business of failing to prepare for the new trade deals he would negotiate and for becoming "too lazy and too fat" on previous successes.
Now the watchdog has warned the department has "put back some of its delivery milestones as the timetable for legislation and the overall negotiation process has moved on".
It raised the alarm that the civil service model, which sees staff move every few years, is "not best suited" to developing specific trade and negotiation skills, with a "premium" on recruiting outside staff.
"Considerable work will need to be done to build skills that have not existed in government for a generation," the NAO said.
Last month, The Independent reported 140 key posts were unfilled in the Brexit department as the UK enters the crucial second stage of negotiations with the EU.
The vacancies - almost one in four of the posts at the Department for Exiting the European Union (DExEU) - led Labour to criticise the department as "utterly disorganised" and running an "underpowered" Brexit operation.
A review by the Infrastructure and Projects Authority (IPA) had found that DIT's trade policy group did not "dock" with the department and "needed to better align its policy and delivery strategies".
Most alarmingly, the NAO said: "DIT has not yet defined the range of capabilities and level of capacity it will require to undertake its role in delivering an independent UK trade function."
DIT had applied for extra Treasury cash, but, the NAO noted: "As yet, there is no final cost associated with DIT's role in EU exit."
Meanwhile, DIT defended its progress in preparing the department for Brexit, saying: "Overall, our plans are on track and we have met every EU exit delivery milestone to date.
"This is not slippage. We have deliberately adjusted some downstream work strands as a result of the changes to the EU exit negotiation timetable."
Join our new commenting forum
Join thought-provoking conversations, follow other Independent readers and see their replies