Lib Dem Conference: Coalition Government could come to early end before 2015 general election, says Vince Cable
Business Secretary claims he could walk out of the Government if his colleagues allowed the Conservatives to pursue policies that crossed his personal 'red lines'
Nigel Morris
,
Oliver Wright
Tuesday 17 September 2013 09:42 Comments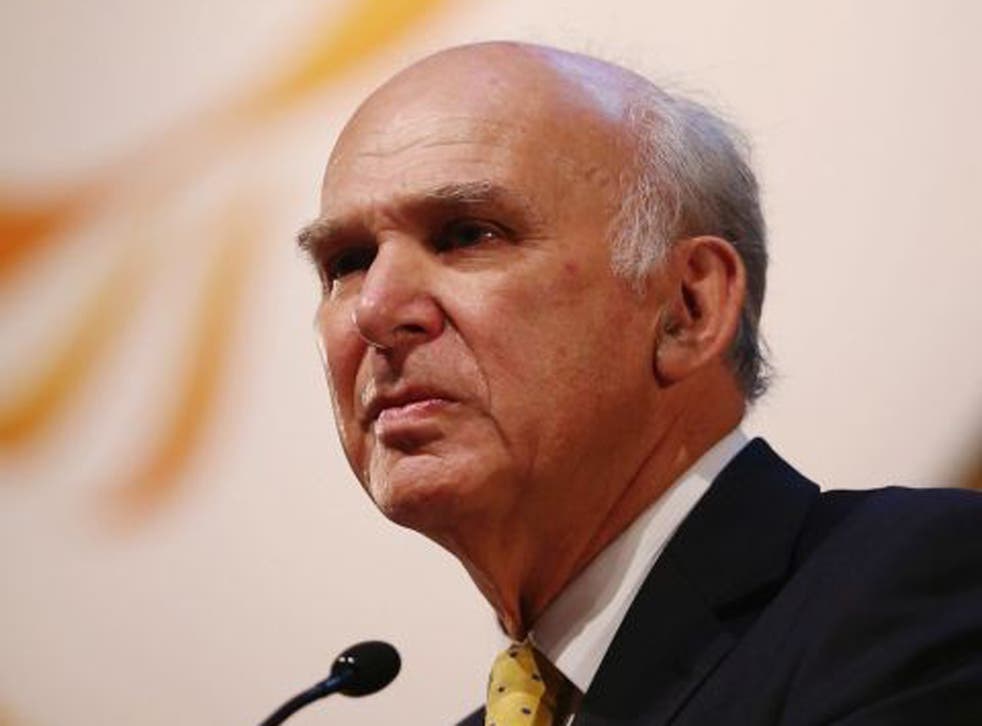 Vince Cable last night became the first senior Liberal Democrat to raise the prospect of the Coalition Government coming apart before the next general election in 2015.
In controversial comments, at the Independent fringe meeting, the Business Secretary put himself at odds with Nick Clegg by saying it was "certainly possible" for the power-sharing deal to come to an early end.
The Liberal Democrat leader has always made clear, both publicly and privately, that he wants the Coalition to continue "right up to the wire".
But Mr Cable said of an early split: "It's certainly possible. We are not at the stage of talking about that process. It is obviously a very sensitive one. It has got to be led by the leader. We have not yet had those conversations."
He also suggested that he himself might walk out of the Government if his Lib Dem colleagues allowed the Conservatives to pursue policies that crossed his personal "red lines".
Asked whether what issues might force him to quit his job, Mr Cable replied: "President Obama has illustrated very eloquently in recent weeks the dangers of parading your red lines in public."
His surprise comments will add to speculation that the Business Secretary, seen as the figurehead of the Lib Dem Left, has not abandoned his leadership ambitions.
Last week his close ally, Lord Oakeshott, delivered a withering verdict on Mr Clegg's leadership and said next May's local elections were the "last chance" for the party to change direction.
At the fringe meeting, sponsored by RSA Insurance, Mr Cable said the Conservatives had resorted to "dog-whistle politics" this year by signalling their hostility to benefits claimants and immigrants.
The Business Secretary delivered a venomous attack on his Coalition partners' rightwards lurch in his keynote speech to the Glasgow conference.
He was unrepentant over the strength of his attack, telling last night's meeting: "It's happened in the last few months and that needed a political response."
Mr Cable insisted the party had to maintain its equidistance between the Tories and Labour in the run-up to the general election in 2015.
But he added: "We will talk about fairness, that's the language we will be using about tax and corporate reform. It's about the things we have stopped the Tories doing."
Mr Cable said he was deeply unhappy at calls by senior Conservatives for moves to remove many employment rights. He told the packed meeting: "We did stop a rush to some really damaging legislation that would have swept away workers' rights in a quite extreme way.
"We as the Liberal Democrats stopped that – that was one of our wins in government."
He also criticised the recent "disgraceful" anti-immigration vans as part of a Home Office campaign and also plans to impose a £3000 bonds on some people coming to visit Britain. He said the idea – first proposed by Nick Clegg had been "misused" by Conservatives.
Originally it was intended only for people who had already been denied visas but was later rolled out to include other visitors as well.
Mr Cable also took a swipe at the "anti-wind culture" among right-wing Tories, which the Lib Dems had resisted fiercely in government.
Asked what other Cabinet post he would like to have filled, he made clear his dream job would have been the Chancellorship.
"I don't think I even need to answer that," he said to laughter. "You know my interest is basically economics. There are two economic departments and I run one. I'll leave you to guess the answer."
Mr Cable defended his "blunt" warning of a potential housing bubble, insisting it was his duty to speak out on the issue.
He said he would not apologise for "ruffling a few feathers".
The Business Secretary repeated his suggestion that the coalition's flagship Help to Buy scheme, which would underwrite mortgages for people who only have a five per cent deposit, could be restricted to areas where property prices are low.
Register for free to continue reading
Registration is a free and easy way to support our truly independent journalism
By registering, you will also enjoy limited access to Premium articles, exclusive newsletters, commenting, and virtual events with our leading journalists
Already have an account? sign in
Join our new commenting forum
Join thought-provoking conversations, follow other Independent readers and see their replies