Lib Dems fear guilt by association with Osborne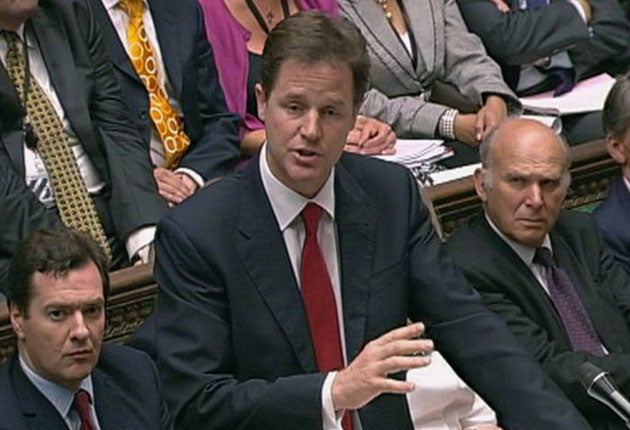 Liberal Democrat ministers have warned that the Conservatives will inflict lasting political damage to Nick Clegg's party if voters think the coalition Government is relishing the task of cutting public spending.
Although the Cabinet has agreed to try to blame the cuts on its inheritance from Labour, senior Lib Dems are worried that some Tory politicians – including George Osborne, the Chancellor – give the impression they are on a Thatcherite mission to shrink the state.
One Liberal Democrat minister warned yesterday: "If we look as though we are enjoying it, we're dead. We have to take people with us."
Another minister from Mr Clegg's party said: "Some of the language coming out of the Treasury is causing concern. We have to remember that we are talking about the jobs of real people and vital services that people depend on."
Liberal Democrats are arguing that is it vital for the coalition to show voters there will be some "light at the end of the tunnel" after a four-year programme of cuts, so that it does not look like an ideological crusade.
They fear that the severity of the cuts of up to 40 per cent that the Chancellor has demanded of Whitehall has not yet dawned on the public. They say the outcry over cuts to the school building programme – the biggest cut noticed by voters so far – is a foretaste of what is to come after a government-wide spending review is concluded in October.
Some Lib Dems believe privately that David Cameron is more sympathetic to their plight than Mr Osborne.
Anxiety about the spending squeeze is also growing on the Liberal Democrat backbenches. Three MPs – Bob Russell, Mike Hancock and Adrian Sanders – have signed a Commons motion expressing concern that almost one million people, including 170,000 pensioners, will lose an average of £12 a week from cuts in housing benefit announced by Mr Osborne. It says that he is hitting the unemployed the hardest.
The MPs joined forces with Labour backbenchers to call on the Government "not to proceed with policies which will force those on low incomes to leave their homes and existing communities". They warn that there is a real risk the benefit cuts will push hundreds of thousands of people into poverty, debt and even on to the streets if they are evicted from their homes.
Liberal Democrat ministers insist they will ensure the coalition "cuts with care" and protects the most vulnerable people in society. As the Commons begins its summer break, Mr Cameron warned of "difficult decisions" ahead on the cuts as he moved to quell concerns on his own backbenches about the coalition.
In a letter to all his MPs, he said: "Of course there are challenges ahead, and yes, there have been compromises as a result of this coalition. People will be disappointed that some policies have had to be discarded – and so am I. I'm not going to pretend that having two parties in one government is going to be easy, or that there will not be more difficult decisions ahead of us. But we must remember the most important thing of all: Britain now has something that all Conservatives believe in profoundly – a strong and stable Government acting in the national interest to do the right thing for the long-term."
The Prime Minister said that in just 10 weeks, the coalition had shown its intent to be a great reforming government.
Liberal Democrats fear the looming cuts are responsible for the party losing about a third of its support in the opinion polls since the May election. Much of it appears to have switched to Labour, which has made Mr Clegg's party the focus of its attacks.
Yesterday Labour accused Mr Clegg of misleading voters at the election after he suggested that he decided before polling day that the cuts would need to start this year. At the election, the Lib Dems and Labour opposed the immediate cuts backed by the Tories.
The Deputy Prime Minister told a BBC Two documentary last night on how the coalition was formed that he did not change his mind during the negotiations with the Tories after the election resulted in a hung parliament.
"I changed my mind earlier than that... between March and the actual general election, a financial earthquake occurred in on our European doorstep." Asked why he did not announce his change of heart, he told the BBC political editor Nick Robinson: "Ah, to be fair we were all I think reacting to very very fast-moving economic events."
Liam Byrne, Labour's shadow Chief Secretary, said: "This shows Nick Clegg simply misled voters. He'd clearly decided before the election that David Cameron was his partner of choice."
Lib Dems believe that, while many Tory supporters will back the cuts, they will be opposed by many of those who voted for Mr Clegg's party in May.
A ComRes survey for the BBC this week found that 57 per cent of the public believe that cuts of 25 per cent – Mr Osborne's minimum demand for most government departments – would be too severe. The same proportion (57 per cent) of Lib Dem voters agree, compared to only 46 per cent of Tory supporters.
Join our commenting forum
Join thought-provoking conversations, follow other Independent readers and see their replies