Lib Dems to veto Tory plans to send controversial 'go home' vans nationwide
Immigration Minister sas Home Office could extend the mobile posters if its study of a £10,000 pilot scheme in London showed it had been a success
Andrew Grice
Friday 18 October 2013 19:22 Comments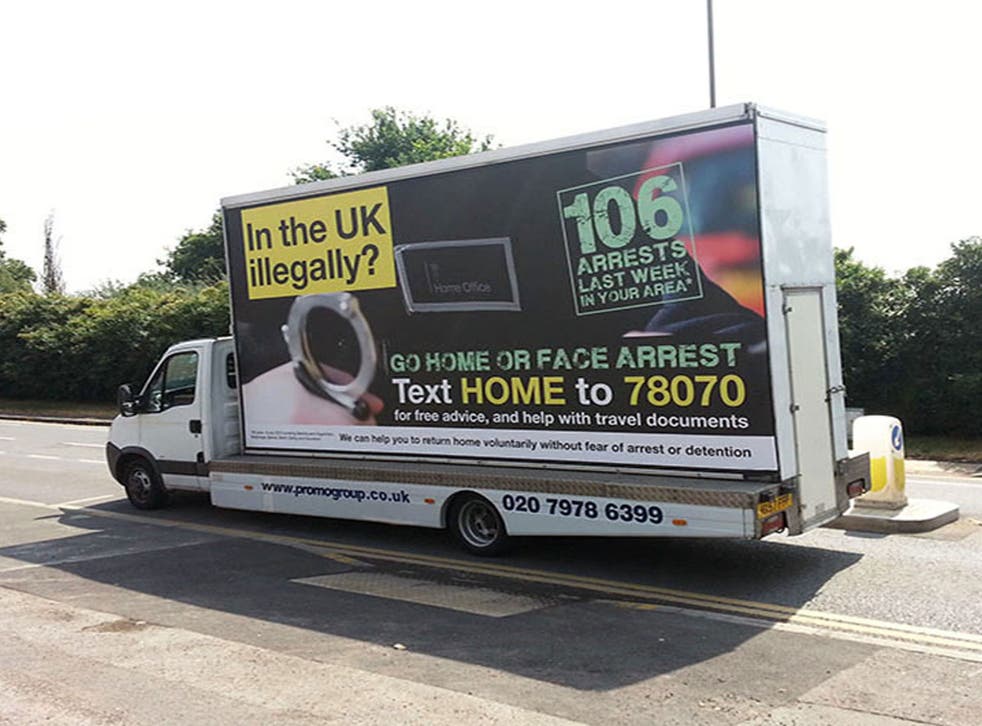 The Liberal Democrats have vowed to veto plans by Conservative ministers to bring back the controversial advertising campaign telling illegal immigrants to "go home or face arrest".
Mark Harper, the Immigration Minister, said the Home Office could extend the mobile advan posters nationwide if its study of a £10,000 pilot scheme in London showed it had been a success.
"I don't see any problem with saying to people who have no right to be in the United Kingdom they can't be here anymore," he told the BBC's Question Time programme. "If it's successful we'll look at rolling it out, if it's not successful, we won't."
The Advertising Standards Authority ruled that the poster was misleading because of the number of arrests mentioned in it but rejected complaints that it was racist. Critics claimed it harmed race relations.
The Lib Dems insist they were never told about the Home Office campaign. A senior party source said yesterday: "The Liberal Democrats have always been clear that we completely disagree with these poster vans. This is a Coalition Government and for that reason, this campaign will not be rolled out nationally."
Downing Street has defended the Home Office's decision to send text messages to recipients suggesting they are illegal immigrants, even though some were sent to the wrong people. Responding to a report in The Independent, David Cameron's official spokesman said: "The Prime Minister agrees with the principle of the texts. It is one of various means the Home Office contacts people who may not have the right to remain in the UK."
The Home Office said only 14 people out of a total of 58,800 contacted were mistakenly asked if they had overstayed their visas. But campaigners said the number of errors was much higher and Labour attacked the practice as "shambolic and incompetent".
David Hanson, Labour's immigration spokesman, said: "These messages will rightly cause distress and offence to British citizens, many of whom have done much to contribute to our society. It is simply wrong for this sort of message to be sent by text, and to be so poorly targeted."
Nigel Farage, the leader of the UK Independence Party, described the text messages as "utterly repugnant", "abhorrent" and "the sort of behaviour one would expect from a fascistic police state."
Register for free to continue reading
Registration is a free and easy way to support our truly independent journalism
By registering, you will also enjoy limited access to Premium articles, exclusive newsletters, commenting, and virtual events with our leading journalists
Already have an account? sign in
Join our new commenting forum
Join thought-provoking conversations, follow other Independent readers and see their replies