Liberal Democrats promise to scrap business rates in favour of levy on land ownership
Jo Swinson claims Lib Dems are now 'the natural party of business'
Andrew Woodcock
Political Editor
Monday 18 November 2019 17:05 Comments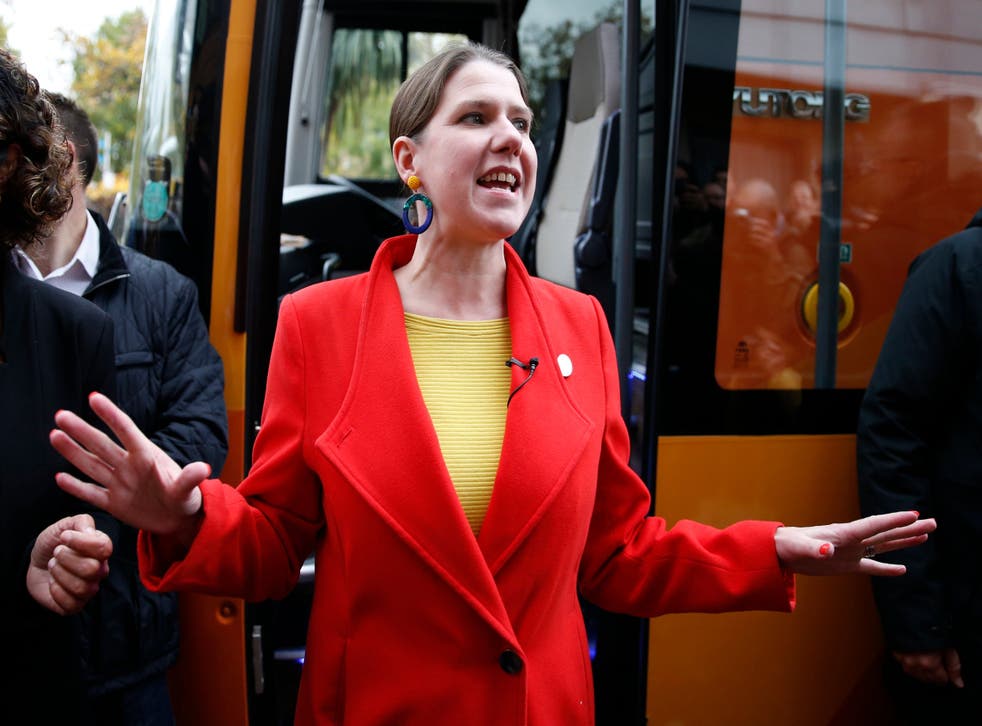 Liberal Democrats have promised to scrap business rates altogether and replace them with a levy on landlords.
In a pitch for the business vote in the 12 December general election, Jo Swinson declared that "with the Conservatives in the pocket of Nigel Farage and Jeremy Corbyn stuck in the 1970s" the Lib Dems were now "the natural party of business".
Business rates raise about £30 billion a year for the Treasury – around 5 per cent of total tax revenue – and are increasingly opposed by high street shops, who regard them as unfairly discriminating against bricks-and-mortar enterprises in favour of internet giants.
But the CBI warned that Lib Dem alternatives could be "mired in complexity" and may not cut overall costs. Director general Carolyn Fairbairn called on Jo Swinson's party to provide more detail on how the proposed landowners' levy would work.
Ms Swinson unveiled the policy in a speech to the CBI conference in London, where she also set out plans to spend £130 billion on infrastructure including houses, railways and renewable energy, and £5 billion for a new Green Investment Bank to invest in zero-carbon projects.
General election: Facts and figures

Show all 79
She said that abolishing business rates would cut taxes in 92% of local authority areas and help rebalance the UK economy.
The Commercial Landowner Levy would boost manufacturing and make it cheaper for all businesses to invest in renewables or other new technology for their premises, she said.
"Liberal Democrats are committed to helping small businesses, who are the engine of our economy," said Ms Swinson.
"That is why Liberal Democrats would scrap business rates and replace them with a Commercial Landowner Levy.
"It will shift the burden from the tenant to the landlord, so that we can breathe new life into our high streets.
"Frankly, we have seen enough promises of reviews of business rates from the Conservatives. It is time for clear action that will give proper help to our small businesses."
Ms Swinson told her audience of business leaders that Lib Dems would aim to make the UK a global leader in green jobs and technology.
"A Liberal Democrat government will work with you to open up new opportunities for green growth and to save our planet," she said. "We will invest £5bn in zero-carbon projects through the Green Investment bank.
"We are the last generation that can stop irreversible climate change, and we are running out of time.
"And while there is much that government can do, I am clear that the business community is absolutely part of the solution.
"Not least because we need to channel your ingenuity and entrepreneurialism to take on this huge challenge, and others we face.
"And my vision is for a country where business joins forces with government, public services and civil society to create the kind of society we deserve."
Ms Fairbairn said: "The Liberal Democrats recognise the broken business rates system needs fundamental reform.
"But moving to a land value tax is mired in complexity, and it remains unclear how it would cut overall costs or provide a level playing field. Much more detail will be needed."
Register for free to continue reading
Registration is a free and easy way to support our truly independent journalism
By registering, you will also enjoy limited access to Premium articles, exclusive newsletters, commenting, and virtual events with our leading journalists
Already have an account? sign in
Join our new commenting forum
Join thought-provoking conversations, follow other Independent readers and see their replies