Lib-Lab deal 'would not happen with Clegg'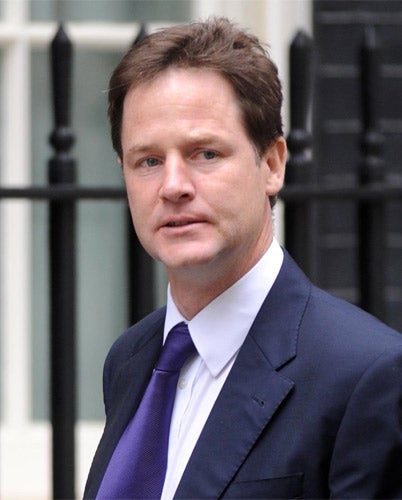 Labour would demand the resignation of Nick Clegg before doing a deal with the Liberal Democrats in a future hung parliament, a senior Labour figure has said.
John Denham, the shadow Communities Secretary, reflected the anger in Labour's ranks about Mr Clegg's decision to enter a coalition with the Conservatives two months ago. When the general election ended in deadlock, Mr Clegg demanded the departure of Gordon Brown as the price of a Lib-Lab deal and Mr Brown offered to stand down. But talks with the Tories were already well advanced.
Mr Denham told the Fabian Review: "The Lib Dems have ceded all right to say they are a progressive party. If we use the next years to address the parlous state of the Labour Party, and if the Lib Dems change, that might open up possibilities."
Asked if the Liberal Democrats would first have to ditch Mr Clegg, he replied: "It would require a new leader and a new politics. The idea that the Lib Dems can do this now and then, in a few years, say they'd like to be friends with Labour when they are fundamentally unchanged is out of the question. Many people, including electoral reformers like me who always thought there could be a centre-left coalition with the Lib Dems, have to understand they have taken a historic position which puts them outside that game until they change profoundly."
In his interview, Mr Denham said of Mr Brown: "Of course the leadership was an issue, and of course he wasn't suited to the modern media world. As you saw in the Gillian Duffy [affair], it was not so much [his] words as his incomprehension. Hers wasn't an extreme or a bigoted view [on immigration]. I and others were regularly pilloried for failing to get rid of Gordon. If you ask whether there was ever on offer an alternative leader who would have done better, there were no candidates."
Mr Denham, who is backing Ed Miliband in the leadership election, said it was right for the candidates to discuss immigration but it was not the only issue that needs to be addressed.
Join our commenting forum
Join thought-provoking conversations, follow other Independent readers and see their replies