Lifting ban on cocaine plant can help millions of lives, MPs told
Coca can treat muscle pain and could provide income for impoverished farmers, says study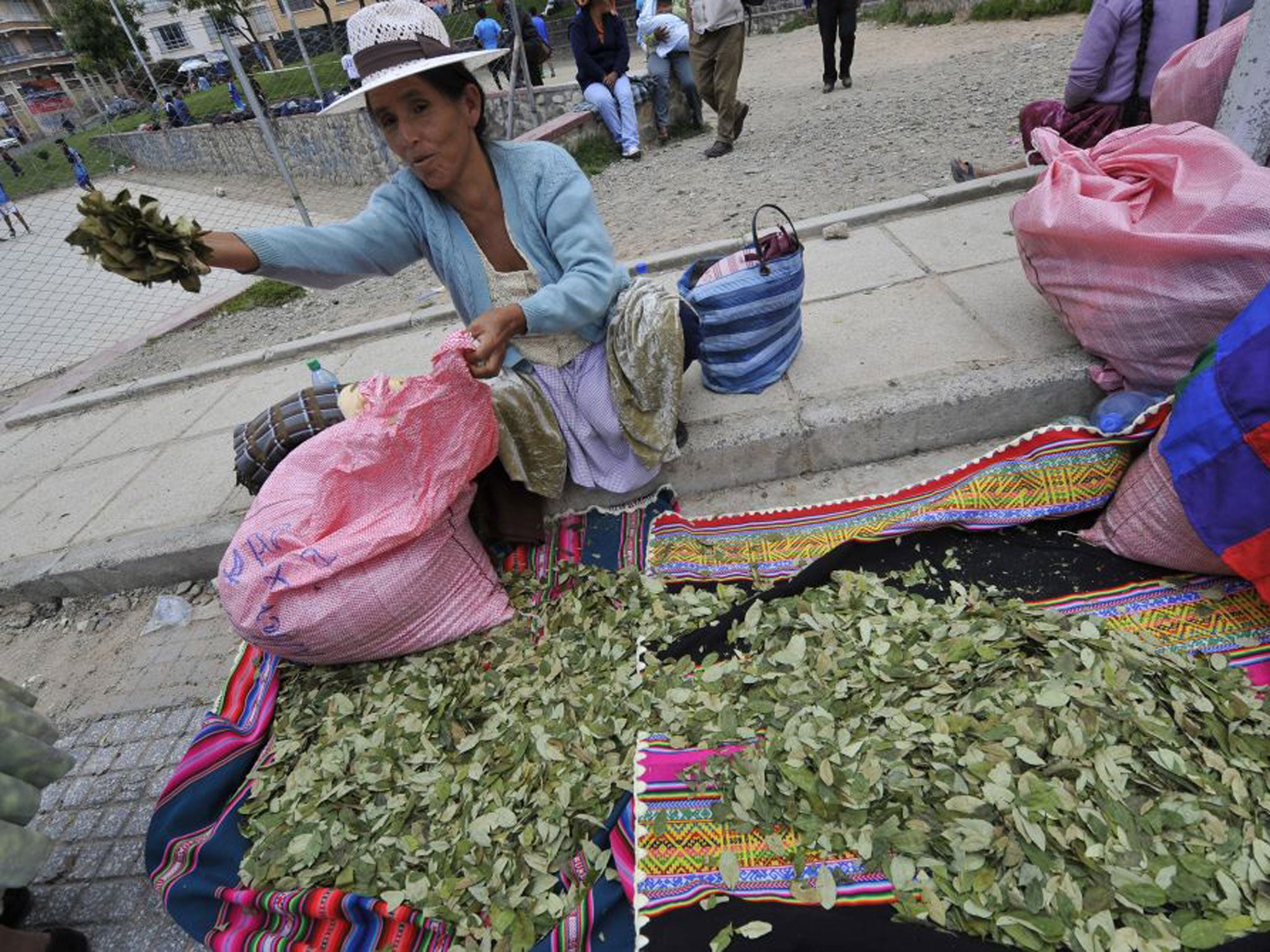 For centuries the coca leaf was a staple of Andean culture, widely prized for its medicinal qualities – especially in the alleviation of altitude sickness.
But the 20th-century drugs epidemic and booming demand for cocaine, for which the leaf is a central ingredient, saw the plant outlawed by governments around the world, with devastating effects for farmers who had grown it for generations.
Now an independent report commissioned by the influential All-Party Parliamentary Group for Drug Policy Reform has urged that coca's illegal status be reviewed and research conducted into the possible legal uses of the leaf which, it is claimed, could benefit the lives of millions of the world's poorest people.
Banned in 1961 amid concern over the impact of the cocaine trade, a 1995 report by the World Health Organisation found there were "no negative health effects" resulting from coca use in leaf form. The findings were never published following pressure from the United States, which has pursued a long-standing policy of destroying crops and criminalising producers.
Evidence from the International Centre for Science in Drug Policy last week found cocaine was 51 per cent cheaper than in 1990 while its potency had increased. Group chair Baroness Meacher said that the war on drugs had "disastrous consequences" in the developing world. "The employment of poor farmers and their families by the drug barons in Colombia continues to be irresistible while few, if any, alternatives exist," she said. "But these farmers could earn a legitimate income growing a crop to generate products with positive therapeutic... functions."
Rather than waging war on producers, governments should consider using aid budgets to create regulated markets in which the alkaloid that makes cocaine was safely removed from the leaf and alternative products found, the report says.
As well as being a rich source of protein and calcium, coca can also be used to make wine and treat muscular pain. It also offers a potential treatment for cocaine dependency. The report said companies such as Coca-Cola already have special permission from the US Drug Enforcement Administration to import dried coca leaf, while it is also legally imported into Europe to make energy drinks such as Red Bull.
The United Nations General Assembly will hold a special session on the subject in 2016, but earlier this year the UK was among a number of governments to back the US in its opposition to Bolivia's plan to seek an exemption to the 1961 UN convention on narcotics, claiming that chewing coca was central to the culture of its indigenous peoples. Danny Kuschlick, of the Transform Drugs Policy Foundation, said: "It should never have been made illegal. It is the equivalent of making tea, coffee beans or chocolate illegal."
Coca: Wonder drug?
Coca flour The 19.6 per cent protein content of the leaves could make be an important addition to geriatric diets, while its extraordinarily high levels of calcium (higher than milk or eggs) suggest its use in the treatment of broken bones and conditions such as osteoporosis.
Wine Coca wine was popular in Europe in the 19th century until it was outlawed. It is still made in Latin America where it is advertised as an anti-depressant and a tonic alleviating colds and sore throats.
Oil Coca leaves contain methyl salicylate, an essential oil used in mouthwash and in treating aching muscles.
Cocaine addiction As methadone is used to alleviate the withdrawal symptoms of heroin, scientists claim chewing coca leaves could similarly reduce cocaine dependence.
Join our commenting forum
Join thought-provoking conversations, follow other Independent readers and see their replies