Livingstone bows out. But can we believe him?
Brian Brady
Saturday 05 May 2012 23:32 Comments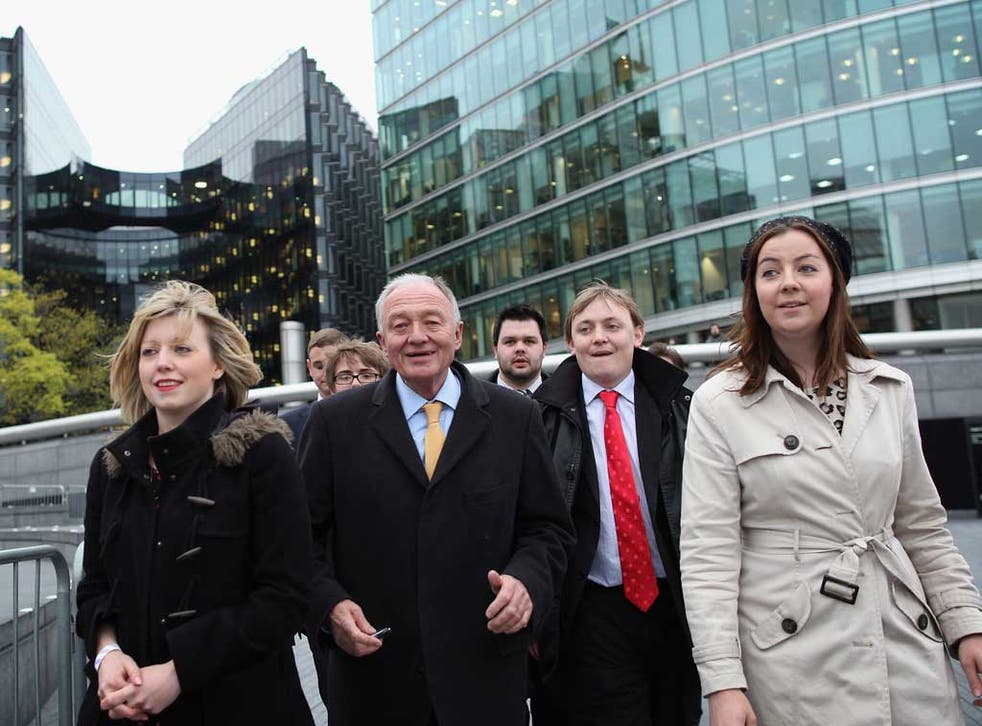 He has broken promises before. Ken Livingstone once said that being Mayor of London would be his last political job, before he made running for the office a long-term occupation.
But when he told fellow candidates at City Hall in the early hours of yesterday morning that "This is my last election", the statement carried an air of finality. After a political career spanning 41 years and 14 elections, the Labour candidate is finally ready to spend more time with his unusual family and his newts.
Ironically, Livingstone is bowing out as Britain's political landscape has shifted into something that has always provoked his combative instincts: an economic downturn and high unemployment, a Labour leadership struggling to gain credibility and a Tory prime minister sticking to a policy of austerity.
After Ken Livingstone first emerged, in 1981, as a national political figure, he was for some time the most effective opposition to Margaret Thatcher. Aged 36, he had seized control of the UK's most powerful local authority, the Greater London Council, after leading a left-wing coup that deposed the moderate Labour leader, Andrew McIntosh.
Although he spent the next five years goading Thatcher – cutting travel fares and displaying unemployment figures from the roof of County Hall – the putsch was a warning to his own colleagues. It demonstrated an audacity and single-mindedness evidenced across his career.
In an era of overwhelming media adulation for Thatcher, "Red Ken" was a gift to the right-wing press. The "extreme" views, the opposition to racism and homophobia, and, above all, the call for talks with the IRA produced a level of condemnation that "the most odious man in Britain" has continued to complain about for three decades.
After the GLC was abolished, more than a decade as a back-bench MP failed to entirely satisfy Livingstone's ego, but he had long ago confided that his peculiar voice ruled out any national leadership ambitions.
The chance to become London mayor was ideal for someone who had always described himself principally as a local politician. The urge to rule London again outweighed the orders of his party: he stood as an independent and was expelled from Labour, but had the consolation of winning the first mayoral election. Four years later, Tony Blair (who once said Livingstone as mayor would be a "disaster" for London) asked him to stand as the official Labour candidate and he won again.
Livingstone's legacy is mixed. He lost out to Gordon Brown in the battle over Tube privatisation, invited outrage from motorists by introducing the congestion charge, and later played a key role in helping to win the 2012 Olympic Games. But his eventual departure was surrounded by allegations of "cronyism" and corruption.
His career has also been disfigured by controversies over his own statements, including the observation that the Tory party was "riddled" with homosexuals and, notoriously, when he likened a Jewish reporter to a Nazi concentration-camp guard. His refusal to apologise only exacerbated the insult.
Livingstone's performance during the campaign was impressive, and the unexpectedly close result creditable, but it should not obscure the fact that, at 67, his political career had come to an end before he confirmed it to the nation.
This last run for office was remarkably painful. His unusual private life, with five children by three partners, and his tax arrangements guaranteed intense scrutiny from the media.
The lack of credible alternatives had lumbered Ed Miliband with Livingstone as his candidate, but the leadership's view of his failings was exemplified by Labour's campaign chief, Tom Watson, urging party supporters two weeks ago to "hold their noses" and vote for Livingstone.
Register for free to continue reading
Registration is a free and easy way to support our truly independent journalism
By registering, you will also enjoy limited access to Premium articles, exclusive newsletters, commenting, and virtual events with our leading journalists
Already have an account? sign in
Join our new commenting forum
Join thought-provoking conversations, follow other Independent readers and see their replies