Liz Kendall interview: Labour leadership candidate says a Jeremy Corbyn win would put the party 'in the wilderness for a generation'
Blairite candidate is concerned that her personal life has been made an issue
Andrew Grice
Thursday 13 August 2015 23:32 Comments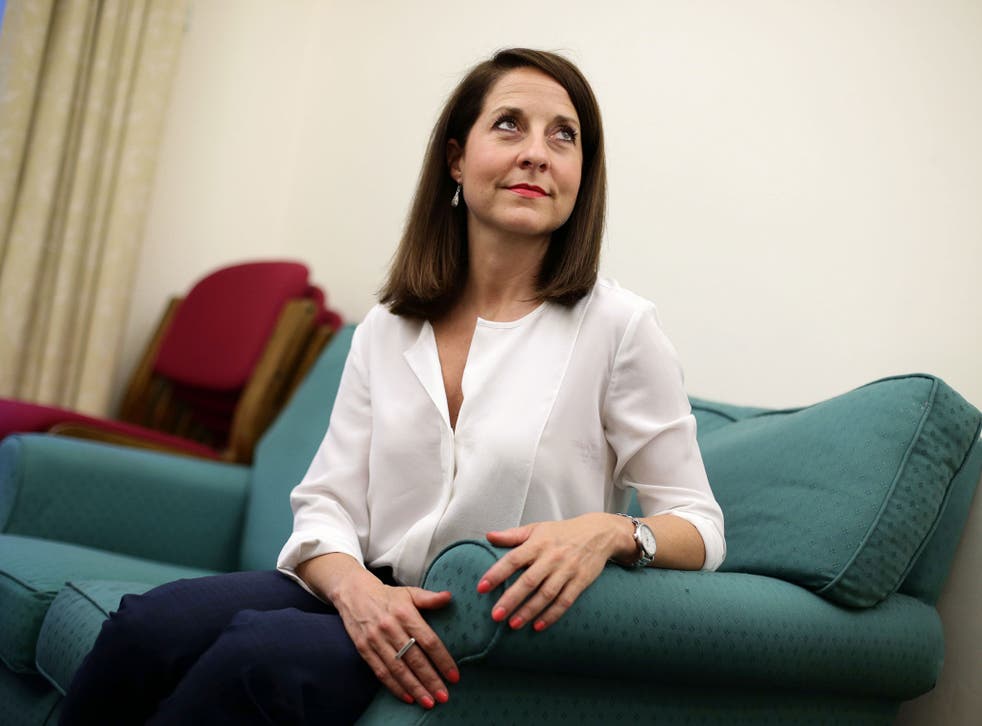 "None of the stuff on Twitter has bothered me," says Liz Kendall, who has been labelled a "Tory", "Margaret Thatcher" and much worse on social media by supporters of Jeremy Corbyn.
But the Blairite candidate in Labour's leadership race is concerned that her personal life has been made an issue by some so-called colleagues.
MP Helen Goodman said that she was backing Yvette Cooper because "as a working mum she understands the pressures of modern family life". Last weekend Ms Kendall, who is single and who separated from the comedian Greg Davies earlier this year, denied untrue "smears" allegedly spread by rival camps that she is in a relationship with John Woodcock, an MP and a senior member of her campaign team.
Ms Kendall, 44, says: "We must stop being a party that allows briefings against colleagues. That is wrong; that is why I called it out. It is unacceptable. It has been going on too long."
The shadow Care minister says: "It [politics] is not about someone not having a family. My nieces [her brother's daughters, aged nine and five] would be deeply upset by that! Family life has changed. There are more women in my position in their forties who for whatever reason have not had children. Your personal circumstances should have no bearing whatsoever on your ability to lead the party and country. I think the country is ahead of some parts of the Westminster bubble."
Ms Kendall hopes her experience may help to clear the air. "I don't want anyone being put off going into politics because they fear their personal life, family and relatives will be spread all over the media. We definitely need more women in politics. We don't want women in their late teens or early twenties who are interested in politics to think they would never go into it."
She adds: "We are a party that believes in dignity and respect for one another. We can't say that is what we want in the country if we don't behave like that ourselves."
It must have been a bruising two months for someone who has been an MP for only five years. But Ms Kendall has "absolutely no regrets" about entering the race, saying it has been a "great privilege", and that she is "loving" the hustings meetings with Labour members.
Today she embarks on a frenetic three-day tour of all the English regions, Scotland and Wales, with 13 visits in her schedule.
Although the opinion polls show her trailing in fourth place, she will not withdraw from the leadership race.
"I shall continue to make the case in arguing for what I believe in until the very last moment," she insists. "I am the underdog. The bookies would call me a long shot. High risk, big return!" she smiles.
"It doesn't change my view about what kind of party we need to be – to be relevant in the modern world. Not just to win power but to have the right policies for 2020 and beyond. That is the case I am going to make."
Ms Kendall is a casualty of a delayed backlash against New Labour. Asked why Tony Blair is "toxic", she replies with one word: "Iraq." She believes that, under Ed Miliband, Labour did not do enough to defend its record in government. And that her wing of the party has allowed itself to be portrayed as "pragmatists", interested only in winning power, while the left claimed it has all the "principles".
She continues: "I think the party needs a moment of reckoning with our period in office. No government is perfect. We need to understand the great things we achieved in government and be clear about where we fell short."
Admitting that New Labour may have been "too cavalier" about people left behind by globalisation, she insists: "I am not calling for us to go back to where we were in 2005, let alone 1997. I believe our great election victories – 1945, 1964, 1997 – were all about applying our values to the world as it is, not as we would wish it to be."
The surge in support for Mr Corbyn was inevitable, she believes. "We did not have a debate in 2010 about what we are for. The leadership contest was dominated by what happened between the two [Miliband] brothers. Ed Miliband rightly wanted to unite the party because disunited parties do not win power. It has been a pressure building up. Now the lid has been taken off and it has burst out. In a way, I am glad it is out. You don't deal with a problem by ignoring it."
If Mr Corbyn is crowned leader next month, Ms Kendall predicts, Labour would be "in the wilderness for a generation ... certainly for a decade."
Although she would not serve in his Shadow Cabinet, she insists: "I don't believe the party would split. I would no more leave the Labour Party than my own family."
But she has a warning for the veteran left-winger: "Whatever happens on 12 September, this debate will continue."
Register for free to continue reading
Registration is a free and easy way to support our truly independent journalism
By registering, you will also enjoy limited access to Premium articles, exclusive newsletters, commenting, and virtual events with our leading journalists
Already have an account? sign in
Join our new commenting forum
Join thought-provoking conversations, follow other Independent readers and see their replies