Liz Kendall: Labour should promise a budget surplus to regain voters' trust
The shadow Care Minister faced accusations from rival camps of being 'Tory-lite' after she echoed George Osborne's plan
Andrew Grice
Tuesday 30 June 2015 22:03 Comments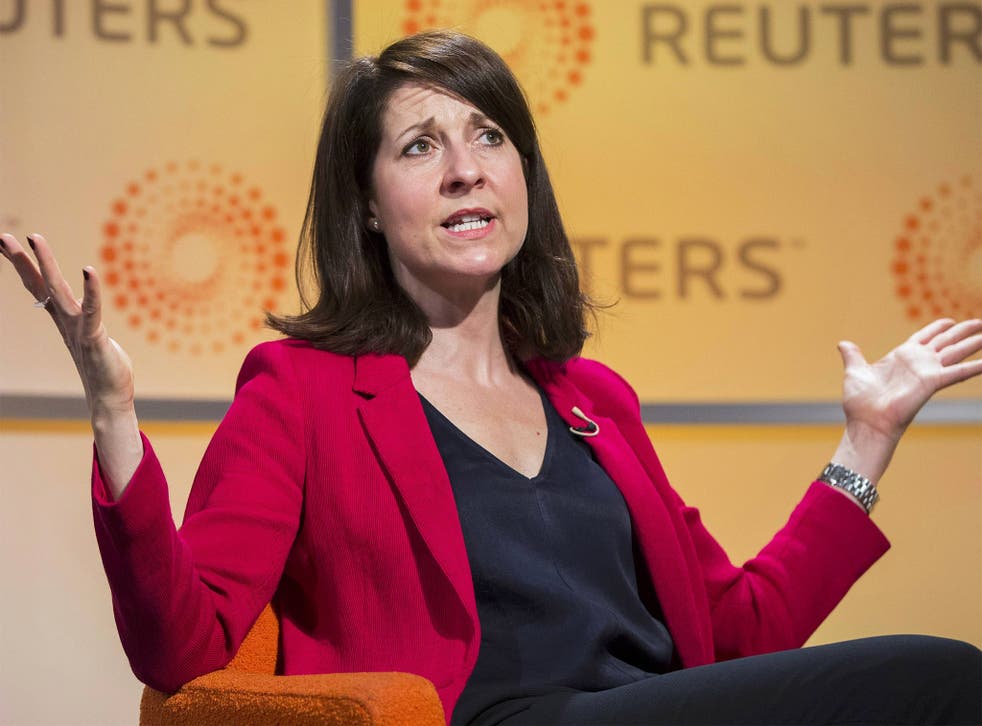 Labour should pledge that it would always run a government budget surplus in good times in order to regain voters' trust on the economy, Liz Kendall has said.
The shadow Care Minister, seen as the Blairite candidate in the Labour leadership contest, faced accusations from rival camps of being "Tory-lite" after she echoed George Osborne's plan to ensure a budget surplus to provide a cushion for bad economic times.
Speaking in London, Ms Kendall rejected the Conservatives' claim that the previous Labour government caused the 2007 financial crisis by overspending but said Labour was "not trusted with people's money". Insisting that Tony Blair won power in 1997 because Labour was trusted on the public finances, she argued: "When people say that fiscal responsibility is a Tory idea they are wrong. Worse, they are playing into our opponents' hands."
Ms Kendall, who admitted her stance was "uncomfortable" for some in her party, asked: "Could the public finances withstand another crisis as deep as the last? No they could not. And as long as that is the case, our debts are too high. So under my leadership Labour will not take risks with our country's future."
Warning that Labour could face another decade out of power unless it changed, she declared: "If we continue to stick with the politics that we had at the last election or, indeed, over the last seven or eight years, we will get the same result. Einstein said the definition of madness was to continue doing the same thing over and over again and expect to get a different result."
Ms Kendall said it was "completely wrong" that she was espousing "Tory values." She added: "Sound public finances are not an alternative to Labour values: they are Labour values. And they are the country's values too. Remembering this is the first step we take in winning back the trust of the British people."
Her strongly-worded speech came after her allies branded her main rivals Andy Burnham and Yvette Cooper as "continuity Miliband" candidates. Asked about the label, Ms Kendall said: "People need to think about who is the leadership candidate that isn't just going to argue for a little bit of change, who is going to face up to the scale of the challenge, who is going to be the candidate that the Tories really fear because they are facing head on people's concerns about their money, about welfare and have a properly broad pitch."
Speaking later at a Unions Together hustings, Ms Cooper appeared to refer to Ms Kendall's lack of ministerial experience when she urged Labour members to elect someone who "can look like a Labour prime minister from the start." She added: "We have to make sure that is about being a Labour prime minister and being proud of Labour values."
Mr Burnham said: "I will be a leader whose voice can carry into all the nations and regions of this country, a leader people can relate to.I will appoint a front bench full of accents and diversity."
Jeremy Corbyn, the left-wing standard-bearer, told the meeting that Labour should oppose the Government's austerity measures. "Austerity is a code word for greater inequality. The 100 richest people in this country own the equivalent of 30 per cent of the wealth of the rest of the population. That is grotesque inequality and it's getting worse," he said.
In the Commons the Labour Opposition will propose an annual equal pay audit to ensure Britain closes a gender pay gap that leaves women earning 81p for every pound earnt by men.
Gloria De Piero, the Shadow Equalities Minister, will urge the Government to act on the information to be disclosed under new transparency rules, which will force employers with more than 250 workers to publish gender pay differentials from next year. She will call for the Equalities and Human Rights Commission and Low Pay Commission to study different sectors and make recommendations where progress in closing the gap is slow.
Register for free to continue reading
Registration is a free and easy way to support our truly independent journalism
By registering, you will also enjoy limited access to Premium articles, exclusive newsletters, commenting, and virtual events with our leading journalists
Already have an account? sign in
Join our new commenting forum
Join thought-provoking conversations, follow other Independent readers and see their replies