Liz Kendall slams Jeremy Corbyn for suggesting Labour could call for EU exit under his leadership
Kendall, who said that Labour must be 'unashamedly pro-EU,' is worried that the party's left-wing is wobbling about its commitment to the 28-nation bloc
Andrew Grice
Tuesday 11 August 2015 08:29 Comments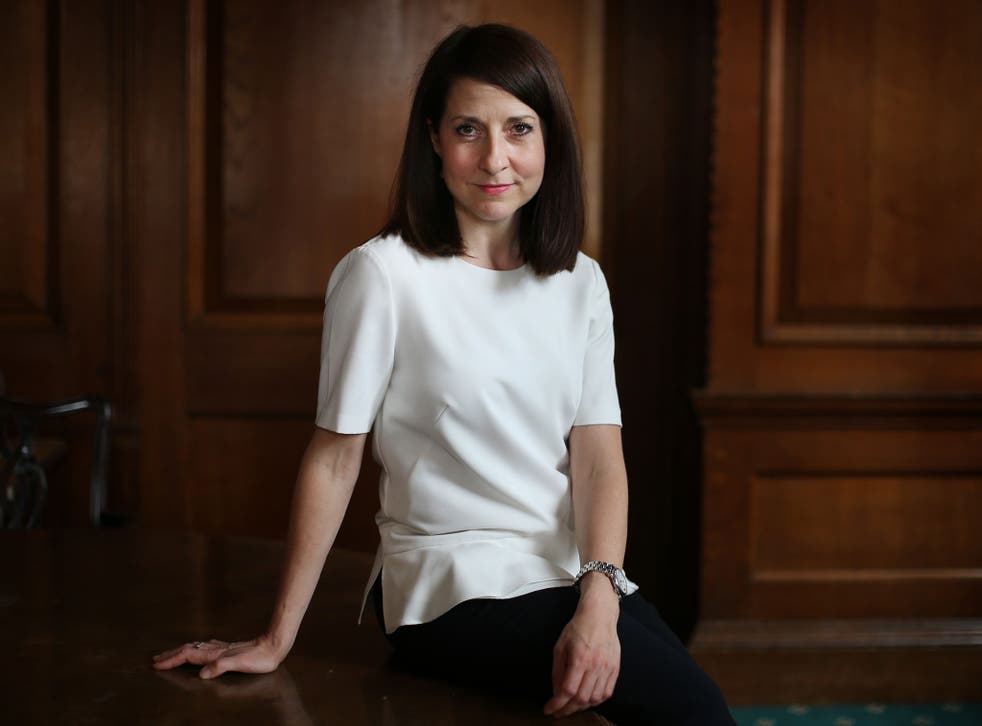 Liz Kendall is set to criticise Jeremy Corbyn for suggesting that Labour might call for Britain to leave the European Union if he wins the party leadership.
Ms Kendall, who said that Labour must be "unashamedly pro-EU," is worried that the party's left-wing is wobbling about its commitment to the 28-nation bloc. Trade unions fear the new membership terms being sought by David Cameron ahead of an in/out referendum could dilute the rights at work guaranteed by the EU social chapter.
Mr Corbyn has warned that support for the EU could be weakened by a deal that "traded away workers' rights." But he has since clarified his remarks to say that "does not mean walking away, but staying to fight together for a better Europe."
In a speech, Ms Kendall will say: "Now is not the time to prevaricate on Europe, as Jeremy Corbyn and others on the left of the Labour Party have begun to do. If the seeds of left-wing Euroscepticism were to take root and the Labour Party went into the referendum on an anti-EU platform, it would be a disaster.
"It would mean Britain's main social democratic party rejecting the best tool we have at our disposal for shaping globalisation and creating an inclusive and fair future. It would turn us into a backward-looking movement and signal to millions of young people who have grown up with the EU and feel confident in the modern world that we are not a party for them."
Ms Kendall, who is seen as the Blairite candidate in the contest, will argue: "We must be a modern, confident, optimistic and open party, that seeks to govern an outward-looking Britain. If we are to secure a future of hope for our young people, it's essential to deliver on the causes we believe in. This is something we cannot do without being unequivocally pro-European."
Labour rebuffed a call yesterday by Barry Sheerman, a senior MP, for its leadership contest to be suspended in order to investigate allegations that left-wing and Green Party opponents are signing up to vote for Mr Corbyn. Ballot papers are due to be sent out on Friday. The first batch will be sent only to long-standing party members, to give Labour HQ more time to carry out urgent checks on the estimated 190,000 people who have become members or supporters since the May election.
Mr Sheerman, MP for Huddersfield, told BBC Radio 4's World at One programme: "There are all sorts of people up and down the country joining the country for what reason we don't know. Some of those reasons, I think, are malign."
But Diane Abbott, an MP who is backing Mr Corbyn, dismissed the idea of a pause as "ridiculous," saying: "It's coming from people who think their side is going to lose."
Labour leadership: The Contenders

Show all 4
Ms Kendall believed the party had "robust measures" in place to check the recruits and said she had not seen evidence to concern her.
Yesterday Yvette Cooper received a boost when Richard Leese, Labour leader of Manchester City Council, endorsed her. It was a setback for Andy Burnham, who represents a Greater Manchester constituency. Mr Leese said: "She is strong, determined, well-prepared – and the only one who looks even remotely like a prime minister."
Ms Cooper's camp is adamant that she is the only candidate who can "stop Corbyn" amid growing signs that the veteran left-winger will top the poll in the first round of voting. Under Labour's preferential voting system, members can rank the four candidates in order of preference. If no candidate gets more than 50 per cent of the votes, the bottom one drops out and the second preferences of people who backed them are reallocated.
Alastair Campbell, who was Tony Blair's communications director, appealed to Labour supporters to sign up before tomorrow's (wedy) deadline so they could vote for "anyone but Corbyn."
He warned that a Corbyn victory would be a "car crash" that would show that Labour had "given up on being a serious party of government."
Writing on his blog, Mr Campbell said: "The two main parties, when choosing a leader, are picking the person they intend thereafter to try to persuade the people of the UK 'this is who should be your prime minister.' And yet the Labour Party, if it elects Jeremy Corbyn as leader, is selecting someone that every piece of political intelligence, experience and analysis tells you will never be elected prime minister."
He added: "Whatever the niceness and the current warm glow, Corbyn will be a leader of the hard left, for the hard left, and espousing both general politics and specific positions that the public just are not going to accept in many of the seats that Labour is going to have to win to get back in power."
Mr Campbell argued: "That means no first preferences, no second preferences, no any preferences. It frankly means ABC, Anyone But Corbyn."
Register for free to continue reading
Registration is a free and easy way to support our truly independent journalism
By registering, you will also enjoy limited access to Premium articles, exclusive newsletters, commenting, and virtual events with our leading journalists
Already have an account? sign in
Join our new commenting forum
Join thought-provoking conversations, follow other Independent readers and see their replies