Liz Truss: Tory minister admits approving illegal arms sales to Saudi Arabia again and says 'more cases could come to light'
'It is possible that more cases will come to light,' minister admits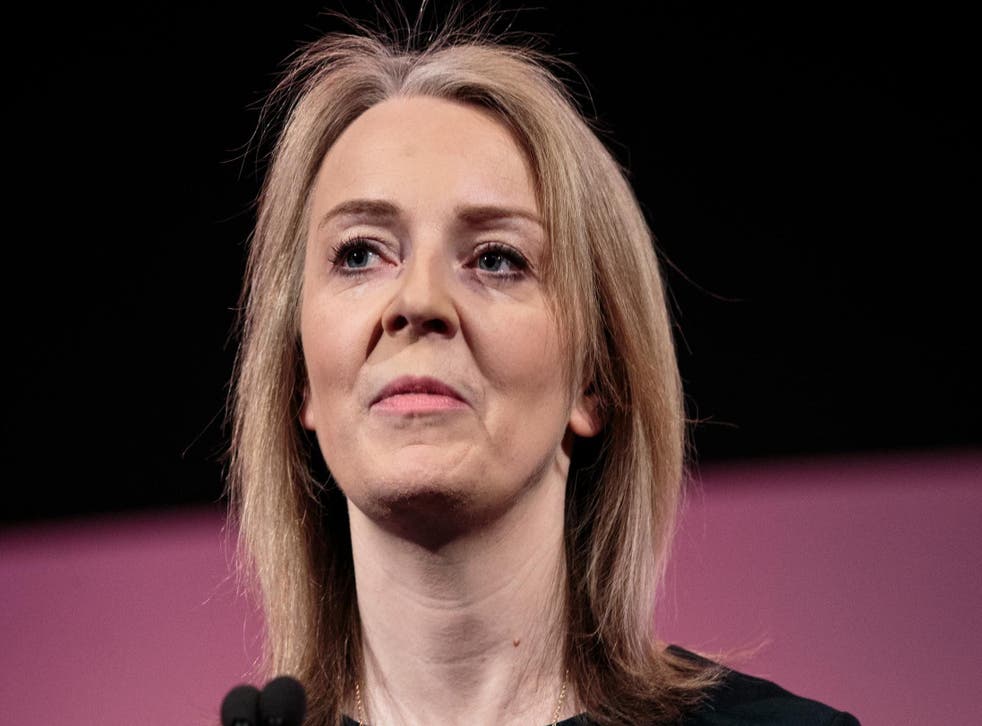 The government has again admitted breaching a court order banning arms sales to Saudi Arabia over concerns they could be used in the Yemen war.
International trade secretary Liz Truss faced calls to resign for the second time in 10 days after she revealed her department had granted a third unlawful license relating for military equipment that could be used in a war fuelling "the world's worst humanitarian crisis".
The government made a legal vow to freeze new arms licenses to Saudi Arabia in June after the Court of Appeal ruled it was unlawful for the UK to licence weapon exports without assessing whether the Saudi-led coalition had broken international law.
But on 16 September, Ms Truss admitted two "inadvertent breaches" of that promise.
On Thursday, in response to an urgent question raised in light of her first admission, she told the House of Commons that an emergency review had unearthed two more instances of licences being approved, confessing it was "possible that more cases will come to light".
One licence, allowing the return and repair of military equipment used by Saudi forces to detect improvised explosive devices (IEDs), breached the government's vow to the courts.
Granted on 13 August, the license was not used and has now been revoked, Ms Truss said.
A second, existing licence permitting the sale of fuel gauges for Jordanian military aircraft had been renewed on 28 August, and contradicted a political promise to freeze arms licences to Saudi's coalition partners as well.
Announcing an independent investigation had been commissioned, Ms Truss told MPs it appeared "information pertaining to the conflict had not been fully shared across government".
SNP MP Chris Law, who raised the urgent question, called her admission a "shocking revelation" and called for Ms Truss to resign.
"The process which led to these licences being granted demonstrates the same carelessness and utter lack of regard for life that has defined the UK's arms sales to Saudi over these years."
"Does she take full responsibility for her department's unlawful award of arms export licences in contravention of the court of appeal and therefore will she do the right thing and resign?"
Campaign Against Arms Trade spokesperson Andrew Smith, called for an "immediate embargo" on all arms sales to Saudi Arabia and the wider coalition.
Nowhere to go - Displaced in Yemen fear new war on the horizon
"We are always being told how rigorous and robust arms export controls supposedly are, but this shows that nothing could be further from the truth," he said. "The system is clearly broken and unfit for purpose. This is symptomatic of a policy that puts arms sales ahead of human rights.
"Even if it was in error, it is clear that the Government cannot be trusted to uphold the ruling of the Court of Appeal. There can be no more excuses."
More than three million people have been displaced by the conflict in Yemen, which has taken nearly 100,000 lives and led to nearly 17 million people suffering food insecurity.
While both sides of the conflict deny targeting civilians, thousands have been killed by weaponry.
According to a June report by the Armed Conflict Location and Event Data project, approximately 11,700 civilians have been killed since 2015 in thousands of targeted attacks, with the Saudi-led coalition thought to be responsible for more than 8,000 such deaths.
Analysis of government figures found the UK had sold £6.2bn worth of arms to Saudi-led forces since the Yemen war began in March 2015.
In July, The Independent revealed that despite the Court of Appeal ruling, the UK government had invited Saudi Arabia to the world's largest arms fair, hosted in London in September.
Speaking in the House of Commons, Labour's shadow trade secretary Barry Gardiner asked of the arms fair: "What further deals were done there?
Video shows damaged buildings and homes in Yemen village hit by Saudi-led coalition airstrikes
"The secretary of state has said that it is possible that more illegal deals may have taken place, but does she actually think that instead of it being possible, it is highly probable?"
Ms Truss said she apologised "unreservedly for the export licences that [her] department issued in error" and vowed that all future licences would be signed off by ministers, rather than officials.
Labour MP Keith Vaz responded: "The secretary of state's apology is welcome, but the narrative is shameful.
"Last week a bomb fell on a mosque, and a bomb fell on a family eating their dinner. What do they put on the death certificate? Do they put 'death caused by administrative error?'"
Join our new commenting forum
Join thought-provoking conversations, follow other Independent readers and see their replies