Local elections: Lib Dem candidate's car covered with far-right graffiti as voters head to polls
'There's no doubt that it's a blatant attempt to intimidate,' councillor says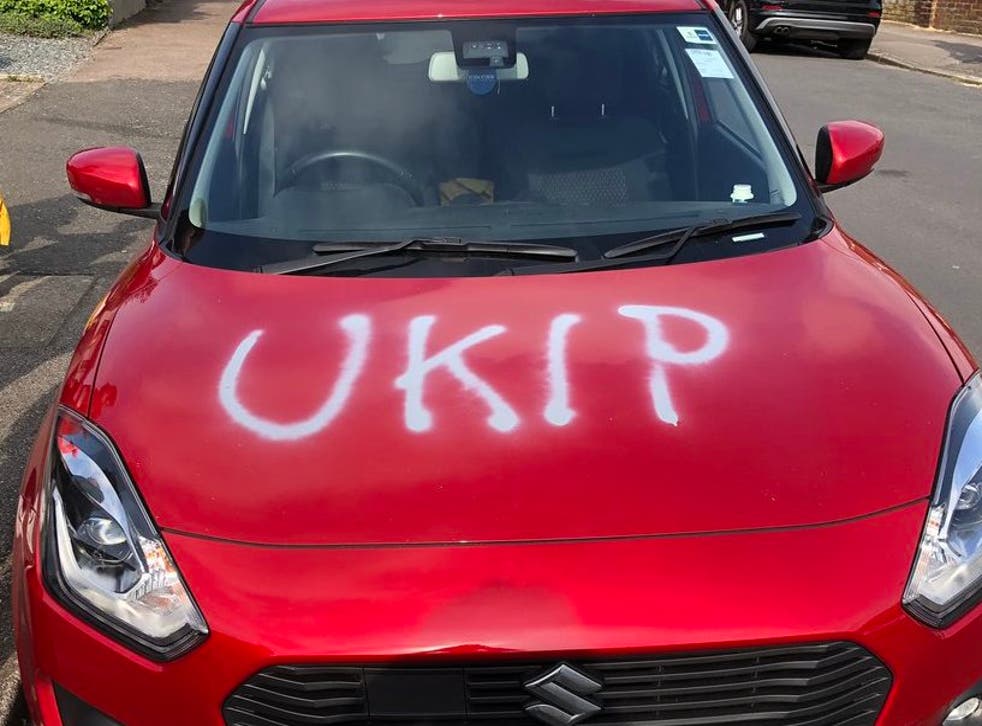 A Liberal Democrat council candidate had his car vandalised with far-right graffiti before voters went to the polls for the local government elections.
A swastika was spray painted on one side of Alexander Stennings' Suzuki Swift and the word "Ukip" was daubed across its bonnet. The vehicle had also been egged and its tires slashed.
It had been parked in a street in the Kent town of Sittingbourne, when the vandals struck in the early hours of Thursday morning.
The 27-year-old candidate for the Milton Regis ward for Swale borough council. only realised that one of the car's tyres had been slashed after he started driving the car.
"My understanding is that he found the car covered in graffiti," Antony Hood, Liberal Democrat councillor for Faversham, told The Independent. "He only realised the tyres had been punctured once he'd started driving, so it could have been a lot more dangerous than it was.
Brexit billboards: Campaigners remind MPs of past promises

Show all 15
"There's no doubt that it's a blatant attempt to intimidate", he said, adding that he understood a witness had taken down a car registration number, "so the police do have a lead."
Describing Mr Stennings as "a young lad, in his twenties," he said that his colleague was "a little bit shaken but I've actually been very impressed at how he has dealt with it."
He added: "He's been to a garage, they've changed the tyres and managed to get the graffiti off so it won't cost thousands of pounds, as I'm sure whoever did it intended."
Mr Hook said he had "received some similar [far-right] stuff in the post."
He added: "There's a few slammed doors [during the campaign] but that happens every year. We're going to carry on. Not going to let some far-right idiot stop us."
Support free-thinking journalism and attend Independent events
Kent Police confirmed that officers were looking into the incident.
"Initial enquiries are being made," the force said.
Last month parliament's Human Rights Committee heard that MPs and peers were experiencing "skyrocketing" levels of abuse and death threats over Brexit and other political issues.
Register for free to continue reading
Registration is a free and easy way to support our truly independent journalism
By registering, you will also enjoy limited access to Premium articles, exclusive newsletters, commenting, and virtual events with our leading journalists
Already have an account? sign in
Register for free to continue reading
Registration is a free and easy way to support our truly independent journalism
By registering, you will also enjoy limited access to Premium articles, exclusive newsletters, commenting, and virtual events with our leading journalists
Already have an account? sign in
Join our new commenting forum
Join thought-provoking conversations, follow other Independent readers and see their replies