Use postal votes to stop low turnout in elections held under Covid rules, says Sadiq Khan
Exclusive: London mayor warns fear of disease may keep elderly and ethnic minorities from polling stations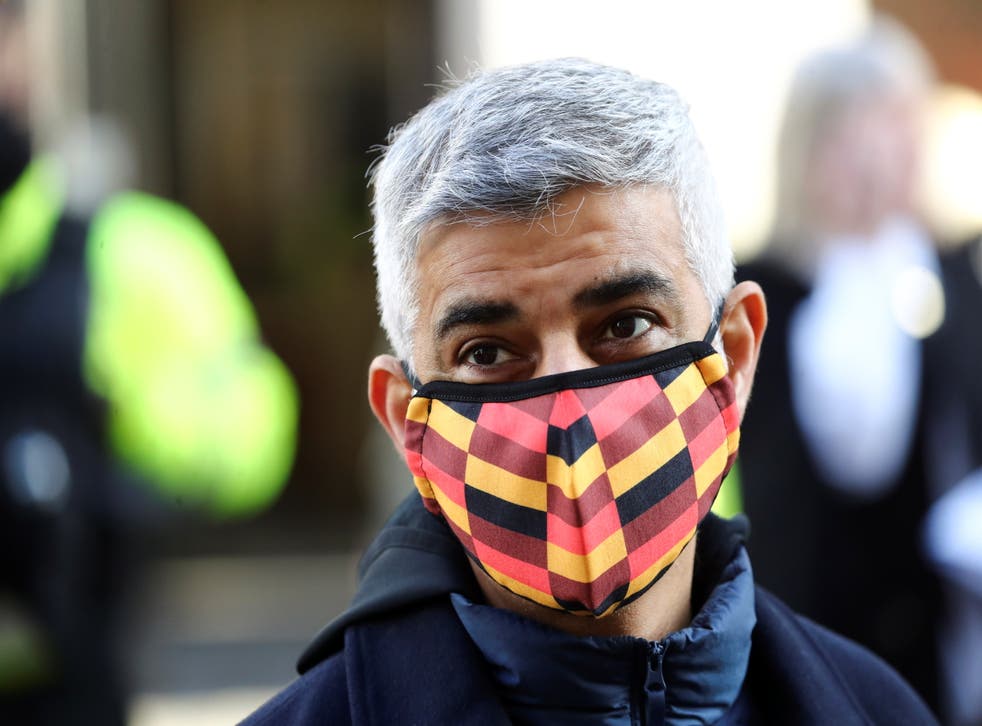 Postal voting forms should be sent to every household in areas holding elections this May to ensure that fear of coronavirus does not stop elderly and vulnerable people and ethnic minorities from casting their ballots, London mayor Sadiq Khan has said.
His call came as Labour deputy leader Angela Rayner accused the government of undermining democracy and public health by failing to take steps to encourage people to sign up to vote from home by post.
Ms Rayner accused ministers of "burying their heads in the sand", warning that government inaction risks disenfranchising voters while delivering dangerously crowded polling stations and long queues on election day
Mr Khan wrote to the constitution minister, Chloe Smith, urging the government to fund a mail out by local authorities, warning that low turnout could fuel inequalities that already see disproportionately few votes cast by disadvantaged parts of society.
His letter came as Ms Smith announced new rules on campaigning to allow free and fair local elections for 149 English councils, 13 directly elected mayors, and 39 police and crime commissioners on 6 May, the same day as elections to the Scottish and Welsh parliaments.
Mr Khan welcomed the decision to press ahead with the largest ever set of ballots outside a general election, many of them - including the London mayoral vote - postponed from 2020.
But he warned that staging the ballots at a time when England will still be in step two of Boris Johnson's roadmap out of lockdown, with outdoor gatherings limited to six people and indoor mixing still banned, could lead to historic low turnouts – especially among black and minority ethnic (Bame) communities, vulnerable people and the elderly.
"I am still concerned at the potential for low voter turnout, given the circumstances under which the elections will be held," wrote the mayor. 
"We know that the virus disproportionately affects Bame people, as well as older and vulnerable people, and we must ensure that they are similarly not disproportionately affected when it comes to being able to cast their vote.
"I welcome the government's move to make it easier to vote by proxy and the publication of the Election Delivery Plan, but I urge you to go further. 
"I am therefore calling on you to launch a widespread public awareness campaign on postal vote registration [and] make further funding available to local authorities to send postal vote registration forms to every household."
Mr Khan insisted: "This is not a party political issue, rather it would maximise participation in our democracy.
"I am concerned that unless messages about the options available to vote in the elections are conveyed widely, through a government-backed campaign, and not just in London, but other regions too where elections are being held, there is a very real chance that the voting inequalities that already exist in our society will be further exacerbated in May's elections."
And Ms Rayner said: "The government has had nearly a year to sort this out and protect our democracy, but ministers have once again been too slow to act.
"With ten weeks to go, we are yet to see a proper plan from the government setting out how these elections will be run safely, while councils face shortages of electoral staff, lack of venues, and funding uncertainty."
She added: "It is clear that fairly stringent measures will still be in place in May, so it is completely inexplicable that the government is not taking urgent action to get people signed up to vote from home by post."
New rules announced by Ms Smith will allow party activists in the local elections to campaign outdoors in a Covid-secure way from 8 March.
Individual campaigners will be permitted to deliver leaflets and speak with electors on their doorsteps, but must always be socially distanced and not enter inside people's homes.
From 29 March, the planned provision for six people or two households to meet outdoors will permit activists to campaign in a group in their local area.
The government this week published draft legislation that will enable voters who have tested positive for Covid-19 or are self-isolating to apply for an emergency proxy vote at short notice before election day.
Ms Smith said: "Democracy should not be cancelled because of Covid. Voters appreciate being well-informed and campaigning is an important part of effective elections.
"The guidance I have set out can give voters and candidates confidence that free and fair elections can be delivered on 6 May and, most crucially, in a Covid-secure way.
"I urge political campaigners to continue to show social responsibility, and for parties, agents and candidates to ensure that their campaigners understand the clear rules."
Register for free to continue reading
Registration is a free and easy way to support our truly independent journalism
By registering, you will also enjoy limited access to Premium articles, exclusive newsletters, commenting, and virtual events with our leading journalists
Already have an account? sign in
Register for free to continue reading
Registration is a free and easy way to support our truly independent journalism
By registering, you will also enjoy limited access to Premium articles, exclusive newsletters, commenting, and virtual events with our leading journalists
Already have an account? sign in
Join our new commenting forum
Join thought-provoking conversations, follow other Independent readers and see their replies