London attack: Home Secretary Amber Rudd urges public not to blame intelligence services
'We have to be careful before we point any finger of blame at the intelligence services. They do a fantastic job'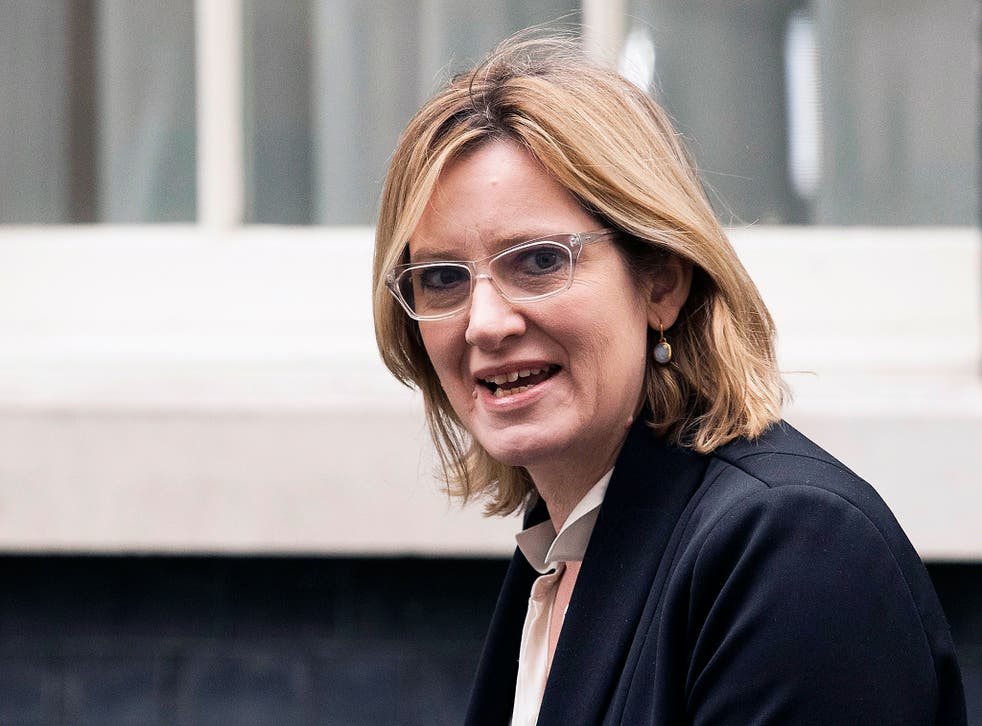 Home Secretary Amber Rudd has urged people not to point the "finger of blame at the intelligence services" for the Westminster terror attack.
Suspect Khalid Masood was known to MI5 and had been investigated in relation to concerns about violent extremism "some years ago", Theresa May told MPs today.
Her comments raised the question of whether investigations into Masood had been dropped too soon and whether he should have been under surveillance.
But Ms Rudd said it would be "absolutely the wrong judgment" to conclude that the tragedy was the result of an intelligence failure.
"I think we have to be careful before we point any finger of blame at the intelligence services. They do a fantastic job," she told the BBC.
"The fact that he was known to them doesn't mean that someone has 24 hour cover.
"I think we'll discover more about this particular man and the people around him but I'm in no doubt that the intelligence services are doing a great job."
Asked if the admission that Masood was known to the security services was evidence of a "clear intelligence failure", Ms Rudd replied: "I think that would be absolutely the wrong judgment to make.
"I'm confident that as we get more information - and I really can't be drawn any further on it at the moment - that we will learn more and take comfort from the information that we have and the work that the intelligence services do."
The Home Secretary confirmed that Masood had spent time in jail, but pointed out it was not for terrorist-related offences.
"All I can tell you is what the police have said so far which is that he was someone known to them but that he was on the periphery of the intelligence agencies," she told BBC political editor Laura Kuenssberg.
"I think we'll hear more from them in due course but we have to remember that this man was known to them partially because he had been in jail but not for terrorist offences."
Ms Rudd cast doubt on Islamic State's claim Masood was a "soldier" of the so-called terror group, also known as Daesh.
"We all know Daesh, we all know that they want to have a terrorist attack in the UK. We know that Daesh have tried to claim some responsibility.
"We don't know that yet, but what we do know is that they want to exploit it by putting fear into people and saying it was all about them. We will see."
The Home Secretary said she did not believe new legislation or extra resources were needed to help the security services prevent a repeat of the atrocity.
"I think that the Government and the country has the tools that it needs to combat terrorism," said Ms Rudd.
"We have the right legislation, we have the right programmes and we have the right support. I don't think it would be right now to have some knee-jerk reaction and introduce something new."
Asked if police and security agencies needed more funds, she replied: "I am absolutely confident they have what they need.
"We have actually increased the counter-terrorism budget. We've increased the amount of funding for the armed uplift for policing."
Register for free to continue reading
Registration is a free and easy way to support our truly independent journalism
By registering, you will also enjoy limited access to Premium articles, exclusive newsletters, commenting, and virtual events with our leading journalists
Already have an account? sign in
Register for free to continue reading
Registration is a free and easy way to support our truly independent journalism
By registering, you will also enjoy limited access to Premium articles, exclusive newsletters, commenting, and virtual events with our leading journalists
Already have an account? sign in
Join our new commenting forum
Join thought-provoking conversations, follow other Independent readers and see their replies