This is the reality of Theresa May's record on terror as Home Secretary
Analysis: PM's six years in what had been a political graveyard are now firmly in the election-campaign spotlight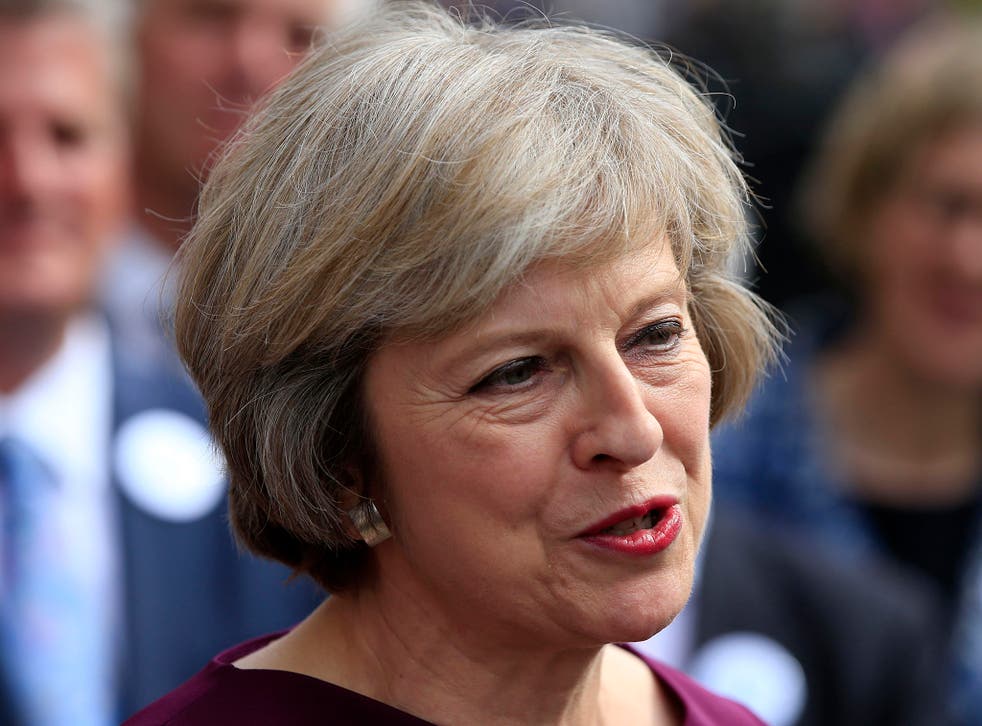 When Theresa May moved to the Home Office in 2010, she was its sixth occupant in six years. It was a political graveyard for others, but she lasted six years, making her the longest-serving Home Secretary in modern times, before becoming Prime Minister 11 months ago.
Most media reviews then about her record as Home Secretary were positive. But now it has been cast in an unflattering light after moving to the centre of the election agenda following the terrorist attacks in Manchester and London.
Labour has attacked Ms May for cutting police numbers by 20,000 since 2010 and promised to recruit an extra 10,000. She had some bruising encounters with the Police Federation, representing rank-and-file officers, notably when she told their 2015 conference to "stop crying wolf" over cuts.
But she had political cover for two reasons: the public broadly accepted that the Coalition government needed to bring down the deficit, and crime fell by 30 per cent on her watch.
The drop was in line with international trends, and partly explained by changes such as more CCTV cameras and more secure vehicles. But it suited Ms May's mantra: the public sector could "do more with less", and what was needed was not money, but reform. A recent rise in knife and gun crime has also raised questions over whether she was right to cut police numbers.
According to latest Home Office figures, the number of police in England and Wales fell by 18,991, or 13 per cent, between September 2010 and September 2016, when it stood at 122,859.
Within that, the number of authorised firearms officers dropped from 6,976 in March 2010 to 5,639 in March 2016. There are fears that big cities outside London are not adequately protected against the rising terrorist threat. An extra 1,500 were promised in 2015 but have not all been recruited.
Some police chiefs believe that having fewer officers who know local communities well has undermined their ability to spot potentially dangerous extremists who might turn to terrorism.
London Bridge Terror Attack

Show all 16
The police budget rose by 30 per cent in the 10 years to 2010 but then fell by 18 per cent over the following five years. Her Majesty's Inspectorate of Constabulary warned that some forces were "struggling to respond to shrinking resources".
Ms May often cites the Government's decision in 2015 to protect police spending, claiming that Labour would have cut it by 10 per cent (although the Tories were considering even deeper cuts than that until a last-minute retreat).
However, not all police forces have reaped the benefit. Some of the £900m extra funding to 2020 is earmarked for specific areas such as child sexual exploitation or cyber crime. The UK Statistics Authority said the police faced a £160m real terms cut in government funding in 2015-16 and 2016-17. But ministers insist it could be topped up by the local precepts levied by police and crime commissioners.
The Prime Minister points to rising spending on counter-terrorism. In 2015, the Government promised an extra £3.4bn extra over five years, a rise of 30 per cent. This will fund an extra 1,900 officers at MI5, MI6 and GCHQ. The number of counter-terrorism police officers is not made public.
Ms May has blamed her 2011 decision to water down control orders – which restricted the freedom of people believed to be a danger to the public – on the courts' decisions to strike them down. They were also dropped because of pressure inside the Coalition from the Liberal Democrats.
The orders were brought in by Labour in the 2005 Prevention of Terrorism Act. Ms May replaced them with Tpims (Terrorism Prevention and Investigation Measures), which she said at the time would be more "focused and flexible". But Tpims have been used sparingly, with only a handful of cases in their first three years and only six active last autumn.
In the current climate, there is speculation about a return to a tougher regime. Lord Carlile of Berriew, the former independent reviewer of terror laws, suggested that the review promised by Ms May could bring back control orders – possibly under a new name. Insisting that they had saved dozens of lives, he said: "Their application to people such as the Manchester and Borough Market perpetrators is self-evident. They were removed for mistaken political reasons."
However, Lord Carlile said: "The assertion that cuts to beat police officers have diminished the ability to fight terrorism is untrue… I have watched closely the resourcing of MI5, counter-terrorism policing units and others in the years since 9/11 and I believe Labour, Coalition and Tory governments have provided the resources needed."
Temporary exclusion orders, introduced by Ms May in 2014 to prevent jihadis returning to Britain, have been used only once, it emerged last week.
UK General Election 2017

Show all 47
Ms May's record on tackling extremism has also returned to haunt her in the election. In 2014, she had a spectacular row over extremism in schools with Michael Gove, the then Education Secretary. He believed the government should "drain the swamp" of Islamic extremists and criticised what he saw as Ms May's more conciliatory approach as waiting for "the crocodiles to reach the boat".
Some Tories saw her statement on Sunday that there had been "too much tolerance of extremism" as a vindication of Mr Gove's stance. The Prime Minister insists she has always been tough on extremism and has addressed the issue many times over the years.
The Prevent deradicalisation strategy, reformed by Ms May in 2011, has come in for criticism for alienating some Muslims, who feel spied on. If the Tories win the election, it is expected to be revamped and given more money.
Join our new commenting forum
Join thought-provoking conversations, follow other Independent readers and see their replies