Six-day deadline to avoid drastic cuts to London trains and buses, Sadiq Khan warns
Without more government cash, network faces 'managed decline'
Andrew Woodcock
Political Editor
Saturday 04 December 2021 19:01 Comments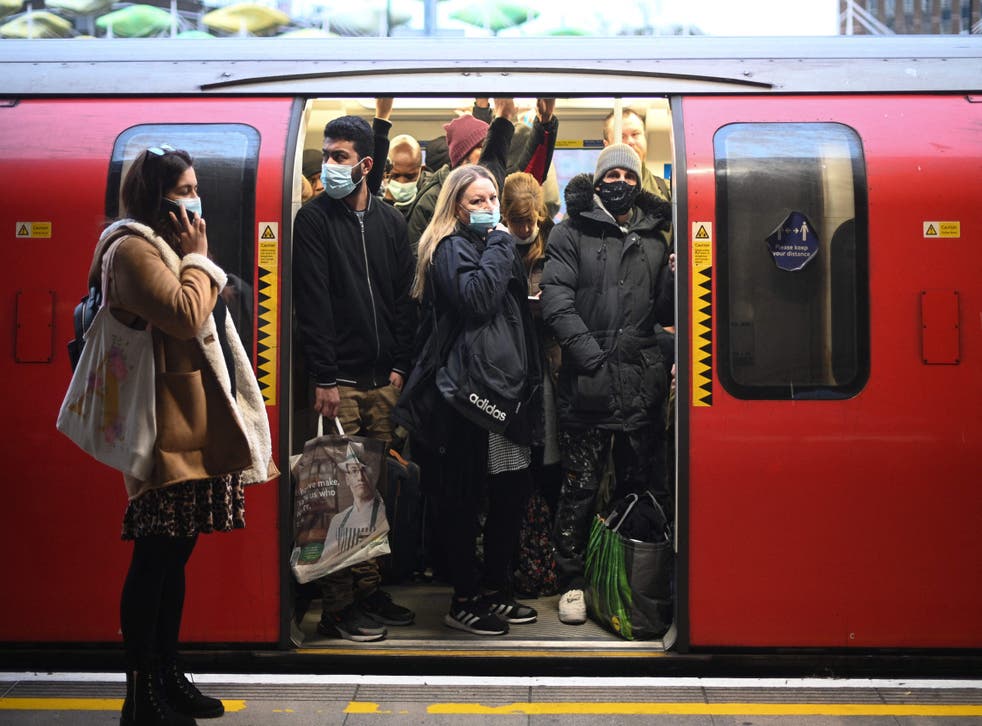 London faces drastic cuts to its public transport network, including the possible loss of more than 100 bus routes and the closure of an entire Tube line, unless ministers deliver additional funding within the next six days, the city's mayor Sadiq Khan has warned.
Transport for London's (TfL) current funding deal – including emergency grants totalling £4bn to help it through the Covid pandemic and the recovery from lockdown – runs out on 11 December.
Without new arrangements in place, the mayor is warning he will have to implement a budget for "managed decline".
But the Department for Transport has said it will not open discussions on future support until Mr Khan identifies alternative sources for funding, giving him a deadline of Wednesday to do so.
The "managed decline" plan envisages a 9 per cent reduction in Tube and overground rail services and bus services scaled back by 18 per cent, along with the potential unplanned closure of key road connections such as the Rotherhithe tunnel under the Thames, the Gallows Corner flyover in Romford and the Westway elevated dual carriageway which brings the A40 into the heart of London.
TfL would be forced to consider reductions in the frequency of trains on every line above and below ground, and the creation of new cycleways and step-free access schemes would have to be halted, in a retrenchment similar to that seen in the 1970s and 1980s when the capital's public transport network went into decline.
Unlike other major world cities such as Paris and New York, where payments for tickets make up just 38 per cent of funding, London's public transport network is forced to rely on fares rather than government grants for the bulk of its income.
Prior to the Covid outbreak, some 72 per cent of TfL's operating income – £4.9bn in 2019/20 – was raised from fares, but the 95 per cent collapse in passenger numbers due to the pandemic has had a devastating effect on its finances.
With Tube ridership at just 60-65 per cent and bus use at 70-75 per cent of pre-Covid levels, TfL is appealing for a settlement from government totalling £1.7bn for the period to the end of the financial year 2022/23, along with support towards the forecast £1.3bn shortfall in 2023/24.
And Mr Khan is calling for a longer-term model shifting the burden of funding away from the fares paid by passengers.
The mayor's office is accusing transport secretary Grant Shapps of failing to engage seriously in talks and warned that government inaction risks "levelling down" the capital.
UK news in pictures

Show all 50
A spokesperson warned that the "managed decline" would damage the capital's economy, with a knock-on impact on the financial imbalance which sees London pay £36bn more in taxes to the Treasury each year than it receives in government support.
"Time is running out for the government to step up and prevent TfL falling into decline reminiscent of the 1970s and 80s, with huge cuts to services," said the spokesperson.
"Levelling up cannot mean levelling down our capital city.
"If London's public transport decays it will have a huge knock-on impact on London's economy and put our city's yearly contribution to the Treasury of more than £36bn at risk.
"With just six days to go, the government must protect the national economic recovery by giving TfL the long-term sustainable funding deal it desperately needs."
A Department for Transport spokesperson said: "We have written to TfL to outline the next steps in the emergency funding settlement process, which has already seen more than £4bn of emergency funding provided to Transport for London.
"Under the current settlement, the mayor agreed to identify new or increased income sources by 19 November that he proposes to consult upon which would move TfL towards a financially sustainable future, in a way that is fair to the national taxpayer.
"These have not been identified. We are therefore extending that deadline to 8 December and, once received, government stands ready to begin discussions on further support for TfL to recover from the pandemic"
Register for free to continue reading
Registration is a free and easy way to support our truly independent journalism
By registering, you will also enjoy limited access to Premium articles, exclusive newsletters, commenting, and virtual events with our leading journalists
Already have an account? sign in
Join our new commenting forum
Join thought-provoking conversations, follow other Independent readers and see their replies