Thousands facing long Covid as 'collateral damage' of Boris Johnson's decision to lift restrictions
Warning that debilitating condition could strike 10,000 a day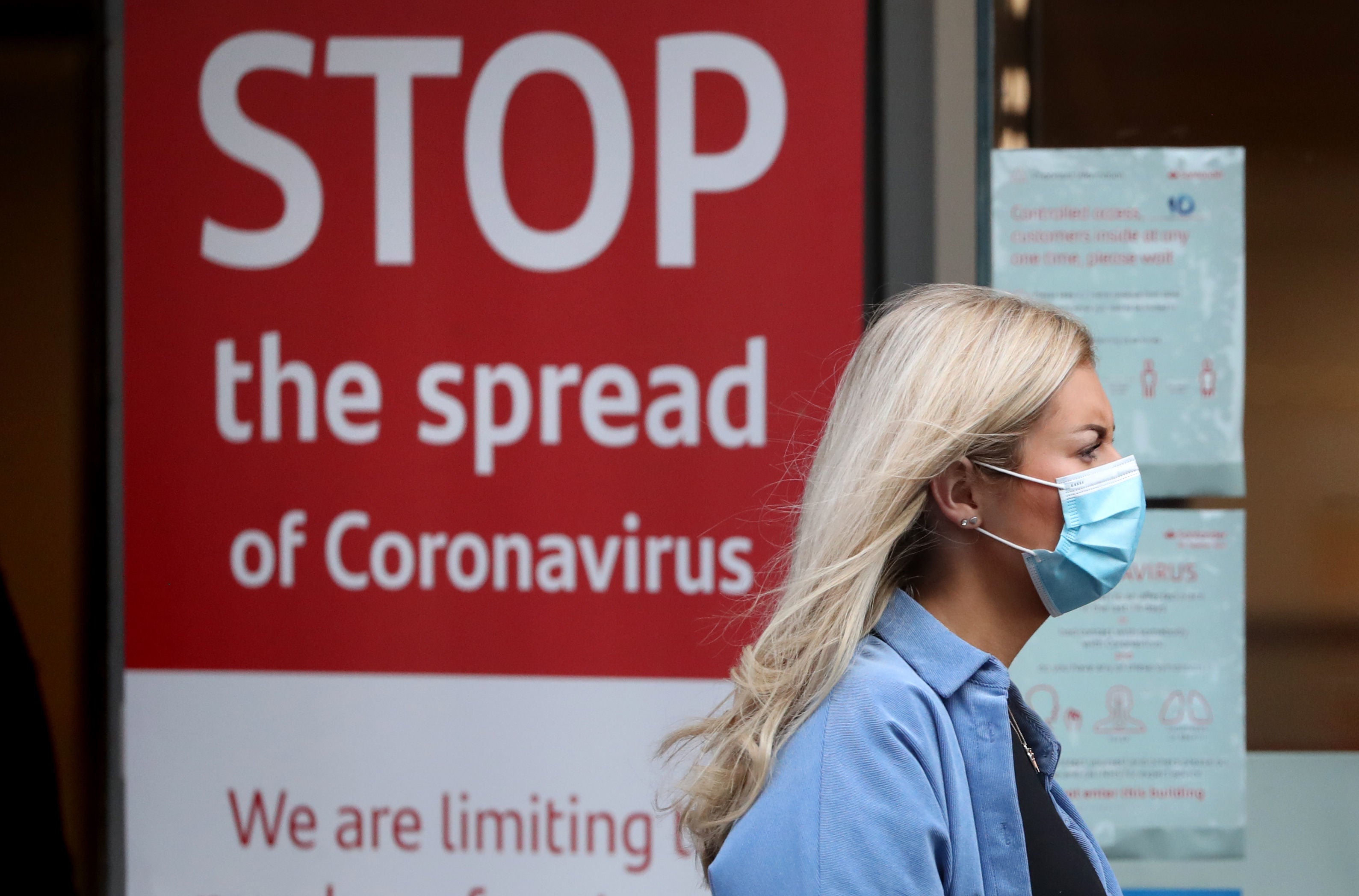 Boris Johnson's decision to drop mandatory face-masks and social distancing from 19 July in England could condemn thousands of young Britons to years of debilitating sickness with long Covid, those who study the illness have warned.
Experts told The Independent that as many as 10,000 people a day could be struck down by the condition over the coming weeks, with around 20 per cent of sufferers remaining unable to work, study or carry out normal daily activities for a year or more.
Long-Covid campaigners wrote to health secretary Sajid Javid urging him to reconsider the lifting of restrictions such as the requirement for masks on public transport and in shops.
They said that people with the condition had become "an afterthought" in the government's response to the pandemic, while the chair of the all-party parliamentary group (APPG) on coronavirus described sufferers as the "collateral damage" of Mr Johnson's reopening strategy.
And there were concerns over the impact on the economy, with long Covid disproportionately hitting younger age groups – people in their 20s and 30s – who form the backbone of industries such as hospitality and retail, which are hoping to rebuild after months of restrictions and closures.
One survey of 1,000 small and medium-sized businesses, conducted by insurance firm Unum, found that 35 per cent reported having at least one member of staff off work because of the condition.
Chief medical officer Chris Whitty said he expected "a significant amount more long Covid" in the period after 19 July, particularly among younger people who have not been fully vaccinated. And he warned that it was not yet proven whether vaccines provide protection against the condition, characterised by extreme fatigue, "brain fog", and physical problems such as muscle weakness.
Prof Whitty said the challenge from long Covid "is not going to be trivial", and that the UK must go "hell for leather" to drive down infection rates and complete the vaccination programme in an effort to limit the number of people who develop the condition.
Official figures show that an estimated 2 million people have already experienced long Covid in the UK, with 385,000 – including TV presenter Kate Garraway's husband Derek Draper – suffering for 12 months or more. Of these, only 9 per cent, or 35,000, were hospitalised when they were first infected with Covid.
Mr Javid warned MPs that the UK would enter "uncharted territory" when restrictions were lifted, with the potential for infections caused by the virulent Delta variant of coronavirus to soar to 100,000 a day from the current level of 28,773. And Imperial College London professor Neil Ferguson said the daily figure could hit 200,000.
While vaccines have brought fatality rates down from around one in every 100 infections to one in 1,000, Exeter University healthcare expert Dr David Strain said there was so far no evidence of a decline in the 10-17 per cent of coronavirus cases estimated to develop into severe long Covid.
Dr Strain, who speaks on Covid for the British Medical Association, told The Independent: "Around two-thirds of those developing long Covid say that their ability to carry out normal daily activities is affected for 12 weeks or more, and many of them will go on to have symptoms for 12 months or more.
"If Covid cases increase exponentially as restrictions are removed, the best-case scenario is that we will have something like 3,000 people a day becoming incapable of working for three months or longer. In the worst case, that could be 10,000 a day or more."
Long Covid could be "the sting in the tail" of the pandemic, with the decision to drop restrictions risking thousands more people suffering for years to come, said Dr Strain.
"One of the real worries is that with chronic fatigue syndrome or ME, we see people left with hugely debilitating symptoms for many years," he said. "We don't know for certain if long Covid will behave in the same way, but all the markers suggest it is likely that those who haven't got better after 12 months may not be getting better for years or decades."
Professor Christina Pagel, of University College London, told The Independent: "Going ahead with 19 July in this way is a pretty crazy thing to do when cases are so high and rising. They seem to be saying we are trying to infect people in the summer to give us a bit more immunity in the winter. It doesn't make much sense to me."
Meanwhile the Royal College of Occupational Therapists warned that staff treating long-Covid sufferers are "at breaking point" from the additional workload.
With waits as long as 100 days for assistance, and the availability of treatment across the UK being a postcode lottery, spokesperson Lauren Walker said that a £100m one-off boost to funding from government is unlikely to be enough to relieve pressure on rehabilitation services.
"There were gaps in resources for rehabilitation before the pandemic came along," she said. "The £100m is very welcome, but the government and the NHS need to pay very close attention to whether or not that is actually enough, because staff are at breaking point and burnt out from the initial waves of the pandemic. To then say you are going to have thousands more needing support, without more funding to support that, is really concerning for our service."
In a letter to Mr Javid, advocacy group LongCovidSOS said the decision to allow the virus to rip through communities will condemn "thousands of predominantly young, active people … to prolonged ill-health and disability every day" and have "serious implications" for the health service, which must also contend with a backlog of millions of patients with non-Covid health issues.
LongCovidSOS acknowledged that there "may not be a perfect time to lift all restrictions", but added: "The time is certainly not now."
The group said: "As well as putting considerable pressure on the NHS, [victims'] reduced capacity to work will further contribute to the impact long Covid is already having on society and the economy, through reduced output and tax revenues, and increased sick pay and benefits claims.
"Long Covid has not only been ignored in policy-making decisions, and barely mentioned in the roadmap out of lockdown – it has been almost completely absent from the government's public messaging. We have been an afterthought in the government's response."
Liberal Democrat MP Layla Moran, the chair of the APPG on coronavirus, told The Independent: "There are huge numbers of people who are now being affected by this and it sounds like the government is just not going to address it. They are going to be the collateral damage of the government's approach."
As well as measures to drive down Covid infections, such as mandatory face-masks and better ventilation, the APPG is calling for regular publication of data on long Covid, sustained investment in clinics and rehabilitation services, and ongoing support for patients who are no longer able to work.
Labour health spokesperson Jonathan Ashworth said: "Allowing infections to rise as high as 100,000 as an inherent part of government policy risks leaving thousands with serious chronic health problems. We all want to see the economy open up, but we should maintain mitigating precautions such as mask-wearing for now, enforced ventilation standards and enhanced sick pay, to drive down infections while doing all we can to drive up vaccination rates in areas where take-up remains low."
A Department of Health and Social Care spokesperson said: "The government rapidly provided specialist care for acutely ill Covid-19 patients at the start of the pandemic and we've matched that speed and scale in our support for people with long Covid.
"To help people suffering the debilitating long-term effects of this virus, we have opened more than 80 long-Covid assessment services, and in June NHS England published a £100m plan, including £30m to help GPs improve diagnosis and care for patients with long Covid.
"At the same time we are backing our exceptional scientists, with over £50m for research to better understand the long-term effects, to ensure the right help and treatments are available."
Join our commenting forum
Join thought-provoking conversations, follow other Independent readers and see their replies