Look out, here comes Boris Johnson: Which safe Conservative constituency will provide a soft landing for the bulky ambitions of the mayor who would be PM?
John Rentoul and Joe Krishnan list those that might be in his sights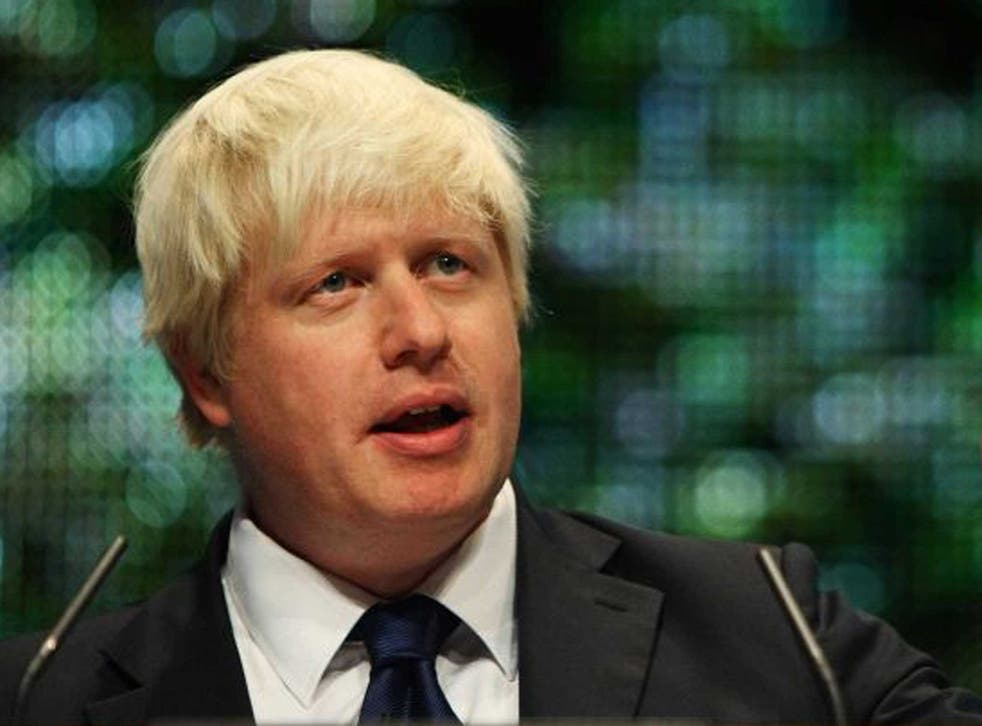 Boris Johnson is on a zipwire and he's speeding towards the ground. But where will he end up? Which safe Conservative constituency, preferably in London or the South-east, will provide a soft landing for the bulky ambitions of the mayor who would be prime minister?
He had hoped to put off a decision about whether to go for a Tory seat at the general election until it was a few months away, but David Cameron gave him a push in an interview last week, saying: "I want to get him back in Parliament."
Mr Cameron said: "If you have got a great striker you want him on the pitch." But he also calculated that Boris was likely to try to get back into the Commons, and that it would be better to encourage it, to avoid it being reported as a challenge to him when it happened.
Hence, too, the Prime Minister's comment: "There is nothing ignoble about wanting my job." The last time we heard precisely those words was when Tony Blair was fending off Gordon Brown.
Boris is coming, therefore. His fellow Etonian has called his bluff. He must surely try to be an MP again next year, and hold both posts for the last year of his second term as London mayor. As the only Tory with a national profile and a positive opinion-poll rating, many local parties would be eager to have him as their candidate. But who will stand aside for him, and in which target seat will he land?
North West Hampshire
(Tory majority 35% in 2010)
Sir George Young, 72, the Chief Whip, has announced he will retire in 2015. Bookmakers have earmarked the seat as Boris's most likely destination with odds of 9/2. Cathy Osselton, deputy chairwoman of the constituency association, said: "On a personal point, I would be very happy to have Boris as our MP."
Louth and Horncastle
(28% in 2010)
Sir Peter Tapsell, 84, the longest-serving MP, announced last week he would be standing down. He has been reported as saying that he was "keeping his seat warm for Johnson", but his Lincolnshire constituency may be too far from London for someone who wants to continue as Mayor of London for a year.
Mid Worcestershire
(31% in 2010)
Peter Luff, 59, is stepping down next year, and Boris was mobbed on a visit to Worcester after the 2012 Olympics. But he left it too long and, in November, Nigel Huddleston was selected as the Tory candidate in an open primary election.
Henley
(31% in 2010)
Boris was MP here between 2001 and 2008, before he was elected as mayor, but he is said to have assured current incumbent John Howell, 58, that he "wouldn't want to swim in the same river twice".
Croydon South
(28% in 2010)
Sir Richard Ottaway, 68, is standing down after 22 years. A local Tory official had said: "We'd be looking for a high-profile candidate. I think Boris Johnson would be a favourite." But Boris left it too late: Chris Philp was selected as the Tory candidate in November.
Buckingham
(26% in 2010)
John Bercow, 51, the Speaker, was reported by the Mail on Sunday to be intending to retire in the middle of the next parliament. A local Tory source was quoted as saying that the association would select Boris as its candidate "in 10 seconds flat". But that would be too late for Boris if he wanted to get back to the Commons next year.
Hornchurch and Upminster
(31% in 2010)
Dame Angela Watkinson, 72, has held this strongly working-class Conservative seat since 2001. She was briefly a government whip.
Kensington
(25% in 2010)
Sir Malcolm Rifkind, 67, was out of Parliament between 1997 and 2005, when he returned and stood for the Tory leadership. Failing to attract much support, he withdrew and supported Kenneth Clarke. But he is an active member of the House and shows no sign of wanting to go.
Richmond Park
(7% in 2010)
Zac Goldsmith, 39, the environmentalist, was one of the stars of the 2010 intake, but he continued to speak his mind and failed to win promotion. He has criticised the coalition for failing to legislate for a "genuine" power of popular recall for errant MPs, and has threatened to resign to cause a by-election if the Government changes its position and goes ahead with a third runway at Heathrow.
Mole Valley
(29% in 2010)
Sir Paul Beresford, 67, a former leader of Tory Wandsworth council, has been an MP for 22 years and has never been a minister. If he decided to stand down, his Surrey commuter-belt seat would be most conveniently placed.
Harrow East
(7% in 2010)
Bob Blackman, 57, opposed the same-sex marriage legislation that was passed this year. He was elected only in 2010, but may decide that he and the Tory leadership are not on the same wavelength. The seat is a prime Labour target, though, having been lost by Tony McNulty in 2010.
Uxbridge and South Ruislip
(25% in 2010)
Sir John Randall, 58, was deputy chief whip until he stood down in October last year. He is tough and popular with fellow MPs, but his ministerial ambitions are probably at an end.
Register for free to continue reading
Registration is a free and easy way to support our truly independent journalism
By registering, you will also enjoy limited access to Premium articles, exclusive newsletters, commenting, and virtual events with our leading journalists
Already have an account? sign in
Register for free to continue reading
Registration is a free and easy way to support our truly independent journalism
By registering, you will also enjoy limited access to Premium articles, exclusive newsletters, commenting, and virtual events with our leading journalists
Already have an account? sign in
Join our new commenting forum
Join thought-provoking conversations, follow other Independent readers and see their replies