Labour peer who repeatedly used 'n-word' to defend transphobia allegations suspended over sexual harassment complaints
Independent commissioner upheld four complaints against Lord Stone, a former joint chairman of Marks and Spencer
Lizzy Buchan
Political Correspondent
Thursday 24 October 2019 15:17 Comments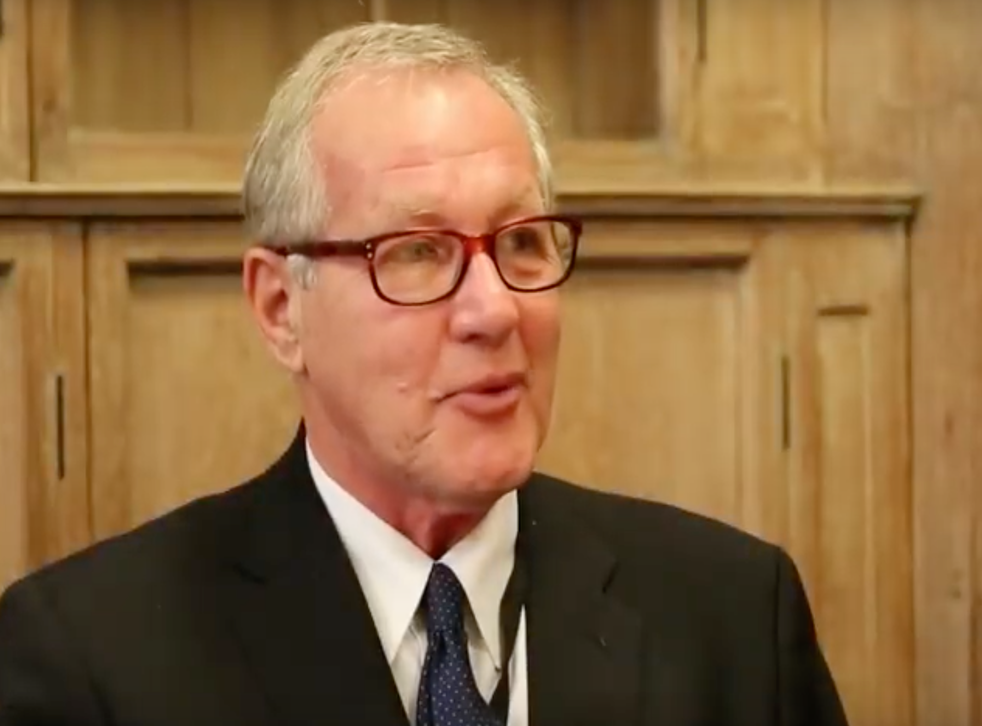 A Labour peer who used racial slurs to defend himself from accusations of transphobia has been suspended by the party after complaints he sexually harassed parliamentary staff.
Lord Stone of Blackheath, a former joint managing director of Marks and Spencer, was found to have breached parliament's code of conduct in four cases, which included unwanted touching and making sexist and transphobic remarks.
In response to allegations of transphobia, the peer repeatedly used the word "n*****" as part of an example of his "sense of equality", according to a new report by the Lords Commissioner for Standards, Lucy Scott-Moncrieff.
The complaint emerged following an incident at a restaurant in the Lords, where Lord Stone shouted that his guest "wanted the trans operation" at a stall where staff were asking for signatures to a pledge against homophobic and transphobic behaviour.
The peer insisted he was not transphobic and told the commissioner that those who were offended were "not as enlightened as I am about the equality of gay, lesbian, trans or whatever else".
In defending his sense of equality, Lord Stone said: "I wouldn't call somebody a 'n****' in, like, in an aggressive way, but let us say I was at some meeting, which I often am, particularly in Israel with black people or whatever, I would say, 'We are all n******, I am'— what do you call it—'an honorary n*****', yes, and they would say, 'Yes, Andrew is just as n***** as we are'."
On another occasion, the peer stopped a woman in a stairwell while they were alone and complimented her on hair. When she showed concern at his comments, he grabbed her arm and told her "while it might be thought sexist to say so, she really did look beautiful".
Lord Stone defended his behaviour as an attempt to boost the complainant's self esteem.
Another woman complained that he signed off emails with kisses and stroked her arm for "five to ten seconds" to thank her for completing a task, which left her feeling "really angry, uncomfortable, anxious and pinned in".
The staffer said his behaviour towards female colleagues was "a bit creepy", describing a previous joke he made to a young woman in which he said he hoped the 'Upskirting' Bill would contain photos.
The peer said he did not recall the stroking incident but he believed his behaviour was "benign, as it was an expression and recognition of the inter-relatedness of all humanity".
UK news in pictures

Show all 50
He said he had made the joke on the Upskirting Bill to many people and it would have been sexist to not share the joke with the staffer, simply because she was a woman.
Lord Stone agreed to take part in a course of "bespoke training and behaviour coaching sessions" following the report. All of the complainants declined an apology.
A Labour Lords spokesman said: "The chief whip has informed Lord (Andrew) Stone that he is suspended from the Labour peers group until further notice.
"Further discussions will be had with Andrew once he has completed the training and coaching recommended by the commissioner."
Lord Stone was made a life peer by Tony Blair in 1997. He has been approached for comment.
Register for free to continue reading
Registration is a free and easy way to support our truly independent journalism
By registering, you will also enjoy limited access to Premium articles, exclusive newsletters, commenting, and virtual events with our leading journalists
Already have an account? sign in
Join our new commenting forum
Join thought-provoking conversations, follow other Independent readers and see their replies