Loveless partners in coalition ditch plan to renew their vows
Parties keep their distance after ministers realise running the country is tougher than they thought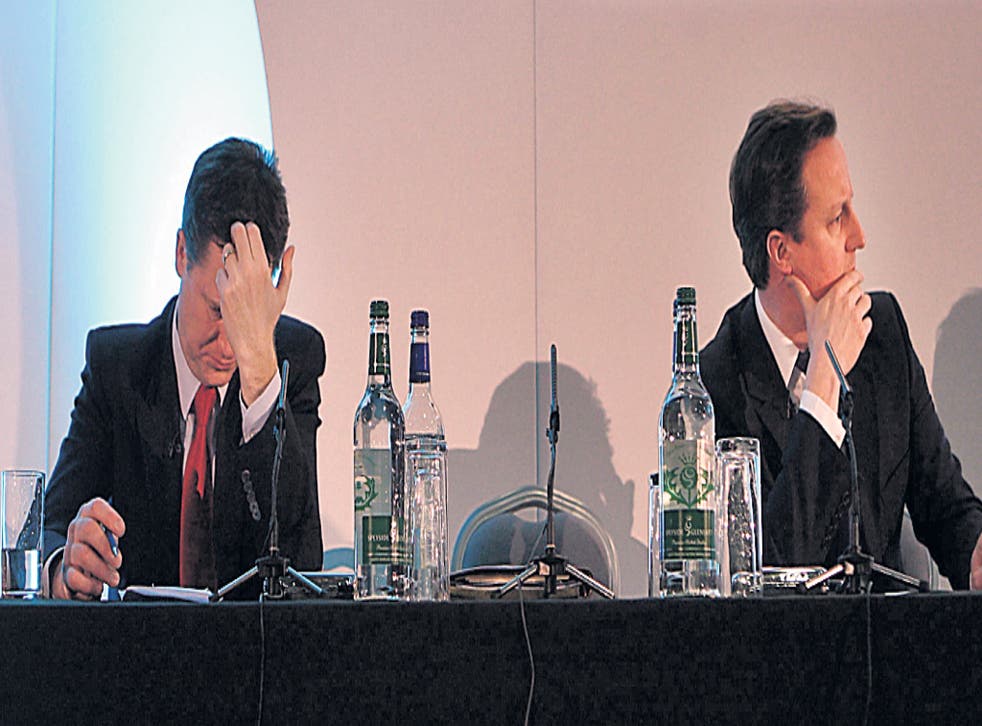 Parliamentary Correspondent
Plans for a second coalition agreement between the Conservatives and the Liberal Democrats have been jettisoned as the parties struggle to sustain their existing reforms. Senior ministers had been working on a mid-term document – dubbed Coalition 2.0 – listing new policies to pursue from the end of this year until 2015. But The Independent on Sunday has learnt that the idea of a new agreement has been abandoned because ministers realise running the country is harder than they had thought.
Oliver Letwin, the Conservative policy guru, had confidently predicted that the Government would "run out of ideas" by 2012 because the big reforms negotiated in May 2010 would all have been implemented. However, several Bills, notably reforms to the NHS and benefits, have been widely criticised by charities, professional bodies and parliamentary committees and have been delayed by a string of defeats in the Lords.
"Coalition 2.0 is not going to happen," admitted a senior cabinet source. "We have realised that governing is more than just passing legislation. We really need to focus on ensuring they [the laws] work so we can go to voters with proof that we have made a difference."
Parliamentary setbacks have brought an end to the bonhomie of the early days, when both sides joked about how much they had in common. Each party is expected to publish a mid-term review focusing solely on its own achievements.
After recent public rows over the use of Britain's EU veto, the health and welfare reforms and tax policy, ministers conclude that it is all but impossible to agree a new programme and that they should concentrate, instead, on making a success of the 36-page document drawn up in five highly charged days in May 2010.
In particular, they want to focus on persuading the public that the NHS reforms will improve patient care, despite widespread opposition from most professional bodies. This week, Andrew Lansley, the Secretary of State for Health , is expected to table at least 200 amendments aimed at appeasing the Lords and easing the troubled legislation on to the statute book. "The Bill just has to happen," one minister said. "We have to just knuckle down and get it through."
It is also understood the Queen's Speech could be pushed back from May to June this year, to give the Government more time. In the next session, Lords reform is likely to dominate, but major new legislation is expected on gangs, employment law, social care and utility companies. The IoS revealed earlier this month how Mr Cameron told ministers he wants "less and better legislation" in the next session of parliament.
The Government has suffered six defeats over welfare in the Lords, including the removal of child benefit from the £26,000 cap, not charging single parents for help in obtaining child maintenance, and exempting cancer patients from limits on the new Employment Support Allowance.
Iain Duncan Smith, the Work and Pensions Secretary, insists he has public support for reforming the welfare state and will this week urge MPs to reverse the Lords' amendments. "Millions of people are trapped on benefits under a welfare system where taking up work can leave many worse off," he said. "This is absurd and the British public expects this government to do something about it."
The Legal Aid Bill, described as a "monster" piece of legislation by one minister and "the hardest for us to get through unscathed" by another, is due in the Lords next week. Lib Dems, Labour and crossbench peers are expected to try to block changes to "no win, no fee" rules, claiming they will deprive the poor, elderly and homeless of justice.
Recently, the Lib Dems have adopted a more strident "differentiation strategy", to distance themselves from the Tories. And, in a further sign of the loosening of coalition harmony, the Lib Dem leader, Nick Clegg, last week gave a speech demanding the Treasury go "further and faster" in lifting the income tax threshold to ease the burden on low earners.
A study at University College London last year found 75 per cent of Lib Dem manifesto pledges were in the original coalition agreement, compared to just 60 per cent of Tory promises. One Conservative MP remarked at the time that any new agreement would mean "pay-back time".
This week's wrangles: Challenges over legal aid, welfare and Scotland
Monday Legal Aid, Sentencing and Punishment of Offenders Bill goes to the Lords amid claims that justice will be denied to the least well-off.
Tuesday Lords finish scrutinising the Welfare Reform Bill after inflicting six defeats on the Government.
Wednesday Government banking on Lib Dem MPs to help reverse Lords amendments to Welfare Bill. Two hundred amendments to the Health and Social Care Bill to be outlined, aimed at buying off opposition.
Thursday Scotland Bill in the Lords against backdrop of growing row over Scottish independence.
Register for free to continue reading
Registration is a free and easy way to support our truly independent journalism
By registering, you will also enjoy limited access to Premium articles, exclusive newsletters, commenting, and virtual events with our leading journalists
Already have an account? sign in
Register for free to continue reading
Registration is a free and easy way to support our truly independent journalism
By registering, you will also enjoy limited access to Premium articles, exclusive newsletters, commenting, and virtual events with our leading journalists
Already have an account? sign in
Join our new commenting forum
Join thought-provoking conversations, follow other Independent readers and see their replies