Manchester attack: What Theresa May's response tells us about her character
All modern prime ministers must inevitably give their variation on a theme of defiance in the face of terror, and Theresa May's was close to perfect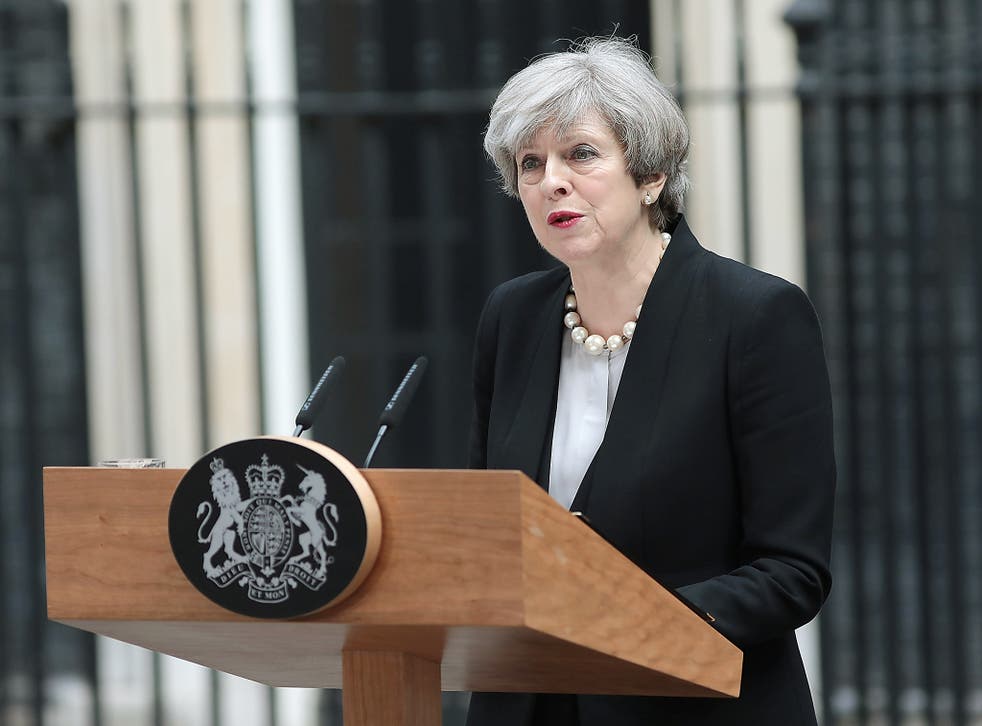 No Prime Minister in modern times has not been compelled to provide their own terrible variation on a theme of defiance in the face of terror, a reality that Theresa May acknowledged as she walked out of Number 10 Downing Street at eleven o clock on Tuesday morning.
"At terrible moments like these it is customary for leaders, politicians and others to condemn the perpetrators and declare that the terrorists will not win," she said. "But the fact that we have been here before and the fact that we need to say this again does not make it any less true."
Such moments make a habit of revealing inner character. Twelve years ago, Tony Blair gave an electrifying performance, but a performance all the same. The morning after the murder of Lee Rigby, David Cameron sought out of depths of gravity that did not appear to be there.
Theresa May's pitch was perfect.
"This attack stands out for its appalling, sickening cowardice, " she said. "Deliberately targeting innocent, defenceless children and young people who should have been enjoying one of the most memorable nights of their lives."
"The cowardice of the attacker met the bravery of the emergency services and the people of Manchester," she said.
She spoke of "the spirit of Manchester and the spirit of Britain, a spirit that through years of conflict and terrorism has never been broken and will never be broken".
They were neither the words nor the tone of a great orator. They were simply the words, dare I say, of a bloody difficult woman who will not give in to terror and, for as long as she's around, neither will you.
Directly after, she stepped into the Prime Ministerial car and drove straight to Manchester, where she toured hospitals, meeting wounded children, a visit Downing Street called "strictly private".
She was meant to spend the day in yet another conference hall, Somerset this time, talking again on loop about "strong and stable leadership", not yet 24 hours after that particular act had appeared to vanish in to thin air, over the remarkably poor handling of a clear U-turn in social care policy and a BBC interview that can only be described as disastrous.
But there can be no doubt that she became the very embodiment of strong and stable leadership, and rather effortlessly too.
Earlier in the day Donald Trump, arguably in the fashion of that one chimpanzee that finally does type the complete works of Shakespeare, had alighted on the perfect sentiment.
"So many young beautiful innocent people living and enjoying their lives murdered by evil losers in life," he told a press conference in Israel. "I won't call them monsters because they would like that term. They would think that's a great name. I will call them from now on losers because that's what they are."
There will be no election campaigning on Wednesday, nor in all likelihood on Thursday or Friday. It may even be next week by the time the Prime Minister is back, re-sealed inside her cocoon of approving activists, reaching for her stock phrases, hammering them home.
But at this brief moment, never before have they sounded more like the truth.
Register for free to continue reading
Registration is a free and easy way to support our truly independent journalism
By registering, you will also enjoy limited access to Premium articles, exclusive newsletters, commenting, and virtual events with our leading journalists
Already have an account? sign in
Join our new commenting forum
Join thought-provoking conversations, follow other Independent readers and see their replies