The map that shows how the Tory Party has been split in two over Europe
A total of 119 Tory MPs have announced they will campaign to leave the EU, while 134 will vote to stay... but what areas does each group represent?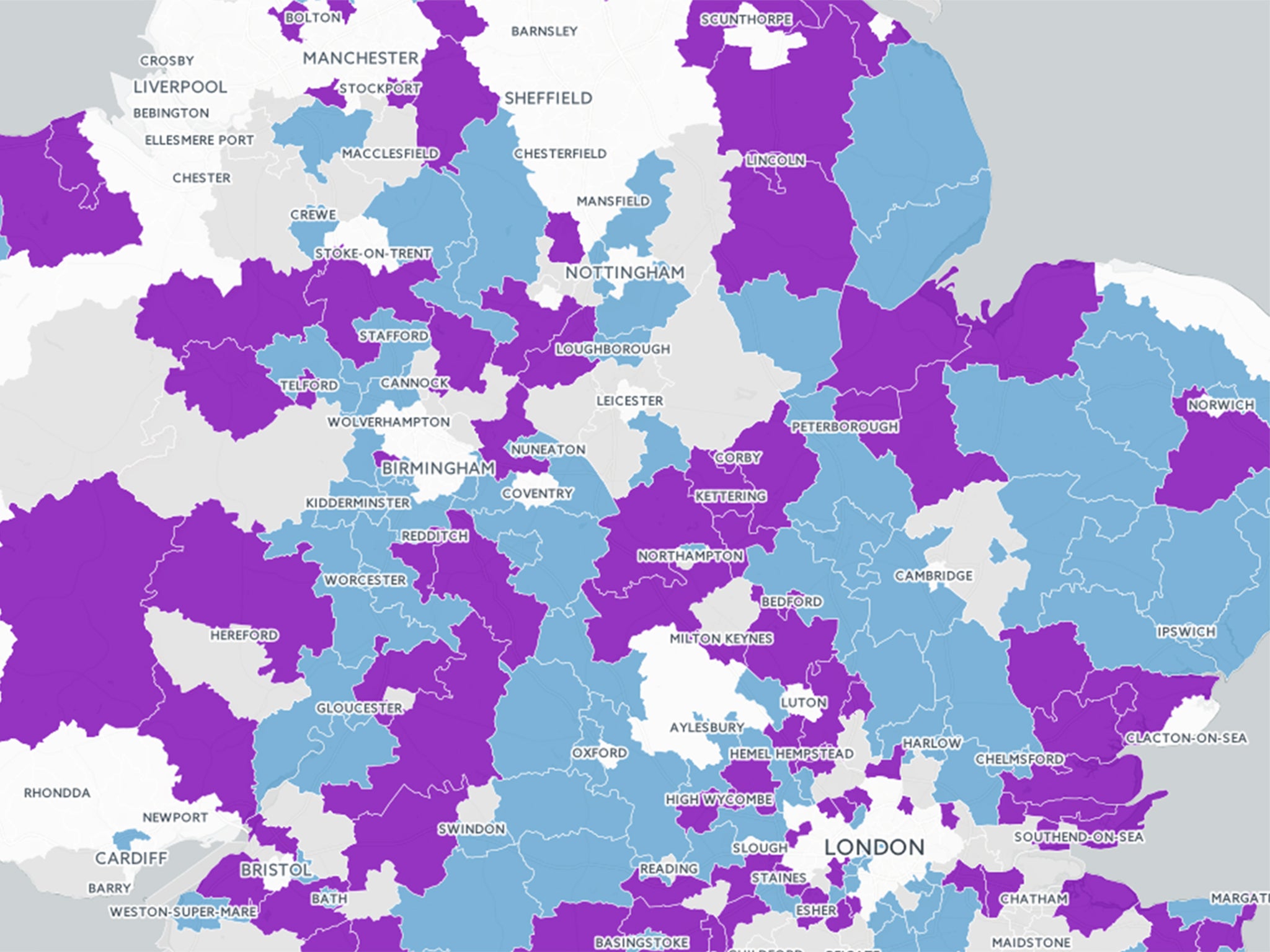 The issue of Europe has finally divided the Conservative Party, as it has long threatened to do.
One hundred and nineteen Tory MPs have rebelled against their leader and will campaign to leave the EU ahead of the UK's referendum on June 23. A total of 134 MPs will campaign to stay, with 77 undeclared as of today.
Put another way, 41 per cent of the party's MPs are pro-EU and 36 per cent are against.
But what areas do they represent? Our interactive map reveals all: purple constituencies are represented by anti-EU MPs and light blue areas are home to pro-EU MPs.
(Grey areas are represented by undecided MPs and white ones are not represented by Conservatives.)
No one consistent pattern emerges. There are strips of pro and anti-EU MPs all across the country, as you can see by exploring the interactive map.
Yet how do areas compare? Across the South West – in Cornwall, Devon, Somerset, Devon – 13 Tory MPs have come out against the EU, with 10 supporting and a handful still undecided.
As many as nine Hampshire MPs are also anti-EU, with just two supporting and four yet to declare. Meanwhile, MPs are split 12 'for' and 11 'against' across Sussex and Kent.
The anti-EU Kentish MPs all represent areas along or near the Thames Estuary, with Sir Roger Gale, the MP for North Thanet, the lone pro-EU voice in the area.
That reflects opinion above the Estuary, with a bloc of nine Tory MPs across Essex also backing the leave campaign. From Braintree to Harwich, down to Basildon and across to Rochford, Tory MPs are unanimous.
Douglas Carswell, the Ukip MP for Clacton, completes a bloc of ten in the area who all think Britain would be better off out.
In contrast, all six Suffolk MPs have come out as pro-EU, while five of the party's seven Norfolk MPs will also campaign to stay in.
Two other pro-EU areas are centered around Oxford and Cambridge, with both of these university cities surrounded by pro-EU MPs.
Yet these pockets of support exist alongside strips of opposition - reflecting the deep divide now evident within the Conservative Party.
Join our commenting forum
Join thought-provoking conversations, follow other Independent readers and see their replies