Marcus Rashford urges government to keep £20 Universal Credit top-up
'We should be focusing efforts on developing a sustainable long-term roadmap out of this child hunger pandemic'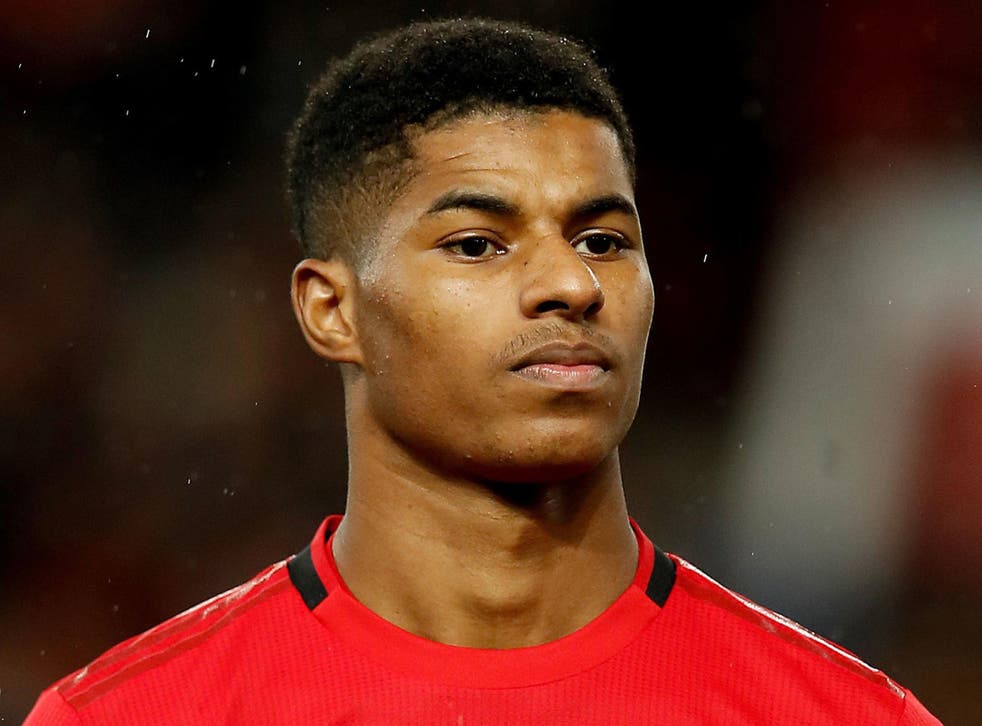 Footballer Marcus Rashford has urged the government to keep the £20 Universal Credit top-up to prevent thousands of children from going hungry.
The England and Manchester United player said "devastatingly" child food poverty is getting worse instead of better.
He is now calling on supporters to write to their MP about backing recommendations to end the "child hunger pandemic" in the UK.
It comes after new figures revealed 15 per cent of households have experienced food insecurity in the past six months – levels that are about 27 per cent higher than before the coronavirus pandemic.
"What is it going to take for these children to be prioritised? Instead of removing support through social security, we should be focusing efforts on developing a sustainable long-term roadmap out of this child hunger pandemic," he said.
The striker is calling on people to urge their MPs to pressure ministers ahead of the Spending Review to make funds available to widen the eligibility for schemes such free school meals.
The three recommendations he is supporting, part of Henry Dimbleby's National Food Strategy, aim to guarantee every child at risk of going hungry gets some good food every day.
The first is to expand free school meal eligibility to all children aged seven to 18 in all households earning £20,000 or less after benefits, and to children that are undocumented or living in immigrant households with "no recourse to public funds" (NRPF).
The second is to provide long-term funding for the Holiday Activities and Food Programme, increasing eligibility in line with free school meal expansion.
And the third is to expand Healthy Start eligibility to all households with pregnant women or children under five earning £20,000 or less after benefits, and invest in a communications campaign to increase uptake of the scheme which provides free vouchers to buy milk, fruit and vegetables.
This follows his previous campaign, which saw more than 1.1 million people sign a petition on the parliamentary website.
Speaking to Good Morning Britain on Monday, Mr Dimbleby said Rashford was an "amazing" voice for the cause, adding: "He's lived it. He can really talk to the experience and he gets rid of this idea that somehow this nanny state-ism or this is things that families should be able to do for themselves by painting a picture of what it's like to be in that situation."
UK news in pictures

Show all 50
Anna Taylor, executive director of The Food Foundation, added: "It's extremely distressing that now even more children lack a secure, nutritious diet compared with last year."
Boris Johnson is coming under pressure from charities, campaigners and even Tory MPs to scrap the end of the temporary £20 Universal Credit uplift introduced during the pandemic.
Recipients could lose £1,040 annually if the prime minister goes ahead with the cut, with new research suggesting carers, shelf stackers and hairdressers could be among the workers hit by the biggest overall drop in welfare payments.
Rashford, 23, waged a high-profile campaign last year to persuade the government to provide free meals to vulnerable youngsters in England throughout the school holidays during the coronavirus pandemic, forcing prime minister Boris Johnson into a U-turn.
He also became the youngest person to top the Sunday Times Giving List by raising £20m in donations from supermarkets for groups tackling child poverty.
The £WriteNow campaign encourages the public to visit Rashford's campaign website endchildfoodpoverty.org/write-now and follow the steps to write to their local MP.
Additional reporting by Press Association
Register for free to continue reading
Registration is a free and easy way to support our truly independent journalism
By registering, you will also enjoy limited access to Premium articles, exclusive newsletters, commenting, and virtual events with our leading journalists
Already have an account? sign in
Register for free to continue reading
Registration is a free and easy way to support our truly independent journalism
By registering, you will also enjoy limited access to Premium articles, exclusive newsletters, commenting, and virtual events with our leading journalists
Already have an account? sign in
Join our new commenting forum
Join thought-provoking conversations, follow other Independent readers and see their replies