Margaret Thatcher branded ANC 'terrorist' while urging Nelson Mandela's release
The Tories don't have a great record on acknowledging his contribution to peace in South Africa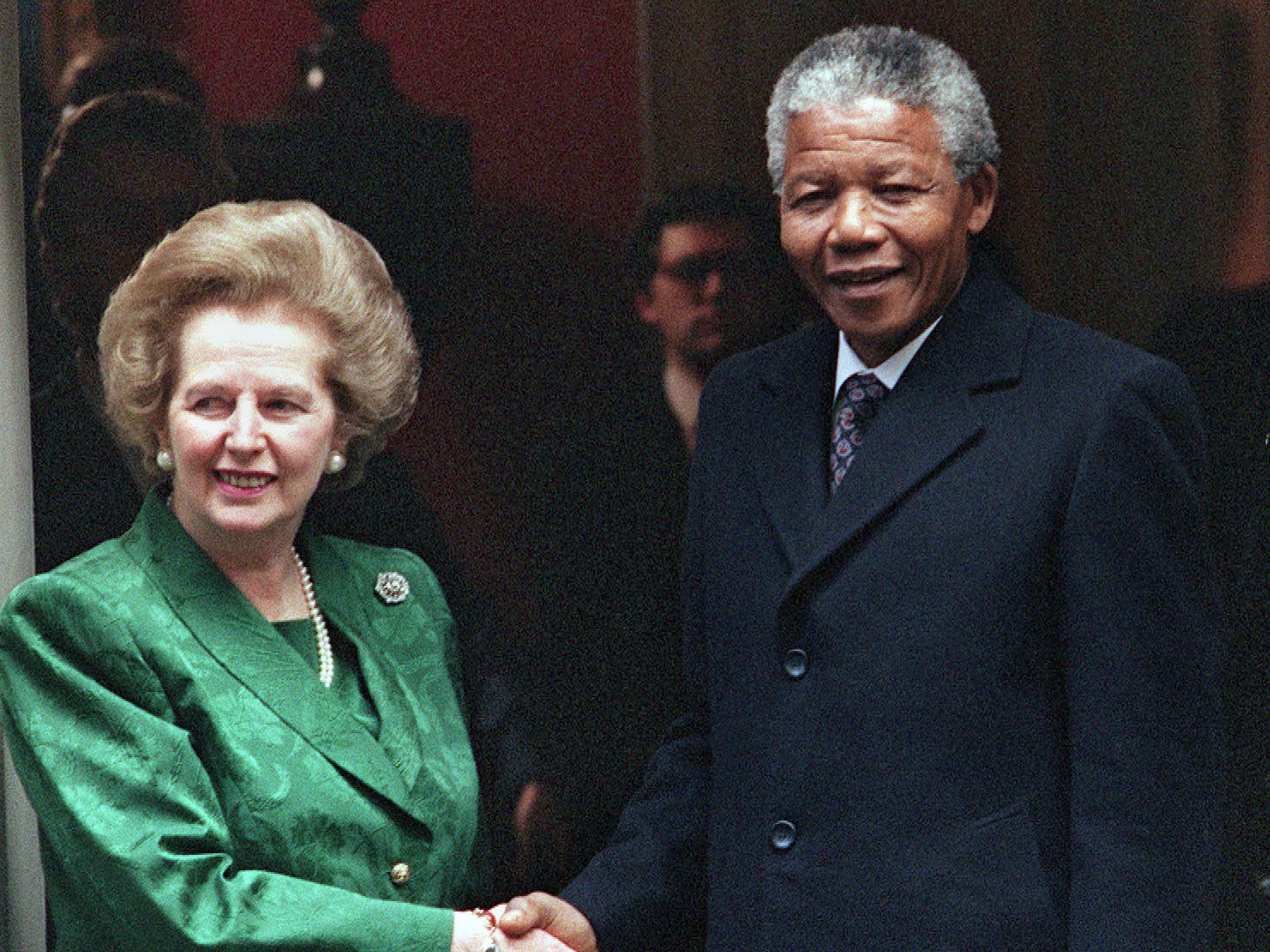 Margaret Thatcher planned to give a press conference on the steps of 10 Downing Street on the day Nelson Mandela left prison, on 11 February 1990. First, though, she wanted to hear what Mandela would say. The speech he gave that day is remembered now as the beginning of a great healing process that stopped South Africa descending into civil war.
But that is not how Thatcher heard it. "I salute the South African Communist Party," she heard him say – and worse: "The factors which necessitated the armed struggle still exist today. We have no option but to continue."
To her mind, it proved what everyone else including President George Bush had failed to grasp: that the ANC was not just an anti-apartheid movement; it was a revolutionary socialist organisation intent on destroying South Africa's capitalist economy.
As she told a startled press conference at the Commonwealth summit in Vancouver, in 1987: "A considerable number of the ANC leaders are Communists… When the ANC says that they will target British companies, this shows what a typical terrorist organisation it is. I fought terrorism all my life… I will have nothing to do with any organisation that practises violence. I have never seen anyone from ANC or the PLO or the IRA and would not do so."
She is also often quoted as saying at that same event that it was "cloud cuckoo land" to suppose that the ANC could ever rule South Africa, but contemporary accounts show that she did not say that. Someone from her entourage was supposedly asked by a foreign journalist whether the ANC might take over South Africa by military force, and responded with the quote.
Her press secretary, Bernard Ingham, has also been fingered as a possible source of that quote, but he said yesterday: "I have no recollection of it at all, and the words don't make sense. She spent years working like hell on getting P W Botha to see sense. She once subjected him to the ultimate torment: a Saturday afternoon belting him around the ears."
That torture session occurred during the South African's President's visit to Chequers in June 1984, when Thatcher harangued him on why he should let Mandela out of prison. She also wrote to Botha in October 1985 promising to continue fighting the good fight against sanctions, but telling him: "The release of Nelson Mandela would have more impact than almost any single action you could undertake."
While there were leading Conservatives who consistently supported sanctions, there were firms with vested interests prepared to spend lavishly to persuade them that sanctions were wrong. In 1989, an eccentric lobbyist named Derek Laud offered the Conservative Research Department an eight-day all expenses paid tour, taking in Durban, Cape Town and Johannesburg.
That offer was taken up by the 23-year-old David Cameron, who, according to his biographers Francis Elliott and James Hanning, treated it as "simply a jolly". On his next visit to South Africa, in 2006, Mr Cameron offended some right-wing Tories by apologising for his party's mistakes over apartheid, but said nothing about his own.
The legend of the "Hang Mandela" T-shirts arose from the Federation of Conservative Students conference in 1985, in reaction to The Specials AKA hit "Free Nelson Mandela". There is no record of any T-shirts, or posters, but there was certainly a homemade "Hang Nelson Mandela" sticker worn by the FCS vice-chairman, David Hoile, on his tie.
There were Tory MPs on the right-wing fringe who thought that Thatcher was too soft on the ANC. Early in the 1980s, Teddy Taylor was heard to say that Mandela "should be shot". He later said he was joking, and on the day after Mandela's death he described his passing as "very sad".
The long-serving MP Eric Forth thought that Thatcher had no business asking for Mandela's release. "What would be your reaction if the South Africans approached the Government demanding the release of a prisoner in this country?" he demanded of the Foreign Minister, Lynda Chalker, who replied, with a note of weariness: "You have posed the question many times."
As Mandela's 70th birthday approached in 1988, the Tory MP John Carlisle embarked on a lone campaign to prevent the BBC broadcasting a huge Free Mandela concert. "The BBC never ceases to take any opportunity of putting forward anti-South African propaganda," he told Parliament.
And in April 1990, when Thatcher was told publicly by Mandela that it would not be a good idea for her to visit South Africa, the Tory MP Terry Dicks told the Press Association: "How much longer will the Prime Minister allow herself to be kicked in the face by this black terrorist? How much longer will the Government kneel at his feet, when he does nothing but abuse her?"
Thatcher's concern for gentle reform in South Africa was driven by the knowledge that more bloodshed could be a disaster for the UK, as well as for Africa, with some 800,000 white British passport holders in South Africa and so much lucrative trade. It did not mean that she thought that Nelson Mandela should never have been sentenced to life imprisonment, but she took a pragmatic view that it would be wise to let him out. Her mind, set in the Cold War, could never encompass the possibility that it might be Mandela and the ANC who brought peaceful change to South Africa.
Join our commenting forum
Join thought-provoking conversations, follow other Independent readers and see their replies