Weddings to be allowed outside and in homes after review of 'outdated' venue laws
Review will look at overhaul of wedding rules dating back to Victorian times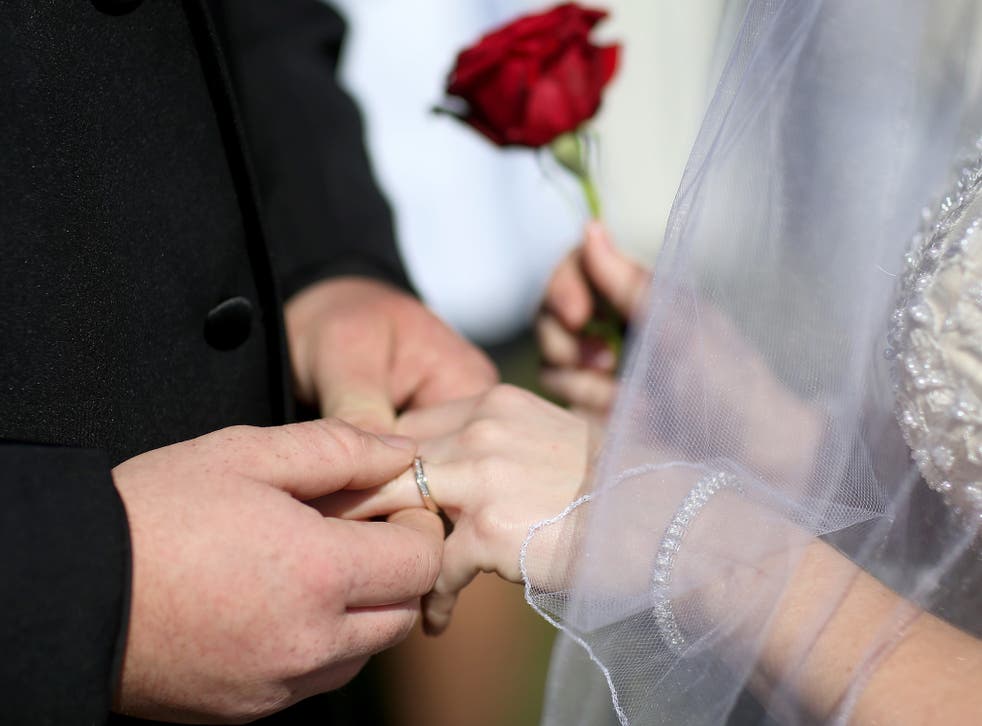 Couples may be permitted to marry in their own homes, on military bases or at sea under proposals to scrap rules limited permitted venues for marriages.
The Law Commission is to conduct a two-year review of marriage ceremonies in England and Wales, with a view to cutting back red tape which restricts couples' choices when planning their big day.
A 2015 report by the commission found that the laws surrounding weddings, which date back to 1836, were outdated and too restrictive for modern life. Chancellor Philip Hammond announced in his 2018 Budget that the body would be asked to draw up proposals for change, and that review is now getting under way.
The project will review the current laws on how and where marriages can take place and look for ways to lower the cost of venues and open up opportunities for a wider range of locations to be used, such as military bases for the marriage of service personnel.
Welcoming the opening of the review, Theresa May said: "As both home secretary and prime minister I have been proud to sponsor the legislation that created equal marriage, and to extend civil partnerships to ensure all couples are given the same choices in life.
The Ten Best Romantic Wedding Locations

Show all 10
"The vital institution of marriage is a strong symbol of wider society's desire to celebrate commitment between partners. But we can do more to bring the laws on marriage ceremonies up to date and to support couples in celebrating their commitment.
"This review will look at how we can ensure marriage keeps pace with modern Britain."
Under current law couples are limited in their choice of wedding location. Civil ceremonies must take place in approved premises that have been licensed for the purpose by local authorities.
The review could increase the choice and lower the cost of venues, and see civil ceremonies held at sea, in private homes or military sites for service personnel.
The Law Commission is opening a consultation on creating a "simpler, fairer system" that provides more choice and alternatives to the cost of an approved venue or registry office.
The government is separately looking at introducing new legislation on holding civil weddings and civil partnerships outside.
The Ministry of Justice said any new venues "would have to meet the existing test of solemnity and dignity".
The government said it "values the continuing status of the Church of England as the established church in England" but noted the findings of a 2015 Law Commission report that raised concern.
It found that the inconsistent and highly technical provisions around wedding venues "have not been fundamentally reformed since 1836".
David Gauke, the justice secretary, said: "Getting married is a deeply personal decision, so we want couples to have greater choice in how and where they celebrate their commitment.
"Whilst we will always preserve the dignity of marriage, people from all walks of life should be able to express their vows in a way that is meaningful to them.
"This review will look at the red tape and outdated rules around weddings – making sure our laws are fit for modern life."
Join our new commenting forum
Join thought-provoking conversations, follow other Independent readers and see their replies