Martin McGuinness funeral: Gerry Adams calls for tolerance and respect between Catholics and Protestants in Northern Ireland
'Let us learn to like each other, to be friends, to celebrate and enjoy our differences,' Sinn Fein president says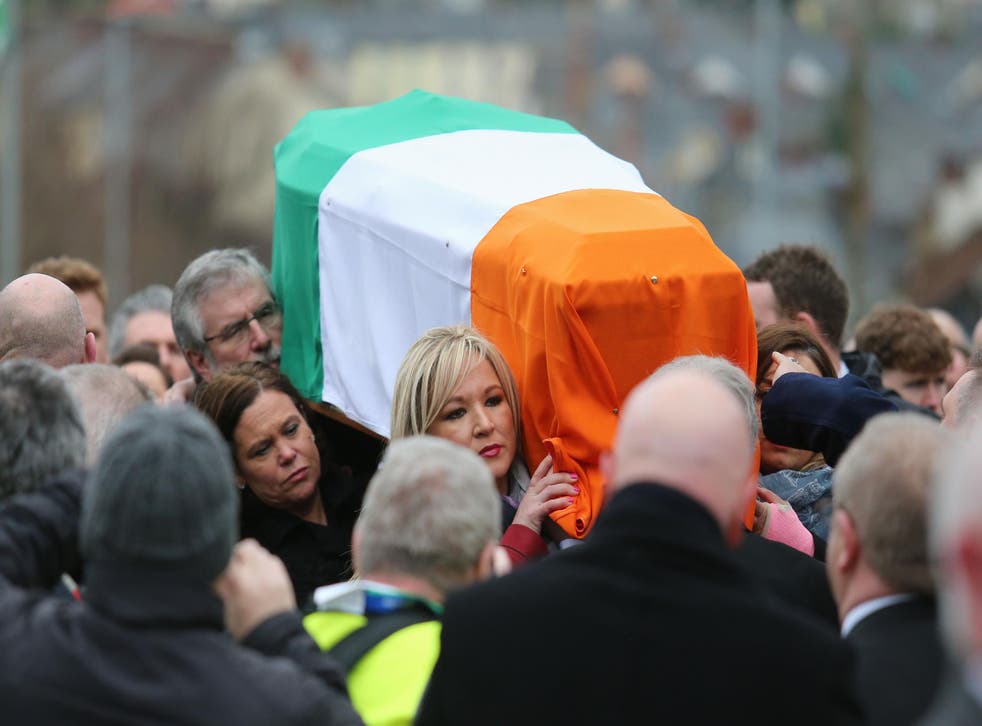 Sinn Féin President Gerry Adams has issued a call for greater tolerance and respect from Catholics towards Protestant communities, as part of a graveside eulogy for Martin McGuinness.
His plea came following a remarkable day of reconciliation in the Northern Irish peace process, as representatives of both Protestant and Catholic communities came out to mourn Mr McGuinness' passing.
Mr Adams' address followed an inter-faith funeral for former IRA commander Mr McGuinness. The funeral was a requiem mass led by a Catholic priest and presided over by the local bishop, while also featuring contributions from local Protestant leaders, including representatives of the Methodist and Presbyterian communities.
In another gesture of reconciliation, the leader of the Democratic Unionist Party Arlene Foster also attended the funeral, despite the IRA's attempts to murder her father, who was a police officer, during the Troubles conflict.
Following the funeral, Mr Adams addressed mourners in a graveside eulogy, as Mr McGuinness' remains were laid to rest in his home city of Derry. Mr Adams said: "Here at the graveside of this good man, let me appeal to our unionist neighbours.
"Let us learn to like each other, to be friends, to celebrate and enjoy our differences and to do so on the basis of common sense, respect and tolerance for each other and everyone else as equals.
"Let me appeal also to nationalists and republicans; do nothing to disrespect our unionist neighbours or anyone else.
"Stand against bigotry. Stand against sectarianism. Respect our unionist neighbours. Reach out to them. Lead, as Martin led, by example."
In another surprising gesture, Mr Adams also expressed his gratitude to Queen Elizabeth II for her role in the Northern Irish peace process, an expected gesture from a former sworn enemy of the royal family.
Both Mr Adams and Mr McGuinness were prominent members of the Irish Republican movement in Northern Ireland during the Troubles. Mr McGuinness has spoken openly of his involvement in the IRA, for whom he was a commander based in Derry.
During the peace process he renounced violence and encouraged fellow Republicans to embrace peaceful power-sharing.
Martin McGuinness funeral: Bill Clinton pays tribute
After the Good Friday Agreement peace treaty was signed in 1998, he later served in the devolved Stormont both as education minister and subsequently Deputy First Minister after Sinn Fein became the largest Nationalist party.
Following his death, victims of IRA atrocities have been critical of attempts to praise his life, saying his past involvement in terrorism cannot be overlooked.
Mr Adams has strongly denied allegations he has ever been a member of the IRA. He was heavily involved in Sinn Fein negotiations during the peace process and has since retired from Northern Irish politics to be a representative in the Dail parliament in Dublin.
The pair were seen by many as the leaders of Irish republicanism over the last forty years and they formed a close relationship.
Join our new commenting forum
Join thought-provoking conversations, follow other Independent readers and see their replies