Spotlight on Matt Hancock over appointment of close friend and lobbyist to health role
Move raises further questions over government's appointment and procurement procedures during Covid pandemic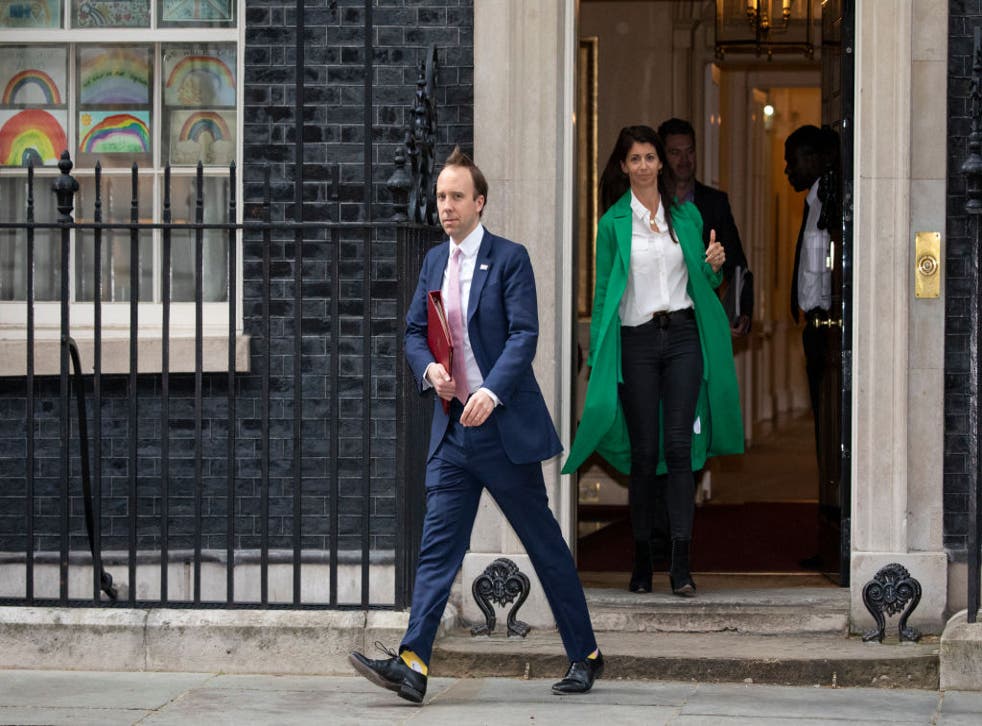 The health secretary, Matt Hancock, is facing questions over the appointment of a close friend and lobbyist to a £15,000-a-year advisor role in his department.
Gina Coladangelo, who met Mr Hancock when both were attending Oxford University, is a director at lobbying firm Luther Pendragon, which promises clients help to "navigate and influence complex legislation".
According to The Sunday Times, she was handed a job just as the country went into lockdown in the spring as an unpaid adviser on a six-month contract at the Department of Health and Social Care (DHSC).
But in September, Ms Coladangelo was given a role as non-executive director at DHSC, earning at least £15,000 and placing her on the board that scrutinises the department. There was no public record of the appointment.
Ms Coladangelo, who obtained a Master's degree from Oxford University's Oriel College, has a parliamentary pass, giving her access to MPs, and has made at least one visit to Downing Street.
The paper claimed the pair were still close friends and quoted two unnamed sources as saying that Mr Hancock turned to the PR expert regularly for advice.
The 42-year-old is also communications director at fashion and homeware shop Oliver Bonas, which was founded by her husband. In June, the store featured on a government blog hailing its efforts to reopen after the first lockdown. 
In a profile of Ms Coladangelo's husband, Oliver Tress, the Department for Business, Energy & Industrial Strategy's Covid blog highlighted how the shop had implemented "safer working measures [put] in place to protect staff and customers".
The Department for Health and Social Care declined to comment on whether there was a conflict of interest with her role when contacted by The Independent.
But her appointment raises further questions over the government's appointment and procurement procedures relating to the Covid pandemic.
Alex Thomas, progrmame director at the Institute for Government, told The Sunday Times: "It's reasonable for ministers to take advice from a range of sources, but advisers should be transparent, accountable and appointed on merit.
It comes as campaigners submitted a legal challenge alleging that the prime minister and health secretary acted "unlawfully" when appointing key figures to top posts during the coronavirus crisis.
Lodged jointly by the Good Law Project and race equality think tank the Runnymede Trust, the case alleges that three appointments were made without advertising the positions and without the open competition normally required for senior public sector roles.
The three individuals named are test and trace boss and Tory peer Baroness Dido Harding; Kate Bingham, head of the UK's vaccine taskforce; and Mike Coupe, director of NHS Test and Trace.
Jolyon Maugham QC, director of the Good Law Project, tweeted that "cronyism ... undermines the public interest, discriminates against those who don't rub shoulders with Cabinet Ministers, and shuts out those who lack the family fortune to work unpaid".
Earlier this month, leaked documents seen by The Sunday Times revealed that the head of the UK's vaccine taskforce – Kate Bingham, who is married to a Tory MP – had hired eight public relations consultants at a cost to the taxpayer of £670,000.
Over the summer, Labour accused the government of handing out lucrative Covid-19 contracts to Conservative friends and warned that equipment has not been delivered.
Ministers were urged to explain how deals worth "more than £830m have been awarded to at least 12 different companies" for personal protective equipment (PPE) – which has "never materialised".
Register for free to continue reading
Registration is a free and easy way to support our truly independent journalism
By registering, you will also enjoy limited access to Premium articles, exclusive newsletters, commenting, and virtual events with our leading journalists
Already have an account? sign in
Register for free to continue reading
Registration is a free and easy way to support our truly independent journalism
By registering, you will also enjoy limited access to Premium articles, exclusive newsletters, commenting, and virtual events with our leading journalists
Already have an account? sign in
Join our new commenting forum
Join thought-provoking conversations, follow other Independent readers and see their replies