Matt Hancock accuses ethnic minority MPs of 'identity politics' in Black Lives Matter row
31 ethnic minority MPs had written to Home Secretary Priti Patel asking her not to 'silence or impede on the feeling that other minority groups may face'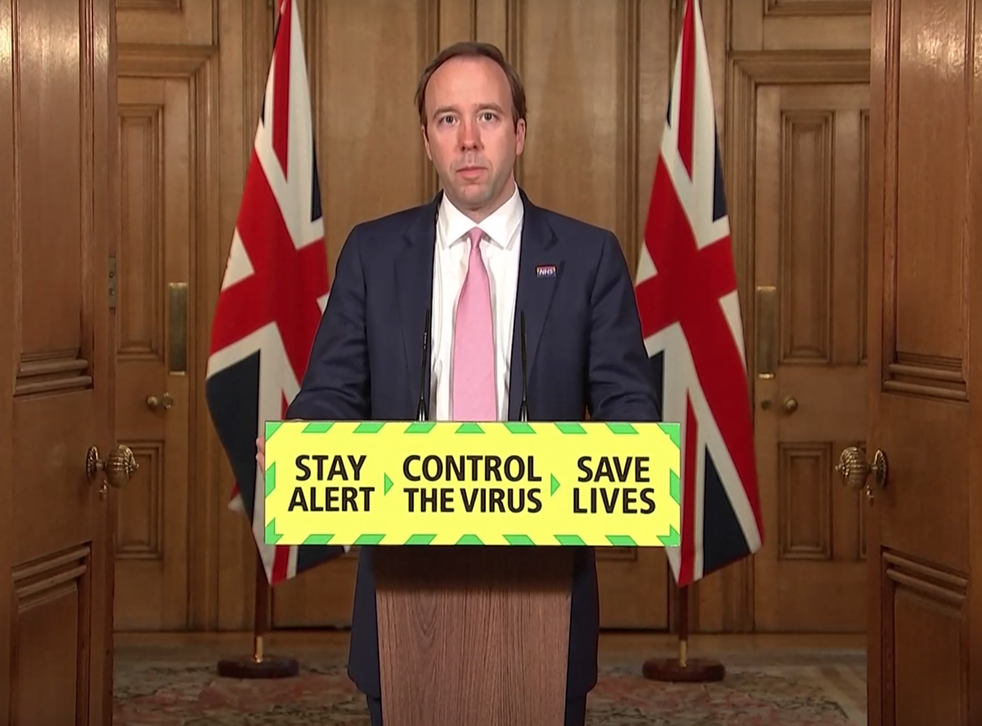 Health secretary Matt Hancock has criticised dozens of ethnic minority Labour MPs of engaging in "identity politics" after they accused the government of writing off the concerns of Black Lives Matter protesters.
Thirty-one Labour MPs, all from black, Asian and ethnic minority backgrounds, had written to the home secretary Priti Patel after she condemned demonstrators for breaking social distancing rules and toppling a statue of a slave trader.
In the House of Commons this week Ms Patel had rejected claims that the government did not understand why people were upset about racial inequality and recalled racist abuse she had received as a woman from a British Asian background.
She told MPs that she would "not take lectures" from the opposition and explained how she had been subjected to racial epithets in the playground during her time at school.
But her approach in the chamber provoked anger among other MPs, who accused her of trying to "gaslight other minority communities" and using her experience to minimise their concerns.
The 31 MPs' letter to Ms Patel said that "being a person of colour does not make you an authority on all forms of racism".
They urged her to "reflect on your words and to consider the impact it had towards black communities in the UK trying to highlight their voices against racism".
"We all have our personal stories, of the racism that we have faced, whether it has been being defined by the colour of our skin or the faith we choose to believe in," the MPs wrote.
"Our shared experiences allow us to feel the pain that communities feel, when they face racism, they allow us to show solidarity towards a common cause; they do not allow us to define, silence, or impede on the feeling that other minority groups may face."
Ms Patel reacted angrily to the letter, posting it on social media and tweeting: "Sad to have just received this letter. I will not be silenced by Labour MPs who continue to dismiss the contributions of those who don't conform to their view of how ethnic minorities should behave."
Health secretary Matt Hancock backed Ms Patel at a Downing Street press conference on Thursday and claimed her Labour critics were engaging in "identity politics".
"Of course Priti Patel was not wrong to talk of her personal experiences of racism. I have seen this letter and I abhor this divisive identity politics that's being levelled at Priti Patel," he said.
"I am incredibly proud to be part of the most diverse government in history. I am very proud to be part of that with Priti and Rishi and Alok and Nadhim (Zahawi) and Kemi (Badenoch) and Ranil (Jayawardena) and James (Cleverly) and Suella (Braverman) and all the rest.
Black Lives Matter protesters gather across the UK

Show all 79
"We don't think that there's such a thing as the wrong type of Bame, we think that people are equal. That's what we need to see as a society, everybody seeing others as equal."
Protests have taken place in major cities around the UK against racial discrimination and inequality, sparked by mass demonstrations in the United States under the heading Black Lives Matter.
The US protests were initially called after the killing of George Floyd, a Minneapolis black man, by a city police officer. The movement has however spread worldwide and become an outlet for discontent at institutional and systemic racism.
Register for free to continue reading
Registration is a free and easy way to support our truly independent journalism
By registering, you will also enjoy limited access to Premium articles, exclusive newsletters, commenting, and virtual events with our leading journalists
Already have an account? sign in
Register for free to continue reading
Registration is a free and easy way to support our truly independent journalism
By registering, you will also enjoy limited access to Premium articles, exclusive newsletters, commenting, and virtual events with our leading journalists
Already have an account? sign in
Join our new commenting forum
Join thought-provoking conversations, follow other Independent readers and see their replies