BBC should cap salaries at £150,000 amid equal pay row, says Culture Secretary
Matthew Hancock also said the BBC had a 'special responsibility' to lead on equal pay issues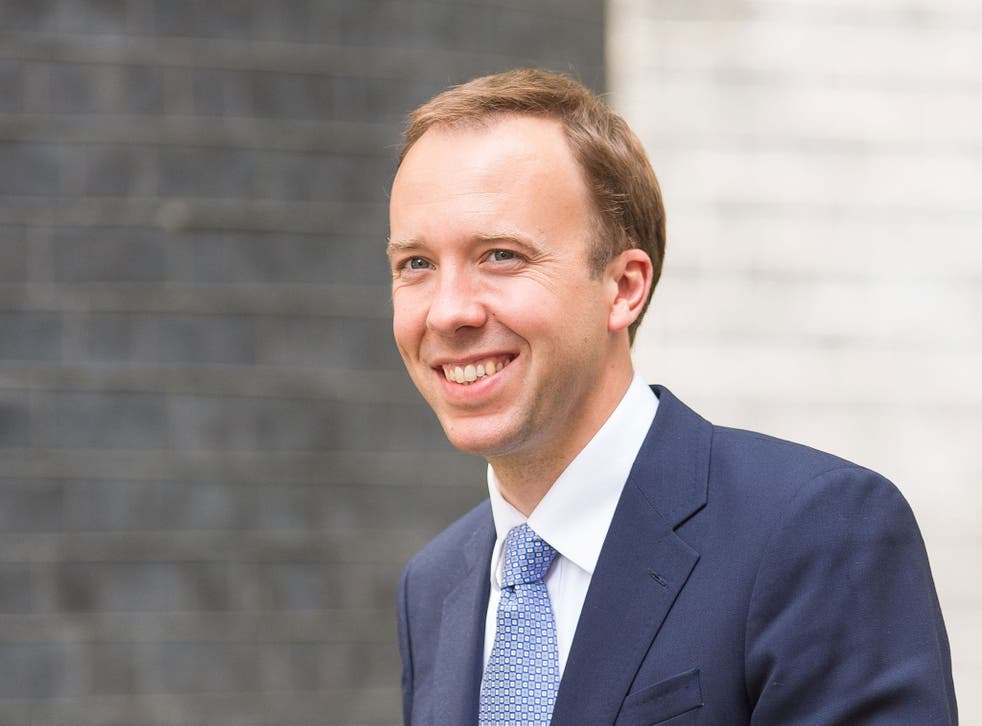 The BBC should consider capping the pay of its top talent at £150,000 in line with the rest of the public sector, the new Culture Secretary has said.
Matthew Hancock also said the BBC had a "special responsibility" to lead on equal pay issues and vowed to raise the issue with director general Tony Hall at a meeting in the coming weeks.
The corporation was plunged into a fresh row over pay disparity among its most high-profile stars, when China editor Carrie Gracie resigned from her post after discovering she was earning up to £45,000 less than her male peers.
Mr Hancock, who was promoted during last week's Cabinet reshuffle, said equal pay "isn't just about levelling up women's pay in the BBC, it's about equal pay and a reasonable level".
"We've got to have equal pay for equal jobs and I think that the BBC has a special responsibility to lead and be a beacon because this issue is broader than the BBC," he told ITV's Peston on Sunday.
He said: "Across the rest of the public sector we brought in rules to say that except in exceptional circumstances people who are paid for by taxpayers' money shouldn't be paid more than the Prime Minister.
"Now, outside of the BBC – well, the BBC of course is responsible for its own pay and I think that it missed a chance to bring in that kind of rule when we brought it in for the rest of the public sector a few years ago, so now it has to go through a special process to pay somebody more than the Prime Minister.
"Of course, there are sometimes circumstances where that's necessary. But if you think about it this way – in a country round the world where people are paid for by the taxpayer, who should we be paying the most to? Is it the BBC editor or is it the ambassador?
"The generals are also making a very good point that people in the armed services put their life on the line and yet they abide by the public sector pay norms, which is not to have excessive pay and where the Prime Minister's pay is seen as a guide at the top."
The BBC was hit with a major backlash last year when its pay disclosures revealed that two thirds of employees earning over £150,000 were men.
UK news in pictures

Show all 51
It revealed that North America editor Jon Sopel earned between £200,000 and £249,999, while Ms Gracie said she had been earning £135,000 before the BBC offered her a £45,000 rise, which she rejected.
Mr Sopel was heavily criticised when his conversation with Radio 4 Today programme presenter John Humphrys was leaked, where the men joked about the equal pay row.
Mr Humphrys, one of the flagship news programme's longest serving presenters, is the BBC's highest paid news presenter with a salary of between £600,000 and £649,999.
A BBC spokesperson said: "We have reduced the amount we pay talent by a quarter over the past five years; however, we're not competing in the same markets as politicians and other public sector jobs.
"We are competing against ITV, Sky, C4, and, increasingly now, the deep pockets of Netflix, Amazon and Apple.
"A number of presenters have left the BBC for considerably more money but we always look to negotiate deals at discount against the market.
"We have the highest respect for ambassadors, but these are entirely different jobs and in a different market."
Join our new commenting forum
Join thought-provoking conversations, follow other Independent readers and see their replies