Matthew Hancock: Tory MP 'accepted £4,000 donation before announcing charity lobbying clampdown'
Policy shift sparks outrage among charities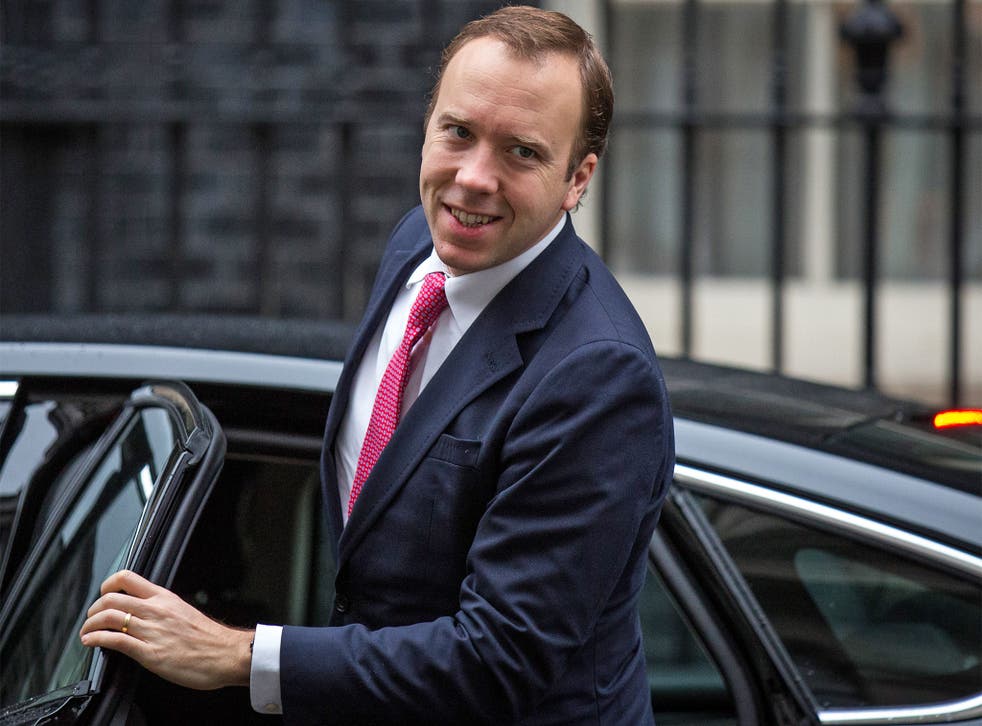 Cabinet Office minister Matthew Hancock accepted a £4,000 donation from the chairman of the Institute of Economic Affairs weeks before announcing a clampdown on lobbying by charities promoted by the right-wing think-tank, The Independent can reveal.
Neil Record, a City currency manager who is also a major donor to the Conservative Party, has donated £22,000 to Mr Hancock since 2010, including £4,000 paid in November last year some eight months after the businessman became chairman of the IEA, Britain's oldest free market think-tank. In an unusual move, Mr Hancock went out of his way to publicly acknowledge "extensive research" by the IEA when he announced a controversial change in rules to ban charities from using public grants to lobby ministers, MPs and civil servants.
The policy shift has sparked outrage among charities, who accuse the Government of preventing publicly funded volunteer groups from speaking up on behalf of the disadvantaged, while allowing lobbying from privately funded bodies, some backed by corporate money, to continue seeking to influence policy.
The Independent revealed last week that the IEA accepted a £15,000 donation from an unnamed individual to "develop" the lobbying proposals which were eventually adopted by Mr Hancock.
Britain's 165,000 charities receive about £100bn a year in income, of which £13bn comes from public grants. The IEA claimed in three reports published between 2012 and 2014 that such state funding was creating "sock puppet" charities less inclined to criticise government policy. Mr Record, 62, who has been a trustee of the IEA since 2008, has donated £4,000 a year to Mr Hancock since December 2011 with a further £2,000 contribution towards travel expenses in 2010, according to an analysis of Electoral Commission records by Greenpeace.
There is no suggestion that the donations broke any rules or were not properly declared. The IEA said it had "no record" of any of its staff or trustees ever meeting Mr Hancock to discuss its "sock puppet" research. The Cabinet Office insisted the new policy was based on advice from Whitehall officials.
UK news in pictures

Show all 50
Mr Record said he was supporting Mr Hancock because he believed he has "a very sound political philosophy" and his donations were to assist in the running of his staff. He said the financial support pre-dated any of Mr Hancock's ministerial roles and was in no way linked to lobbying or the IEA.
Charities said links between Mr Hancock and the think-tank nonetheless raised serious concerns about formulation of government policy.
John Sauven, executive director of Greenpeace UK, which does not receive any public funds, said: "Matthew Hancock doesn't want taxpayer-funded charities to lobby ministers but was happy to accept money from the boss of the charity that lobbies on this very policy. People will be forgiven for wondering who's the sock puppet and who's the hand in this story."
Mr Record, who has donated £245,000 to the Conservative Party since 2010, is a prominent figure in neoliberal circles, including as a backer of a leading climate sceptic lobby group. As well his role on the IEA, he is on the board of the campaigning arm of the Global Warming Policy Foundation, which takes the view that the science for manmade climate change is not yet settled.
In a statement, Mr Record, a former Bank of England economist, said: "I think Matt has a very sound political philosophy, and in all the support I give think-tanks, charities, political parties and individuals, I try to find those whose philosophy I support and admire.
"For the avoidance of doubt, I have never had any commercial or any other lobbying-type relationship with Matt in any of his ministerial posts, nor have I ever discussed his responsibilities in any context that relates to me personally or my chairmanship of the IEA. I can confirm that I have never discussed 'Sock Puppets' with him personally."
The IEA denied criticism that there was a lack of transparency about policy making, pointing out ministers have to adhere to a strict code listing all meetings and donations. A spokeswoman added: "We have no record of any IEA staff member or trustee ever meeting with Matthew Hancock to discuss our sock puppets research."
A press release sent out by the Cabinet Office on 6 February announcing the change in lobbying rules credited the IEA with "exposing" the practice of public funds being used by charities for advocacy.
But the ministry last night insisted that its policy had been developed by public officials. A spokeswoman said: "The decision to end the farce of government lobbying government was taken based entirely on the advice of civil service officials. Reasonable people will know that taxpayers' money should be spent on improving people's lives."

Register for free to continue reading
Registration is a free and easy way to support our truly independent journalism
By registering, you will also enjoy limited access to Premium articles, exclusive newsletters, commenting, and virtual events with our leading journalists
Already have an account? sign in
Register for free to continue reading
Registration is a free and easy way to support our truly independent journalism
By registering, you will also enjoy limited access to Premium articles, exclusive newsletters, commenting, and virtual events with our leading journalists
Already have an account? sign in
Join our new commenting forum
Join thought-provoking conversations, follow other Independent readers and see their replies