Theresa May gives up on hope of securing education spending boost of billions before she resigns as PM
Plan for £27 billion splurge on new buildings and teachers' pay abandoned as the government announces above-inflation rises for public sector workers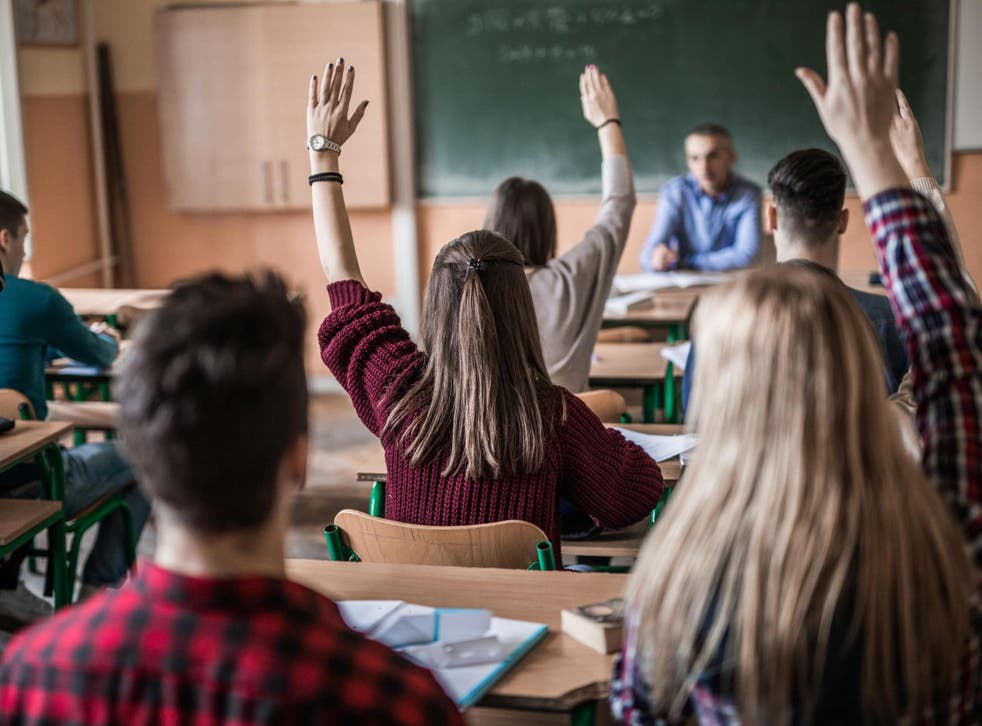 Theresa May has given up on her hopes of securing a multi-billion pound boost to education spending as part of her legacy as prime minister.
Teachers were today awarded a pay rise of 2.75 per cent - the equivalent of £1,000 a year for the average classroom teacher - as part of an inflation-busting package of increases for almost a million public sector workers confirmed by the Treasury.
But the Department for Education and other Whitehall ministries will have to fund the pay hikes out of their existing budgets, and the PM's ill-fated proposal for a large-scale boost to education funding will not be discussed at Ms May's final session of cabinet on Wednesday.
The PM's plan to pump £27 billion into education before stepping down met stiff resistance from chancellor Philip Hammond, who made clear he was ready to resign if Ms May attempted to bind her successor's hands with major spending commitments of this type.
Reports earlier this month suggested he had offered to approve a smaller package worth £5 billion so long as the PM granted Tory MPs a free vote on efforts to block a no-deal Brexit, but in the event he had to defy a three-line whip to back a measure designed to prevent her successor suspending parliament to force no-deal through.
Downing Street has never officially discussed the PM's proposals to spend £27 billion over three years on new schools and higher teachers' wages. But Whitehall sources said today that the plan will not go ahead.
Sources close to the chancellor - who will quit on Wednesday as Ms May stands down - said he did not oppose increases to education spending in principle but believed it was "absolutely right" that the new PM and chancellor should be able to consider long-term funding decisions in the round as part of the upcoming cross-government spending review.
Among other public sector workers receiving pay rises for 2019/20 above the 2 per cent rate of inflation were:
- The armed forces, where a 2.9 per cent increase will be focused on improving the pay of the most junior personnel, bringing the basic pay of "other ranks" after completion of initial training up by more than 6 per cent to £20,000. A corporal in the Army will see annual pay rise by £995, compared to £768 for the starting salary of an officer;
- Senior hospital doctors and NHS dentists, who will receive 2.5 per cent rises, worth between £1,940 and £2,630 for consultants and between £970 and £1,820 for specialty doctors;
- Police, who enjoy a 2.5 per cent boost, providing a police constable with up to £978 more this year.
Pay rises for senior civil servants and military top brass will be limited to 2 per cent, after ministers rejected recommendations for a 2.2 per cent increase from an independent pay review.
The rises represent the second annual above-inflation increase for public sector workers since the lifting of a 1 per cent cap which had been in place since 2013 and followed a two-year freeze for most staff.
But the British Medical Association said the rises failed to offset the impact of 11 years of little or no pay increases for England's most experienced doctors, amounting to a real-terms pay cut of as much as 30 per cent for consultants. To receive their full recommended risse of 3.5 per cent, speciality doctors will have to sign up to a new contract deal, said the BMA.
The chair of the BMA consultants committee, Dr Rob Harwood, said: "It's clear from today's announcement that the Government has not recognised nor rewarded the work and commitment of some of our most experienced and senior doctors and the pay uplift does not provide any mechanism to address historic underpayments to doctors."
Ms May, said: "Whether it's keeping us safe, saving lives or educating the next generation, our public sector workers deserve this pay rise in recognition of the brilliant job they do on a daily basis.
"In 2017 we ended the public sector pay cap and I'm pleased that we can build on this today by giving almost a million of our dedicated public servants an above inflation salary increase."
Mr Hammond added: "Public sector workers deliver Britain's world class public services and should be properly rewarded which is why I'm confirming a second year of above-inflation pay rises today.
"This is in recognition of the hard work of millions of people, including soldiers, teachers and doctors, and will help us recruit and retain the best staff.
"We are able to afford these pay rises because our balanced approach means we have reduced our debt while investing in public services, including pay."
Join our new commenting forum
Join thought-provoking conversations, follow other Independent readers and see their replies