John McDonnell calls for new Anti-Nazi League movement to combat far-right
'We should seriously look at emulating the work of the ANL and Rock Against Racism at a time when the far right once again poses a genuine threat to our society'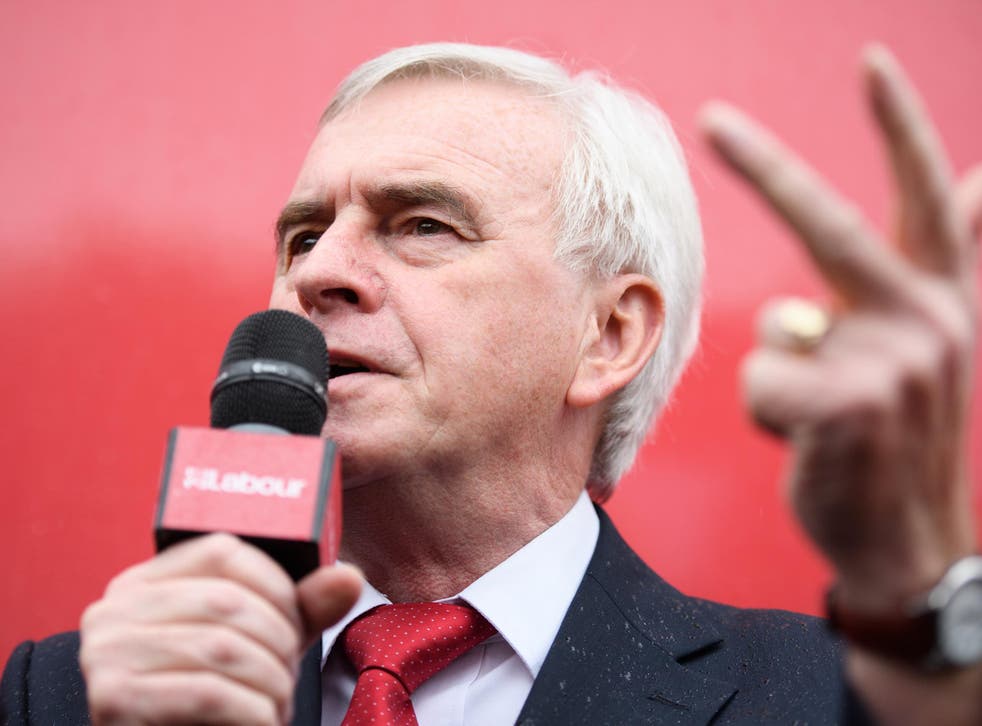 John McDonnell has called for the establishment of a nationwide movement against the far-right which could emulate the work of the 1970s Anti-Nazi League.
Labour's shadow chancellor said he was pressing for the new movement amid demonstrations in support of the far-right former EDL leader Tommy Robinson and an attack on a socialist bookshop in central London at the weekend.
He also highlighted incendiary remarks from the former foreign secretary, Boris Johnson, who on Monday used a column to suggest that women wearing niqabs resembled "letter boxes" and "bank robbers".
Set up in 1977 by the Socialist Workers Party, the Anti-Nazi League (ANL) had the backing of various politicians, including one of Jeremy Corbyn's mentors, Tony Benn, and the rock band The Clash.
In a statement, Mr McDonnell said: "With the scale of Tommy Robinson demonstrations, the storming of Bookmarks bookshop, and now Boris Johnson's Islamophobic comments, we can no longer ignore the rise of far right politics in our society.
"Maybe it's time for an Anti-Nazi League type cultural and political campaign to resist. The Anti-Nazi League was an iconic movement over several decades that successfully combated the far right through the mass mobilisation of trade unionists and anti-racist campaigners.
He continued: "The ANL pioneered highly influential cultural movements like the Rock Against Racism, which attracted tens of thousands of people of all ages to anti-racist festivals and protests.
"We should seriously look at emulating the work of the ANL and Rock Against Racism at a time when the far right once again poses a genuine threat to our society."
His remarks came as politicians from across the political divide condemned Mr Johnson's comments in a Daily Telegraph article, with his former colleague and foreign office minister, Alistair Burt, describing the comments on the religious headgear as "offensive".
UK news in pictures

Show all 50
Minister of state for the Middle East Alistair Burt told BBC Radio 4's Today programme: "I would never have made such a comment, I think there is a degree of offence in that, absolutely right.
"What he was trying to make a serious point about is the UK Government will not enforce any clothing restriction on anyone."
Labour's shadow minister for women and equalities, Naz Shah, also said she had written to the cabinet minister Penny Mordaunt and the Conservative Party chairman Brandon Lewis over the remarks from the former foreign secretary.
She said: "I've written to Penny Mordaunt and Brandon Lewis to ask what action will be taken against Boris Johnson for his ugly and naked Islamophobia. When Muslim women are being attacked in the street, his comments are dangerous and cannot be laughed off."
Join our new commenting forum
Join thought-provoking conversations, follow other Independent readers and see their replies