Mediterranean migrant crisis: Britain under EU pressure to open doors to African refugees
Although David Cameron does not have to take part in a proposed European-wide scheme to relocate some 40,000 migrants, he was urged to help
Andrew Grice
Thursday 25 June 2015 19:18 Comments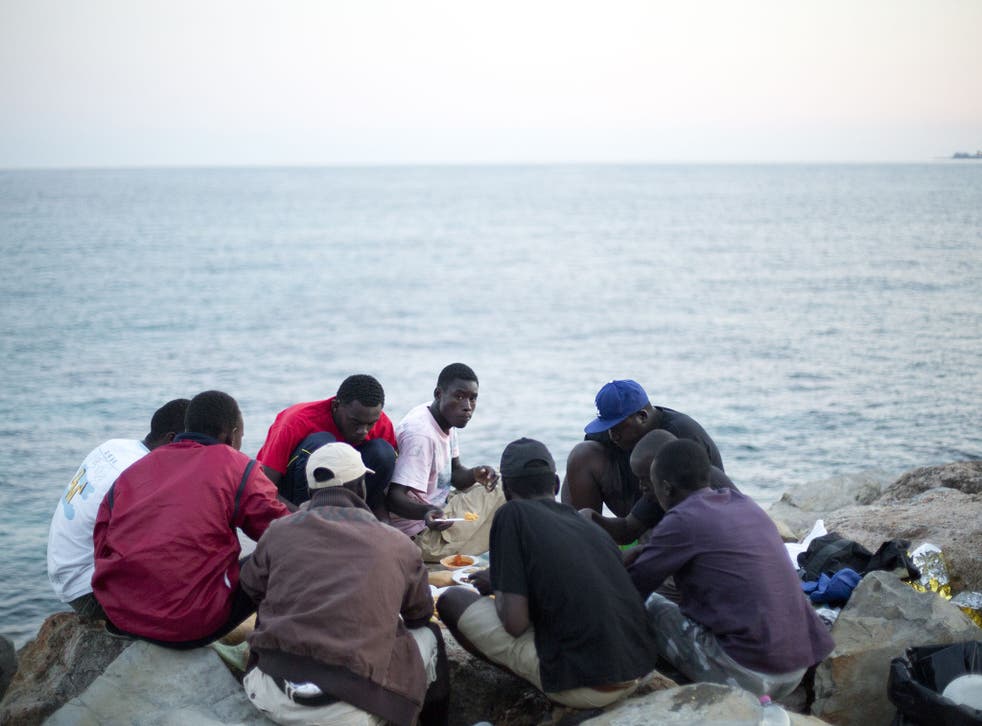 Britain is under pressure to open its doors to some of the thousands of migrants who have crossed the Mediterranean to enter Europe from Africa.
David Cameron does not have to take part in a proposed European-wide scheme to relocate some 40,000 migrants now in Italy and Greece because the UK enjoys an opt-out from EU justice and home affairs decisions. But at a summit of European leaders, he was urged to play his part on a voluntary basis.
EU officials suggested that the 28-nation bloc might have to rewrite its rules on immigration and asylum if member states did not agree between them to accept the 40,000. Such a move could put Britain's opt-out on the negotiating table, with Mr Cameron under pressure to surrender it as part of the new EU deal he is seeking for the UK. That would be impossible for the Prime Minister to accept, as it would play into the hands of Ukip and Conservative Eurosceptics.
In pictures: Calais crisis

Show all 15
British officials insisted that other EU countries were not "linking" the migration crisis and Mr Cameron's renegotiation. They said there were no plans for Britain to accept Mediterranean migrants, adding that Britain opposed a mandatory scheme.
Plans drawn up by the European Commission for a formal quota system were shelved after several EU countries refused to accept a set number of migrants. They included Hungary, Poland, the Czech Republic, Slovakia, Latvia, Lithuania, Estonia and Spain.
Minutes of a meeting of EU ministers on 23 June show that they warned: "A binding mechanism could fuel extremist and xenophobic sentiments in member states and constitute a pull factor [for migrants]." But other countries, led by Italy, said a formal quota system was needed.
EU leaders discussed the migration crisis at a working dinner in Brussels last night (thurs) but the deep split among them may force them to put off a final decision on the fate of the 40,000 migrants.
Donald Tusk, President of the European Council composed of the 28 national leaders, said that states wishing to pursue a voluntary approach should come up with numbers of people they are willing to take by the end of July. "The voluntary mechanism cannot be an excuse to do nothing," he said.
Mr Tusk added: "I can understand those who want this voluntary mechanism, but they will only be credible if they give precise and significant pledges by the end of July at the latest. Solidarity without sacrifice is pure hypocrisy and now we don't need empty declarations on solidarity, but only dates and numbers."
Mr Cameron said that the issue was "vitally important, adding: "We need a comprehensive and co-ordinated approach, and Britain will play its role. Already, it is the Royal Navy picking up people in the Mediterranean.
"British aid is doing a huge amount to stabilise African countries - and we can do more - and we are bringing our expertise to bear in terms of cracking down on those criminal gangs that are trafficking people across Africa and into Europe. I look forward to discussing what more Britain can do to help with this crisis."
Maurice Wren, chief executive of the Refugee Council, said: "European leaders have failed to acknowledge that the humanitarian tragedy unfolding in the Mediterranean is of their own making. As the world plunges into one of the greatest refugee crises ever, Europe has responded by building its walls even higher, forcing refugees to take ever greater risks in their attempts to reach safety.
"As borders across Europe close to refugees it appears we are in danger of forgetting the lessons of history. During Europe's darkest days, western nations shamefully turned boatloads of Jewish refugees away from safety."
He added:"We cannot afford to make the same mistakes again by trying to keep this crisis out of sight and out of mind. We must respond with compassion and humanity, and offer alternative routes to safety for those who desperately need them."
Register for free to continue reading
Registration is a free and easy way to support our truly independent journalism
By registering, you will also enjoy limited access to Premium articles, exclusive newsletters, commenting, and virtual events with our leading journalists
Already have an account? sign in
Join our new commenting forum
Join thought-provoking conversations, follow other Independent readers and see their replies