Meet my NBF! David Cameron and Tony Blair become chums
Who does a PM turn to when all around him plot and squabble? Jane Merrick charts the blossoming of an unlikely political friendship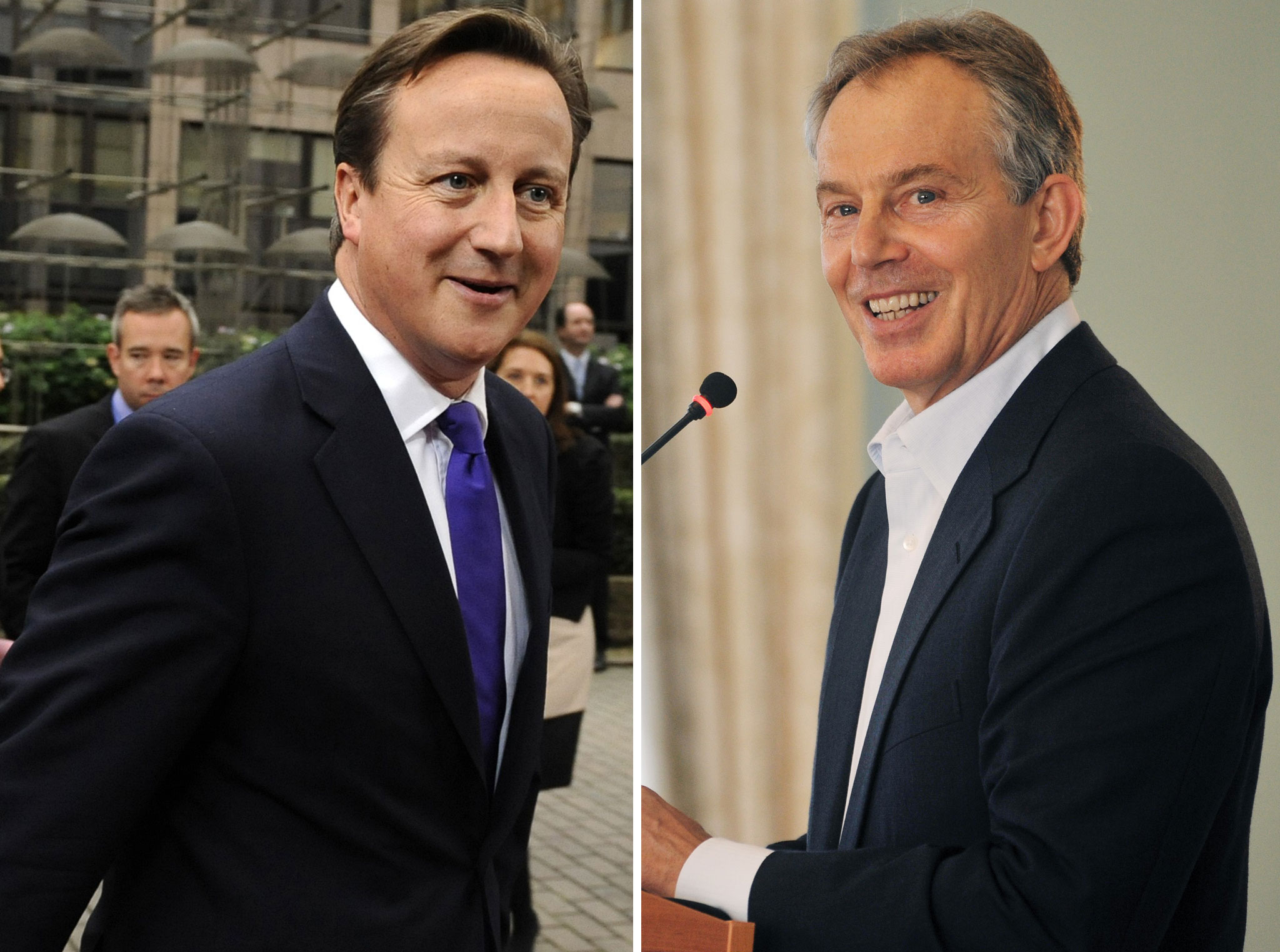 Early on in his leadership, when he was courting votes from the political centre, David Cameron once claimed he was the "heir to Blair". He later distanced himself from this label, insisting he was a true Conservative more in the mould of Margaret Thatcher.
Yet the inherited title may be, once again, more accurate than Mr Cameron would care to admit to his party – including his rebellious backbenchers. It has emerged that the Prime Minister has been taking personal advice from his predecessor-but-one, including discussions about waging a new war on terror in North Africa, just as the former premier did in the Middle East.
The pair are believed to have spoken about the renewed threat from al-Qa'ida affiliates in Algeria, Libya and Mali ahead of Mr Cameron's trip to the region, which came to an end yesterday. Mr Cameron and his wife Samantha have also entertained Tony and Cherie Blair in their private flat upstairs at Downing Street, with Mrs Blair even giving the current No 10 chatelaine lessons in how to be a prime ministerial spouse.
The two men have held official talks at No 10 too, with Mr Blair ostensibly in his formal role as envoy to the Middle East. But on the phone and on informal occasions, they have also swapped notes on a wide range of foreign policy issues and on what it is like to be running the country.
Mr Cameron, who will host the prime ministers of Afghanistan and Pakistan at Chequers today, is attempting to carve out a clear, robust foreign policy following the Algerian hostage crisis last month.
And in the coming weeks, as Mr Cameron prepares to host his first major summit as Prime Minister when he welcomes Barack Obama, Angela Merkel and other world leaders to the G8 in June, the advice of Mr Blair, who notched up two G8s and a handful of other global summits during his 10 years in charge, will be crucial.
A source said: "Cherie and Tony have been round there [to the Downing Street flat] for drinks. Blair and Cameron get on and they like each other. He [the PM] doesn't like [Ed] Miliband or [Gordon] Brown, in a personal way. He is very admiring of Blair, whom he regards as a nice person and has conviction."
Despite his right-wing rhetoric on welfare and economic austerity, Mr Cameron has been tacking to the centre, as he did in 2006 and 2007, in an apparent effort to appeal to floating voters who could help the Tories win an outright victory in 2015. Though Mr Cameron's pledge on a referendum on membership of the EU was criticised in public by Mr Blair and other Labour figures, he used striking pro-Europe language designed to appeal to the centre left, including a vow that he would campaign "with my heart and my soul" for Britain to remain in the EU.
Last month, when he warned the Commons of the fresh war on terror following the hostage-taking in Algeria and military intervention in Mali, Mr Cameron spoke in similar terms to those Mr Blair used about Afghanistan and Iraq. On Friday, on the final leg of his North Africa tour, Mr Cameron was in a school classroom in Liberia defending the Government's commitment to overseas aid. Development is likely to be a huge issue at the G8 in Lough Erne, Northern Ireland, as it was for Mr Blair in Gleneagles in July 2005. For his part, George Osborne, the Chancellor, refers privately to Mr Blair as "the master".
Mr Cameron has been keen to get inside the mind of Labour's triple-election-winning prime minister from the start of his leadership – despite his put-down to Mr Blair at Prime Minister's Questions in 2006: "You were the future once." In 2005, being shown round a military establishment, Mr Cameron asked a senior soldier: "What is Tony Blair's opinion about that?"
However, nearly 10 years after Mr Blair's intervention in Iraq, it remains to be seen if the Prime Minister is wise to take advice from a man who has "not a regret" for what is widely regarded as his worst foreign policy decision. And the friendship is unlikely to go down well with the Tory right, who are gearing up for battles with their leader over HS2, foreign aid and gay marriage.
A No 10 spokesman confirmed that Mr Blair had held talks with Mr Cameron at No 10 about the Middle East in September, but refused to comment on unofficial meetings and telephone conversations. A spokesman for Mr Blair said: "You would of course expect Mr Blair as the Middle East envoy to occasionally speak to Mr Cameron."
The First Ladies' club
On the face of it, they are chalk and cheese: one is a skinny jeans-wearing, tattooed fashionista with an aristocratic background; the other a high-flying QC from the working-class terraces of Liverpool. But Samantha Cameron and Cherie Blair have struck up an unlikely friendship through their common role as first lady of Downing Street.
As their husbands have held talks on the war on terror, Europe and the wider political scene, Mrs Cameron and Mrs Blair have become close and get on exceedingly well, according to a source. Both women are passionate about their charity work – for Mrs Cameron, a list of children's causes, while Mrs Blair has her own organisation, the Cherie Blair Foundation, which funds women entrepreneurs across the developing world.
A source said last night: "Cherie has been extremely helpful to Sam explaining the dos and don'ts of being PM's wife, including how to avoid the pitfalls, such as not saying anything in public, and generally Sam hasn't, being careful about not being everywhere. She has been very helpful in guiding her through the pitfalls of dealing with the civil service and dealing with the wily Sir Humphreys, who don't always welcome your legitimate demands on their time."
And on a personal level, they have much in common. They are the only prime ministerial wives of modern times to have had a baby while their husbands were in office. They are also known to feel the burden of living at No 10: Mrs Blair spoke of being in a "goldfish bowl", while Mrs Cameron calls it the "cage".
However, there is no denying their differences. Mrs Blair is a lifelong Labour supporter who resented curtseying to the Queen. Mrs Cameron is the daughter of a baronet and can trace her ancestry back to Nell Gwyn, mistress of Charles II. Yet unlike her counterpart, Mrs Cameron's politics are less clear-cut. More liberal than her husband, she is said to be behind the Prime Minister's commitment to gay marriage. There have even been rumours (denied by No 10) that she once voted for Mrs Blair's husband.
Jane Merrick
From rainy Copenhagen to wet and windy Westminster, it's not that far...
David Cameron doesn't watch the Danish political drama Borgen because it's "too much like work". And he's right – those gripped by series two, which came to an end on BBC4 last night, have noticed striking similarities between an episode's plotlines and subsequent events in Westminster.
Borgen Episode 2 (broadcast 5 January) Prime Minister Birgitte Nyborg has a battle on her hands over Europe as she tries to pick the right candidate to be Denmark's EU commissioner.
Westminster 9 January As the Commons returns after Christmas recess, the PM is under pressure over Europe, with his backbenchers demanding a referendum and business leaders warning that exit will be a disaster for Britain. He eventually makes the pledge on 23 January.
Borgen Episode 4 (12 January) A hostage crisis erupts when Danish sailors are taken captive by Islamists off Somalia, putting Nyborg under political pressure at home.
Westminster (16 January) British oil workers are taken hostage by Islamist militants at an oilfield in Algeria, putting Cameron under political pressure at home.
Borgen Episode 4 (12 January) As the hostage crisis continues, the devious newspaper proprietor Michael Laugesen tries to undermine Nyborg by backing her rival Troels Hoxenhaven and tells her he knows about her dalliance with her chauffeur.
Westminster (22 January) Newspaper proprietor Rupert Murdoch, no longer friends with Cameron after the phone-hacking scandal that involved their mutual friend Rebekah Brooks, has dinner with the PM's rival Boris Johnson in an apparent attempt to destabilise Cameron.
Borgen Episode 5 (19 January) Nyborg finds her plans to get key reforms on welfare and the environment scuppered by her coalition partners and a tough economic climate, but in the end gets them through.
Westminster (25 January) Cameron's cuts to welfare and his economic austerity agenda are undermined by his coalition partner when Nick Clegg says the Government should have focused on capital spending, and destabilised further by grim GDP figures.
Borgen Episodes 7 & 8 (26 January) Nyborg flies to North Africa to help intervene in a conflict between Christian and Muslim factions in the fictional country of Kharoun.
Westminster (30 January) Cameron flies to North Africa, against the backdrop of the conflict in Mali, to reassure the leaders of Algeria and Libya that he is committed to fighting Islamic insurgency.
Borgen Episode 10 (2 February) Nyborg faces a threat to her leadership from rival Hans-Christian Thorsen.
Westminster Will speculation about Cameron's leadership continue this week?
Jane Merrick
Join our commenting forum
Join thought-provoking conversations, follow other Independent readers and see their replies