Michael Fallon admits touching female journalist Julia Hartley-Brewer's knee as Westminster scandal intensifies
Spokesperson for Defence Secretary says he 'considers the matter closed'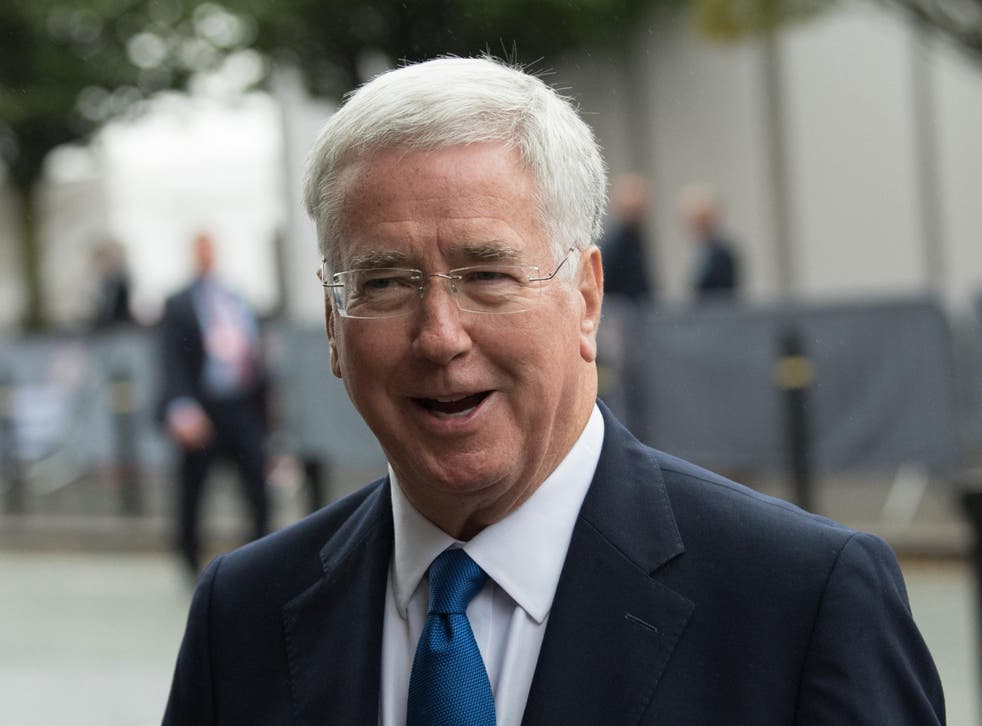 Michael Fallon has admitted feeling a female journalist's knee as allegations of sexual harassment and misconduct swirl around Westminster.
Julia Hartley-Brewer, now a host on talkRADIO, previously chose not to name the Defence Secretary in her account of the incident in 2002.
"No one was remotely upset or distressed by it," she wrote on social media, adding that she did not feel herself to be a victim of sexual harassment.
Ms Hartley-Brewer said the minister, now identified as Mr Fallon, "repeatedly put his hand on my knee" during a Conservative Party conference dinner.
"I calmly and politely explained to him that, if he did it again, I would 'punch him in the face'," she wrote in a statement.
"He withdrew his hand and that was the end of the matter.
"I have had no issues since with the man in question and do not regard the incident as anything but mildly amusing."
This Morning causes outrage as show asks 'Have sexual accusations gone too far'
Mr Fallon had been named as the minister involved in Westminster before he made a public admission of involvement on Monday evening, as The Sun released its front page on the story.
A spokesperson for Mr Fallon told The Independent that "he had apologised when the incident happened 15 years ago and that both Julia and he now consider the matter closed".
First elected as a Conservative MP for Darlington in 1983, he became an education minister before losing his seat to Labour in 1992.
Mr Fallon was re-elected to the Commons for Sevenoaks in 1997, holding positions including on energy, business and as Deputy Chairman of the Conservative Party before being appointed Defence Secretary three years ago.
The admission came amid accusations that parliamentary authorities had not properly dealt with allegations of assault from female staff.
Minister Mark Garnier, who has already admitted asking his secretary to buy sex toys and to referring to her as "sugar tits", looked set to lose his job after Theresa May refused to say she had confidence in him.
There was no immediate comment from Downing Street on Mr Fallon, who is believed to be among six cabinet ministers named in a dossier of alleged harassers.
The document, leaked to The Sun, is said to detail allegations against 36 senior Tories, including serving ministers, former Cabinet ministers and a Permanent Private Secretary.
Ms Hartley-Brewer said she did not feel herself to be a victim and did not want to take part in a "Westminster witch hunt".
Hitting out at a "media feeding frenzy" over rumours, she added that in 20 years of political reporting she saw "only a small number of MPs from all parties" involved in sexual harassment.
"I believe it is absurd and wrong to treat workplace banter and flirting – and even misjudged sexual overtures – between consenting adults as being morally equivalent to serious sexual harassment or assault," she said in a statement.
"It demeans genuine victims of real offences. Anyone with any allegations against an MP, or anyone else, should speak up now and provide the evidence to ensure any necessary action is taken."
The Prime Minister has called for a new independent helpline to deal with complaints of harassment and abuse at Westminster and senior parliamentary figures have met to discuss ways for victims to speak up "without fear".
Commons Speaker John Bercow also called for change in Parliament amid what he described as "disturbing" allegations about a "culture of sexual harassment".
UK news in pictures

Show all 50
He chaired a meeting of the House of Commons Commission that followed impassioned debate on the issue in the House of Commons.
"It recognised that the current processes for dealing with this required review, and a more thorough understanding of how they are put into practice by political parties," Mr Bercow's spokesperson said.
"The Commission therefore committed to urgent work, in concert with the key stakeholders, to identify a way forward which would command general confidence and enable people to speak up without fear or favour."
Liz Saville Roberts, Plaid Cymru's leader at Westminster, told The Independent a female member of staff reported sexual assault four times but was ignored.
"In order to change that political culture, it requires all of us to take very strong political leadership," she said in an address to the House of Commons.
"That means taking decisions against colleagues and others, even when that is inconvenient, even when that is against their own allies or their own supporters on their own side."
Jess Phillips, a Labour MP, said she overheard two male colleagues "wittering about a witch hunt" on the way to the chamber.
Andrea Leadsom, the leader of the Commons, said: "It is absolutely the intention that this review looks at all issues of misdemeanour and misconduct, including sexual harassment and bullying and other forms of uncomfortable behaviour that is perpetrated on members of staff in this place."