Michael Gove never thought Boris Johnson was 'remotely qualified' to be Prime Minister, says David Laws
'Backing Boris was a bridge too far, even for this rather unwilling candidate,' former Lib Dem minister says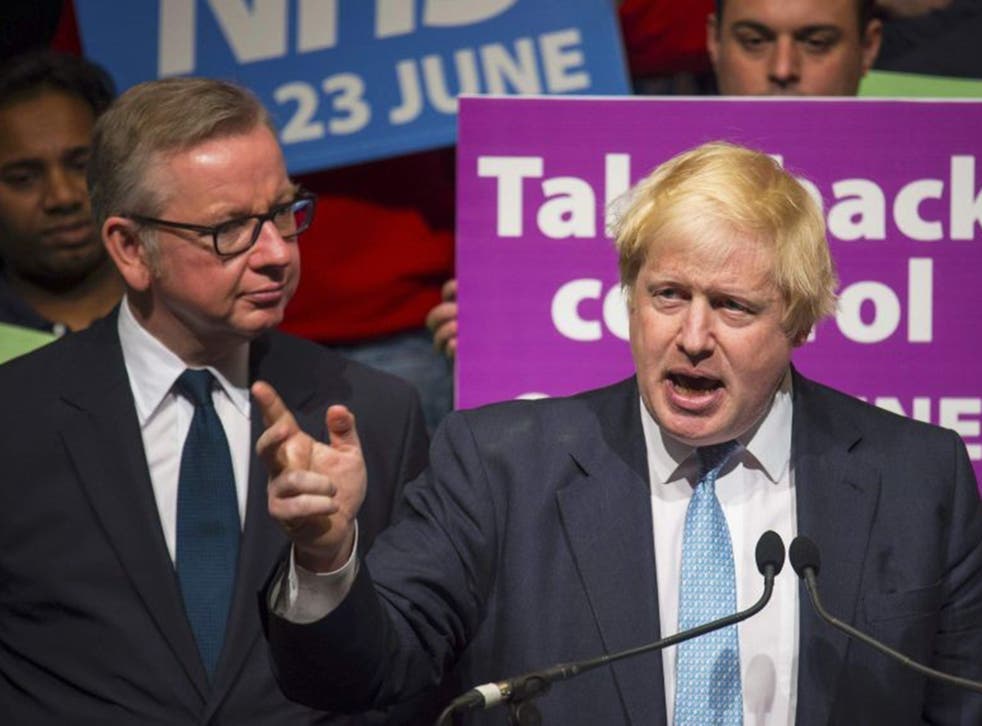 Michael Gove never considered Boris Johnson to be "remotely qualified" to be the next British Prime Minister, according to a former Coalition colleague.
David Laws, Liberal Democrat and Minister of State for Schools during the Coalition government, said that by withdrawing his support from Mr Johnson, Mr Gove was "reasserting his long-standing view" of the former London mayor.
It comes after Mr Gove announced he would be running in the Tory leadership race, despite having originally said he wanted to get behind Mr Johnson's bid for the leadership - a move that provoked anger from some Tory MPs, who accused Mr Gove of betrayal.
Jake Berry, one of Mr Johnson's allies, later tweeted: "There is a very deep pit reserved in Hell for such as he."
Another Tory MP, Kwasi Kwarteng, described the move as "a spasm of immaturity", while various commentators likened him to Lord Macbeth.
But Mr Laws has claimed his former colleague had never thought Mr Johnson fit to run the country.
He wrote in The Times: "Without being too indiscreet, I don't believe that [Gove] ever considered Boris Johnson to be remotely qualified to reside at Number 10.
"When the justice secretary stunned Westminster by withdrawing his support from Boris last Thursday, he was reasserting his long-standing view of the former London mayor and not displaying some short-term ruthlessness or calculated personal ambition."
The favourites in the Tory leadership race

Show all 5
The claim would appear to be at odds with Mr Gove's announcement just hours before Mr Johnson was due to launch his campaign, in which he said he had "come to the conclusion" that the former Mayor of London was not fit for the job.
Mr Gove said: "I wanted to help build a team behind Boris Johnson so that a politician who argued for leaving the European Union could lead us to a better future.
"But I have come, reluctantly, to the conclusion that Boris cannot provide the leadership or build the team for the task ahead."
The ballot for the Conservative leadership was due to close at 6pm on 5 July, when votes will be counted and the last-placed candidate removed.
Theresa May is favourite to win the contest, followed by Angela Leadsom, Michael Gove, Stephen Crabb and Liam Fox.
Join our new commenting forum
Join thought-provoking conversations, follow other Independent readers and see their replies