Michael Gove denies 'war' with Theresa May over anti-extremism strategy
The ministers have clashed over the response to an alleged Islamic extremist plot in Birmingham schools
Lizzie Dearden
Thursday 05 June 2014 12:24 Comments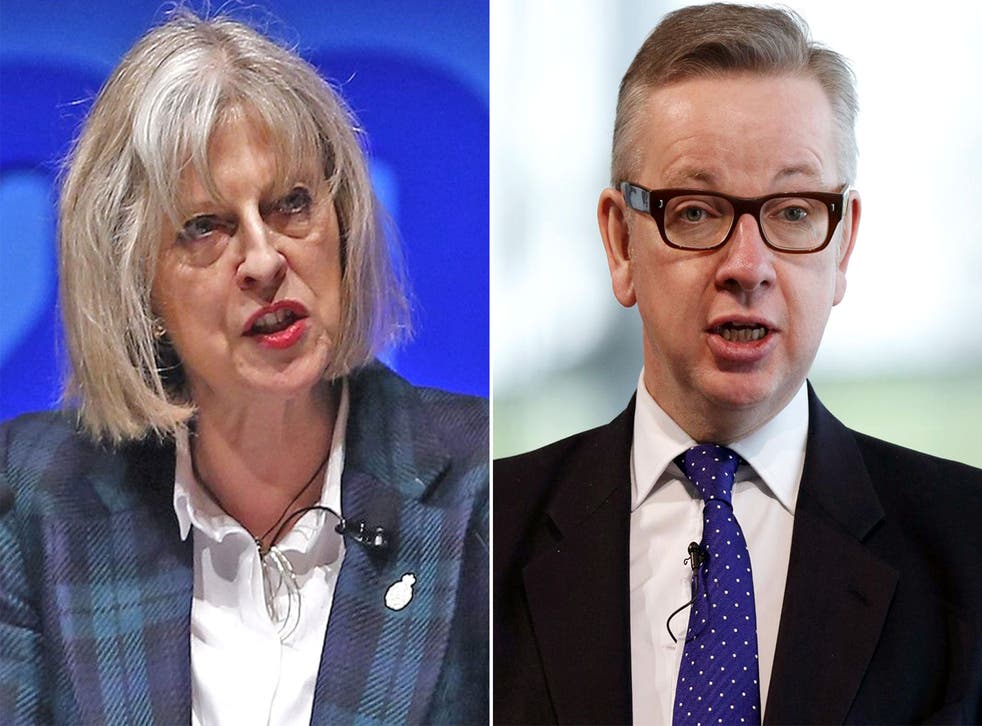 Michael Gove has denied being "at war" with the Home Secretary over the Government's anti-extremism strategy.
Leaving home on Thursday, he said he thought Theresa May was doing a "fantastic job" and did not consider her stance on Islamic fundamentalism too weak.
Rumours of a row between the two cabinet ministers escalated on Wednesday with the publication of a letter from Mrs May indicating her concern over the Education Secretary's response to the alleged "Trojan Horse" plot by fundamentalists to seize control of schools in Birmingham.
In the letter, dated 3 June, Mrs May said there were "accusations about the inability of local and central government to tackle the problem effectively".
She wrote: "Is it true that Birmingham City Council was warned about these allegations in 2008? Is it true that the Department for Education was warned in 2010? If so, why did nobody act?"
The Home Secretary also appeared to raise concerns headscarves might be banned in schools, telling Mr Gove: "The text on dress requirements should... not be part of the extremism definition."
The pair have reportedly clashed over Mr Gove's insistence that radicalisation must be tackled at its roots with a Government strategy taking on those spreading extreme messages in the community, which Mrs May is said to fear risks antagonising mainstream Muslims.
David Cameron stepped into the row after the letter was released, asking for a full account of disagreements between the ministers.
Chris Grayling, the Justice Secretary, acknowledged "tensions and debates" between his cabinet colleagues but denied there were massive divides.
He told BBC Radio 4's Today programme: "They were very clear yesterday. They issued a statement to say that they are working very closely together on this.
"Of course we are going to discuss and debate the best ways to combat extremism but we are a Government that is working closely on this issue."
The statement released on Wednesday said the ministers were "working together to ensure we get to the bottom of what has happened in Birmingham and take the necessary steps to fix it".
But Labour's shadow Home Secretary, Yvette Cooper, said the "unseemly row" had exposed "serious and troubling tensions at the heart of a vital area of Government policy".
The issue has also raised questions over who will succeed Mr Cameron as Conservative Party leader, with Mrs May establishing a lead in recent polls over Mr Gove's favoured candidate George Osborne.
More than 20 schools have been inspected after a letter, which is suspected to be a hoax by some, referred to an alleged plot by hardline Muslims to seize control of governing bodies in Birmingham.
Three have been give a clean bill of health but other reports are yet to be published, with leaks predicting some others will be put into special measures.
Additional reporting by PA
Register for free to continue reading
Registration is a free and easy way to support our truly independent journalism
By registering, you will also enjoy limited access to Premium articles, exclusive newsletters, commenting, and virtual events with our leading journalists
Already have an account? sign in
Join our new commenting forum
Join thought-provoking conversations, follow other Independent readers and see their replies