Michael Gove launches searing attack on water company bosses over tax avoidance and executive pay
The Environment Secretary said the firms have 'avoided paying taxes' and 'rewarded the already well-off'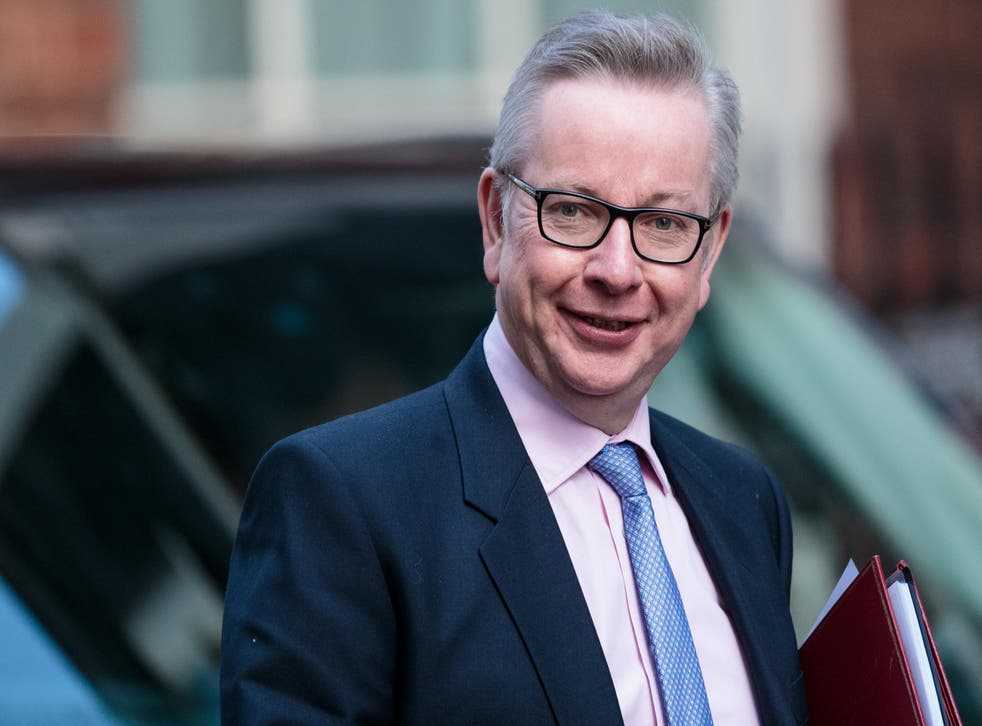 Michael Gove has launched a searing attack on an audience of water company bosses – accusing their firms of avoiding billions of pounds in tax, overpaying executives and failing to properly invest in infrastructure.
The Environment Secretary said some companies had been funnelling almost all their profits to shareholders, while having "hidden behind complex financial structures" in off-shore tax havens to avoid the Inland Revenue.
In an unexpected move for a Conservative Cabinet minister, he named and shamed the chief executives of particular companies, whose representatives would have been attending the conference he was speaking at.
Mr Gove has already warned water firms he will not refrain from strengthening their industry's regulator if they refuse to give consumers a better deal, with Jeremy Corbyn's Labour promising full renationalisation if it wins power.
In a speech to the Water UK City Conference on Thursday Mr Gove said: "Far too often, there is evidence that water companies – your water companies – have not been acting sufficiently in the public interest.
"Some companies have been playing the system for the benefit of wealthy managers and owners, at the expense of consumers and the environment."
He went on: "They have shielded themselves from scrutiny, hidden behind complex financial structures, avoided paying taxes, have rewarded the already well-off, kept charges higher than they needed to be and allowed leaks, pollution and other failures to persist for far too long."
UK news in pictures

Show all 50
While there had been some acknowledgement that change had to come from the industry, he said companies are guilty of "prevarication and procrastination, ducking and diving and dragging of feet".
He set out how water companies had paid out £18.1bn to shareholders between 2007 and 2016, a figure almost equal to the total profit over the same period.
Mr Gove went on: "And who made those decisions? Well, of course, it's the people in this room – chief executives and board members of the privatised water companies.
"And you must realise that in the public eye you are very handsomely remunerated."
He singled out the chief executive of United Utilities, who he said was paid £2.8m per year, Severn Trent's chief executive, £2.42m per year, and the chief executives at Anglian and Yorkshire who he said are paid £1.2m a year, while the boss of Thames Water receives £960,000 a year.
Mr Gove then turned his fire on the companies' tax arrangements, saying some are not contributing enough to Treasury coffers, and others are "very much not".
Michael Gove warns water companies he will give regulator new powers if they don't shape up
He said: "Last year Anglian, Southern and Thames paid no corporation tax. Indeed Thames has paid no corporation tax for a decade.
"Ten years of shareholders getting millions, the chief executive getting hundreds of thousands, and the public purse getting nothing.
"And water companies have been able to minimise their tax obligations, even as many have failed to minimise leaks and pollution, because some of their best brains appear to be as intent on financial engineering just as much as real engineering."
He accused four water companies – Thames, Southern, Anglian and Yorkshire – of making "particularly keen use of sophisticated financial engineering".
'Tax havens': The 17 countries blacklisted by the EU
The Cabinet minister said the companies had "set up multi-layered corporate structures of dizzying complexity" involving multiple subsidiaries with some based in offshore tax havens.
Mr Gove went on: "The use of these offshore entities makes company affairs more opaque and their financial activities less transparent, and customers have an absolute right to question their use.
"As well as Thames, Southern and Yorkshire – have also set up offshore financial structures in the Cayman Islands."
He accepted that water companies had initially set up the structures to enable smoother access to global bond markets, but then pointed out that the rules related to the issue had now changed, before accusing the companies of maintaining the structures to "avoid proper scrutiny".
John McDonnell: "Rail, water, energy, Royal Mail... we're taking them back"
In a dissection of the industry's financial affairs, he then turned to how they had structured debt to maximise their gains.
He explained that regulator Ofwat asks customers to pay water companies an amount that allows firms to maintain a prudent balance sheet divided on a 60:40 basis between debt and equity.
The 40 per cent is designed explicitly as a 'buffer zone', he said, that protects companies from financial shocks and to ensure they have enough money to invest.
But Mr Gove told his audience: "The banks and funds which own these companies have increased their debt levels to nearly 80 per cent – or 83 per cent, in the case of Thames.
"And because the debt levels are higher than those assumed by Ofwat – and the repayments are cheaper than they would be on equity returns, and are paid out before tax to boot – the companies have made supernormal gains."
Mr Gove underlined the need for change because of growing pressure for renationalisation, something he admitted now has "significant and growing public support".
Responding to the issues raised by Mr Gove at the conference on Thursday, Water UK Chief Executive Michael Roberts said the the sector is already acting.
Of the offshore financial arrangements, he said: "All the relevant companies, supported by Water UK, are looking at their arrangements – and three of them – Yorkshire Water, Thames Water and Anglian Water – have publicly pledged to remove them from their structures as soon as they can.
"On leverage, not all companies are highly-geared – but a number of those which are, have started to change that, and Yorkshire Water for one has said it is going further with an aim to reduce gearing to 70 per cent by 2020.
He added that on dividends and executive pay, "I suspect at the very least there is an important job to be done by all concerned to explain fairly and more clearly the approaches adopted by water companies."
At its annual conference in 2017, Labour vowed to renationalise railways, water, energy and Royal Mail.
Shadow Chancellor John McDonnell said: "Building an economy for the many also means bringing ownership and control of the utilities and key services into the hands of people who use and work in them. Rail, water, energy, Royal Mail – we're taking them back."
Register for free to continue reading
Registration is a free and easy way to support our truly independent journalism
By registering, you will also enjoy limited access to Premium articles, exclusive newsletters, commenting, and virtual events with our leading journalists
Already have an account? sign in
Register for free to continue reading
Registration is a free and easy way to support our truly independent journalism
By registering, you will also enjoy limited access to Premium articles, exclusive newsletters, commenting, and virtual events with our leading journalists
Already have an account? sign in
Join our new commenting forum
Join thought-provoking conversations, follow other Independent readers and see their replies