Millions who voted Ukip will do so again at general election, poll suggests
ComRes survey showed 86 per cent who backed party in European elections will again
Lizzie Dearden
Saturday 31 May 2014 12:38 Comments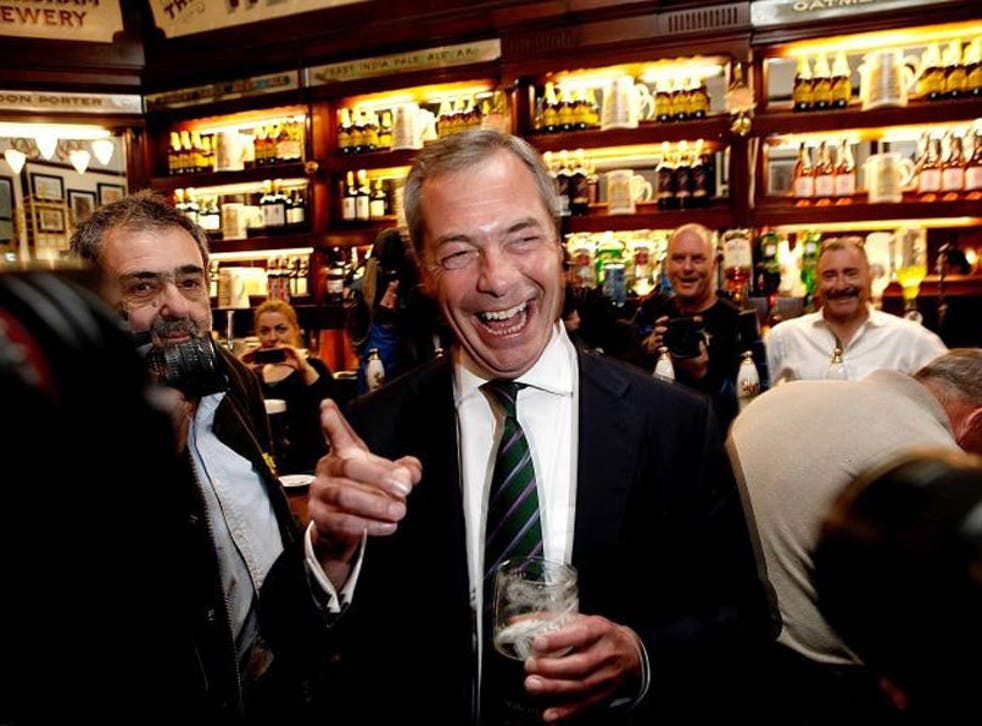 The vast majority of voters who backed Ukip in the European elections would vote the same way at a general election, according to a new poll.
A repeat of the extraordinary results that swept Nigel Farage's party to a historical victory could put Ukip MPs in Parliament for the first time next year.
The poll, by ComRes, suggests that 86 per cent of the 4.3 million people who voted for Ukip in the European elections will do so again.
Around 37 per cent said that they were "certain" to support the party again and 49 per cent said that they were "likely" to, while 14 per cent said that they would probably vote differently.
But even if Ukip win a majority of the vote, it is unlikely to beat the three main parties for a second time because of the voting system used.
Support would need to be concentrated in constituencies rather than being spread around the country to yield a result and the party would be unlikely to win a majority in the House of Commons.
In pictures: Local and European election results 2014

Show all 34
Many voters in the poll said they were attracted to Ukip's anti-immigration stance and Mr Farage's calls for increased border controls within the European Union.
The survey was commissioned by Ukip's biggest financial supporter, Paul Sykes, who has also pledged support for the party in the Newark by-election next week.
In a comment piece for the Telegraph, Mr Sykes claimed Conservative MPs were "in denial" about the threat Ukip posed.
He wrote: "At present Conservative MPs (with a few honourable exceptions) appear to be in denial about the scale of the popular uprising against our current rulers.
"This is despite their party finishing third in the elections.
"They appear to think that the Ukip threat will go away (it won't) or that the economic recovery will float them off the political rocks."
He compared the current political climate to 1997, when John Major suffered the worst Conservative defeat for more than 150 years despite strong economic growth.
The Tories finished behind Ukip and Labour in the European elections and lost hundreds of councillors from local authorities across the country.
While some analysts have claimed predominantly Conservative supporters are migrating to Ukip, Labour and the Liberal Democrats have not been immune.
The ComRes poll showed that 46 per cent of last week's Ukip voters had supported the Tories at the 2010 general election, while 15 per cent had been Labour voters, and 16 per cent defected from the Liberal Democrats.
Register for free to continue reading
Registration is a free and easy way to support our truly independent journalism
By registering, you will also enjoy limited access to Premium articles, exclusive newsletters, commenting, and virtual events with our leading journalists
Already have an account? sign in
Join our new commenting forum
Join thought-provoking conversations, follow other Independent readers and see their replies