Minister admits David Cameron has no 'factual evidence' to prove 'benefit tourism' causes mass EU migration
It deals a blow to David Cameron's pledge that restricting EU migrants from claiming in-work benefits will significantly reduce net immigration to the UK - a central plank to his EU renegotiation
Matt Dathan
Online political reporter
Friday 08 January 2016 12:48 Comments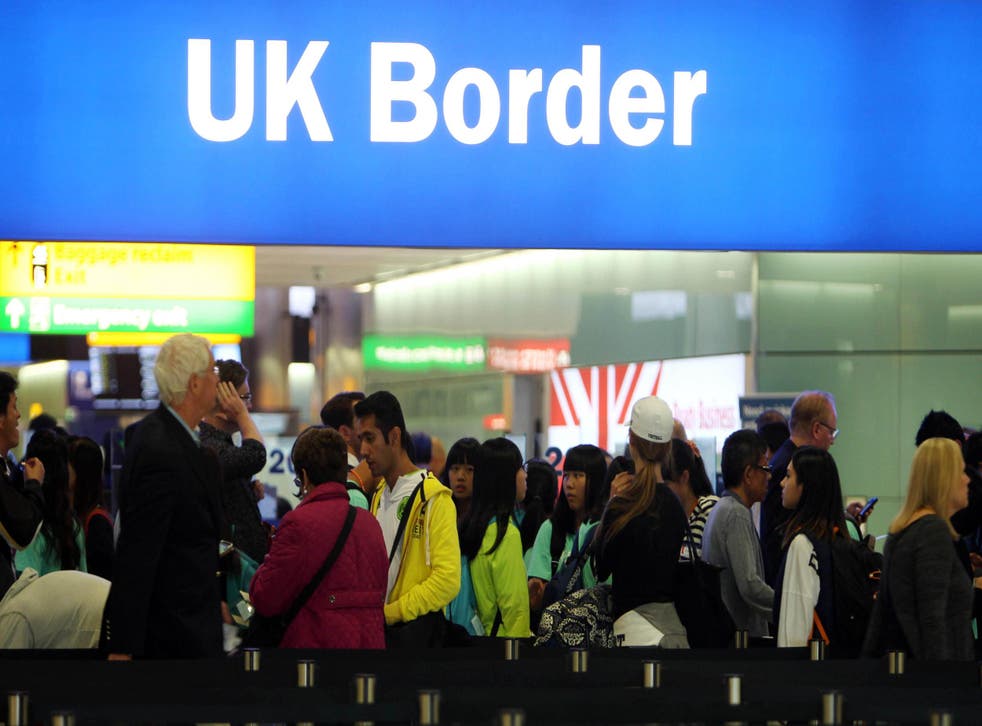 A Conservative minister has appeared to admit that David Cameron has no evidence that 'benefit tourism' encourages EU migrants to come to the UK.
The Prime Minister has insisted that his plan to block EU migrants from claiming in-work benefits for four years will significantly reduce immigration to the UK and hopes it will be enough to convince voters concerned with Britain's rising levels of immigration to remain in the EU in the upcoming referendum.
But after Lord Kinnock requested the Government release the "factual evidence" it holds that proved EU migrants moved to the UK to claim benefits, welfare minister Lord Freud failed to provide any.
The only information he produced was analysis of 2013 data by the Department for Work and Pensions that "between 37 per cent and 45 per cent" of recent EU migrants lived in households that claimed benefits.
These statistics were dismissed as "very dubious" by Jonathan Portes, from the National Institute of Economic and Social Research, who uncovered the Government's admission buried in its written answer to Lord Kinnock - published three weeks after the former Labour leader asked the Government for the information.
Mr Portes said Lord Freud's answer "doesn't show any connection at all between people coming here and wanting to claim benefits" and said many Government insiders do not believe that the UK's benefit system is the reason for high levels of immigration from the EU.
"If they wanted evidence of benefit tourism they could commission a study - the government knows that perfectly well," he told Mirror Online.
"I know lots of people in Whitehall and there's no senior policymaker in Whitehall that thinks benefit tourism is a big problem, or that changing the rules will stop people coming to Britain.

"I think the government know that and that's why they're trying to blow smoke."
Here is Lord Freud's full answer to Lord Kinnock's request, which asked the Government to "provide all factual evidence they have, together with their sources, that UK in-work and out-of-work benefits are a factor in encouraging immigration to the UK from other EU member states".
Lord Freud, 4 January 2016: "The benefits system is one of a range of factors attracting migrants to Britain. Net migration to the UK stood at 336,000 in the year to June 2015 according to the November 2015 Migration Statistics Quarterly Report from the Office for National Statistics, and EU nationals are a significant contributor to recent increases. Meanwhile, an analysis of administrative data held by the Department for Work and Pensions showed that between 37% and 45% of all recent EU migrants were in households supported by the benefits system as of March 2013.
"The Government has already introduced tough new measures to ensure that EU jobseekers will have no access to means-tested benefits whatsoever as Universal Credit is rolled out.
"And now we want to ensure that the welfare system plays no part in the migration decisions of any EU national. The Prime Minister is therefore pursuing further reforms to ensure that EU migrants who come to the UK for low-paid work cannot claim in-work benefits until they have lived here and contributed to our country for a minimum of four years."
Register for free to continue reading
Registration is a free and easy way to support our truly independent journalism
By registering, you will also enjoy limited access to Premium articles, exclusive newsletters, commenting, and virtual events with our leading journalists
Already have an account? sign in
Join our new commenting forum
Join thought-provoking conversations, follow other Independent readers and see their replies