Ministers urged to explain whether China had say in policing state visit
All charges against three people arrested during peaceful protests during the visit have been dropped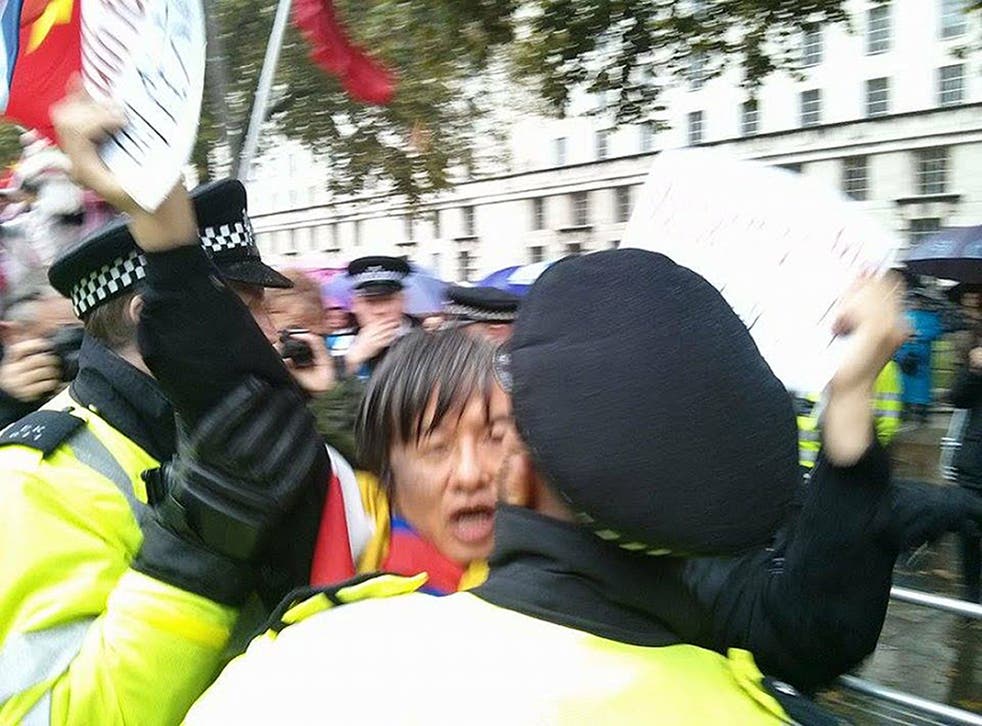 Ministers are under pressure to explain whether Chinese officials had a say in the policing of last week's state visit, after all charges were dropped against three people arrested during peaceful protests.
Pro-democracy protester Shao Jiang, a survivor of the Tiananmen Square massacre, and two Tibetan students were arrested and had their homes searched by police after holding up banners and waving flags in London during the visit last Wednesday.
Dr Jiang's MP, Labour frontbencher Emily Thornberry, is demanding a meeting with policing minister Mike Penning. Fabian Hamilton, Labour MP for Leeds North East, who raised the issue in the House of Commons this week, will also write to Mr Penning after the minister declined to comment on the cases while police investigations were ongoing.
Representatives of the three protesters from the UK's Tibet Society plan to raise the arrests with the Independent Police Complaints Commission.
The Metropolitan Police confirmed that all charges against the three were dropped on Wednesday.
Dr Jiang's wife Johanna Zhang said she and her husband, who spent 18 months in a Chinese jail for his part in the Tiananmen Square protest, had been "traumatised" by the arrest and raid on their home.
Ms Thornberry told The Independent: "As Shao Jiang's MP I want to know how we can assure people are accountable for this kind of decision. Who made this decision and on what basis? I am embarrassed that someone who was held for 18 months for organising the Tiananmen Square protests should have their house searched and their equipment seized after protesting in the UK."
Liberal Democrat MP Alistair Carmichael said that any guidance from the Home Office to the Metropolitan Police around policing of the protests should be published.
"The handling of these arrests has seriously damaged public confidence in the police handling of public protests," he said. "To rectify that we now need to have full disclosure of what has been done here and proper assurance that this will not be allowed to happen again in the future."
Dr Jiang was manhandled by police officers after he attempted to block a Chinese government motorcade by standing in front of it, holding to A4-size banners reading "end autocracy" and "democracy now". Two Tibetan women were arrested after waving flags at the motorcade.
The Met has said that any suggestion police were "working to the bidding of the Chinese to suppress protest" is wrong. The Home Office declined to comment.
Responding to questions from MPs in the House of Commons earlier this week, Mr Penning said: "Protesters' rights need to be balanced with rights of others to go about their business without fear of intimidation or serious disruption to the community."
Join our new commenting forum
Join thought-provoking conversations, follow other Independent readers and see their replies