Government announces £5.5m boost to end modern slavery in Commonwealth
Forced labour and trafficking affects more than 40 million people across the world, ministers say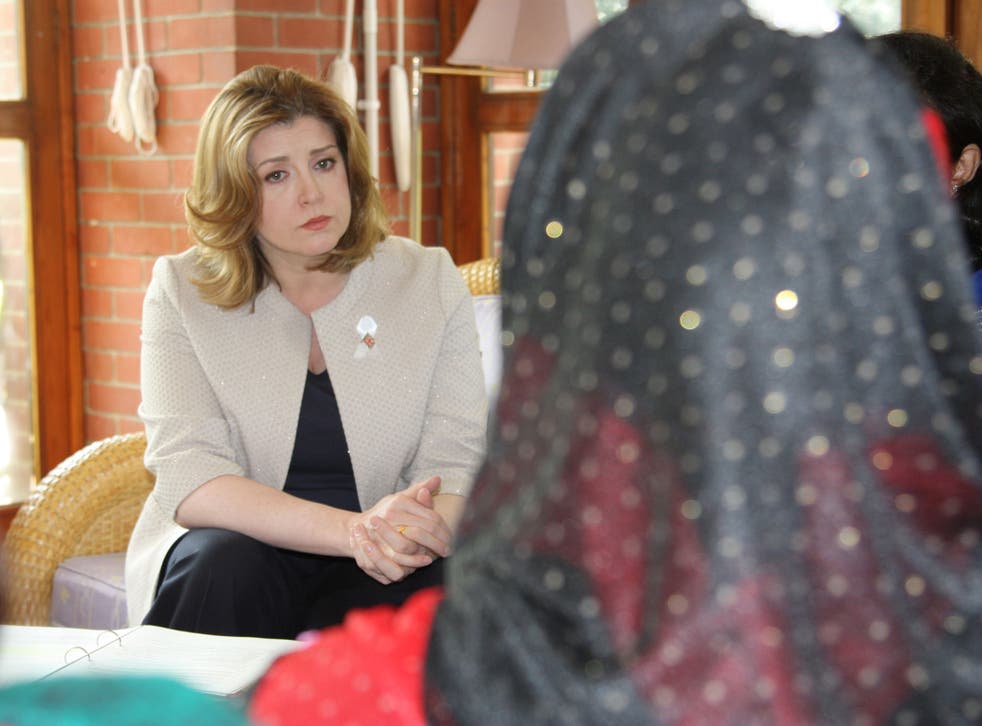 Efforts to root out human trafficking and child exploitation in some of the poorer countries in the Commonwealth will receive a £5.5m boost under new Government plans.
International development secretary Penny Mordaunt called for an end to "one of the greatest injustices of our times" as she announced a package of measures to stamp out forced labour and trafficking affecting more than 40 million people across the world.
As Commonwealth leaders descend on London for a high-profile summit, the government announced it would give £2.5m to boost police and prosecutors' resources in countries such as Sri Lanka and Malawi, and support new legislation to increase the number of convictions for trafficking.
Ministers have also pledged to give £3m to spot and tackle child labour and build capacity to end the practice in Bangladesh, Pakistan and India.​
It comes as Theresa May's attempts to bolster relations with Commonwealth nations at the heads of government meeting (CHOGM) were overshadowed by a row over the possible deportation of Windrush citizens, forcing Ms May to make a personal apology to Caribbean leaders.
Ms Mordaunt said: "The UK and the Commonwealth are stepping up to fight one of the greatest injustices of our time – the trafficking and exploitation of vulnerable people by predators.
"UK aid is helping to stamp out these evil practices, by smashing the traffickers' exploitative business model, helping to punish the perpetrators and supporting vulnerable people and victims – who are all too often women and children – to rebuild their lives so they do not fall back into a cycle of abuse.
"The Commonwealth is uniting to take on this challenge and our renewed commitment to end exploitation of anyone, anywhere, is vital in a world where over 40 million people are still being forced to live in these barbaric conditions."
Women are disproportionately affected by forced labour and trafficking, particularly in areas of conflict, accounting for 71 per cent of all victims, including forced labour in garment factories, sexual exploitation and domestic slavery.
Ms Mordaunt met victims on a recent trip to Bangladesh, including Rima, who was married at an early age and her husband left her whilst pregnant.
Struggling to earn enough money to support her family, she used an agent to find domestic work in the Middle East. However, once there, Rima was ill-treated, denied food and mentally abused, but she was too frightened to leave.
After six months, Rima ran away and was helped to return home by a stranger who took her in. However, economic hardship led Rima to migrate again to the Middle East, where she was overworked and collapsed through exhaustion, returning home with six months' salary even though she worked for nine.
In both cases Rima received very little support from her recruitment agents to return home, and was left near starvation when returning.
Amber Rudd, the home secretary, also called for an end to the "cruel and horrendous crimes" suffered by millions worldwide.
Windrush generation: threat of deportation from UK

Show all 15
"The UK is leading the world in tackling this form of abuse through the groundbreaking Modern Slavery Act 2015, which ensures victims are identified and supported and provides law enforcement agencies with the tools they need to bring perpetrators to justice," she said.
"But this is a global problem which requires a global response, which is why all countries must unite to end this to make these brutal crimes a thing of the past."
Register for free to continue reading
Registration is a free and easy way to support our truly independent journalism
By registering, you will also enjoy limited access to Premium articles, exclusive newsletters, commenting, and virtual events with our leading journalists
Already have an account? sign in
Register for free to continue reading
Registration is a free and easy way to support our truly independent journalism
By registering, you will also enjoy limited access to Premium articles, exclusive newsletters, commenting, and virtual events with our leading journalists
Already have an account? sign in
Join our new commenting forum
Join thought-provoking conversations, follow other Independent readers and see their replies