Momentum pushes activists to join Labour party to retain membership under new constitution
Move will affect activists suspended from the party that still play active role in grass-roots group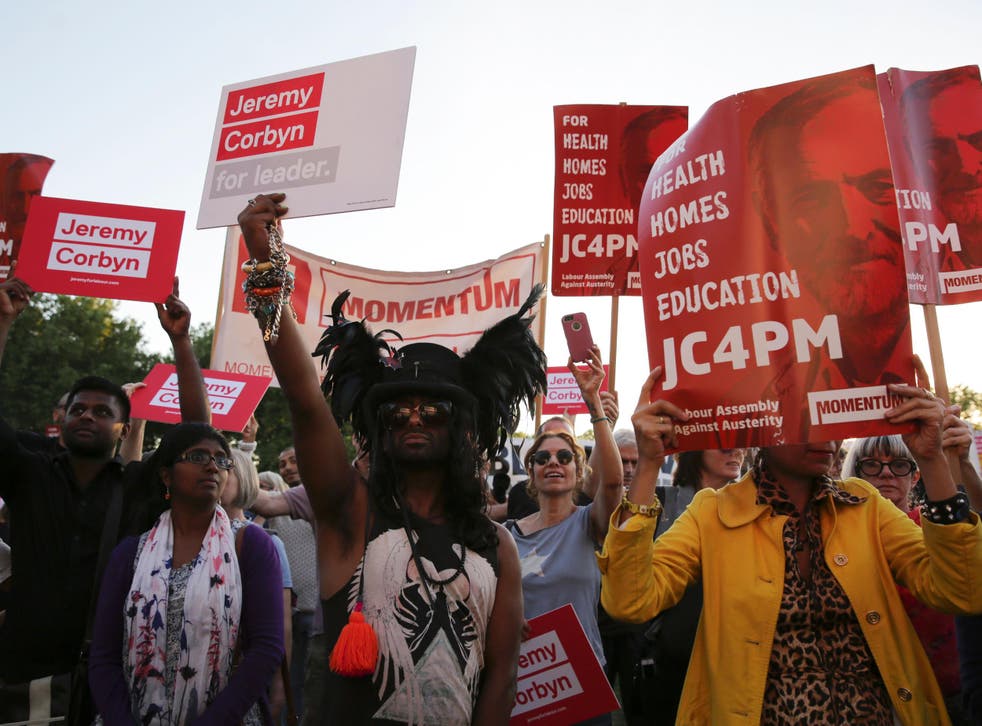 Momentum has introduced a new constitution, announcing it will now aim to affiliate to Labour and require all its members to join the party to retain their membership.
The organisation, set up in the wake of Jeremy Corbyn's first victory in the Labour Party leadership contest in 2015, announced the sweeping changes to its structure following months of sharp internal divisions.
It means new members of Momentum must be members of the Labour Party in order to join the organisation. Existing members will be required to join Labour by the beginning of July. The move will likely affect activists such as a Jackie Walker, who is on the organisation's steering committee, but currently suspended from the Labour Party following her remarks on Holocaust Memorial Day earlier this year.
Writing on Facebook, Ms Walker added: "So now we have it - a leftie version of Progress that will drift to the right".
It could call into question the role of Jill Mountford, who is on Momentum's steering committee but was expelled from Labour earlier this year for due to her association with the Alliance for Workers' Liberty – a Trotskyist grouping.
But Momentum sources insisted those suspended from Labour will remain members. Expelled members, however, may be deemed to have resigned from the organisation but have the right to hearing.
The aim to affiliate to the Labour could also create further tensions between activists and MPs in the party. Tom Blenkinsop, the MP for Middlesbrough South and East Cleveland, said: "I will be opposing this with every fibre of my body". During the Labour leadership race in the summer of 2016, Owen Smith, who was challenging Mr Corbyn, claimed Momentum was using Labour as a "host body" and was often a source of a heated debate over deselections.
Labour does not rule out backing freedom of movement after Brexit, says Corbyn
In an email to members of the steering committee Jon Lansman, the organisation's founder, architect, and loyal ally of Mr Corbyn, said: "The constitution may not be perfect in everyone's eyes, but, whatever the process we follow, it is common ground that we need one, and it is surely better to have it now and amend it later by a process that is indisputable."
One Momentum source told The Independent: "I am disappointed and alarmed by this manoeuvre. As a momentum activist heavily involved in my local Labour Party, it is mind-boggling to see Momentum's leadership which spends so much time lecturing us about turning outwards and away from internal politics - spend so much energy on a petty faction fight".
UK news in pictures

Show all 50
Following a survey by Momentum - to which over 40 per cent of members responded - the organisation's steering committee voted by majority to introduce the new constitution.
A Momentum spokesperson added: "Momentum is moving forwards as the outwards-looking, campaigning movement that our members want it to be. Over the coming months, Momentum will continue to grow, building our movement to encourage more people to participate in politics and help Labour harness its new mass membership to win power and rebuild and transform Britain."
Michael Chessum, a Momentum activist, told The Independent: "Momentum has the potential to transform British politics. The strength of this movement is at its grassroots - in the thousands of activists who toil inside Labour, for Labour and in communities.
"Those ordinary members and activists deserve to be part of a democratic movement, not just be foot soldiers. Like a majority of Momentum's members, I remain committed to an organisation where we use compromise to bring about unity and a sense of common purpose. We cannot allow that to be derailed."
In the coming months the organisation is expected to mobilise its members for the crucial Copeland by-election, which was triggered following the resignation of the Labour MP Jamie Reed – a persistent critic of the Corbyn project.
Join our new commenting forum
Join thought-provoking conversations, follow other Independent readers and see their replies