Momentum vice-chair Jackie Walker says Holocaust Memorial Day is not inclusive enough
'In terms of Holocaust day, wouldn't it be wonderful if Holocaust day was open to all people who experienced holocaust?' asked Ms Walker
Ashley Cowburn
Political Correspondent
Wednesday 28 September 2016 19:01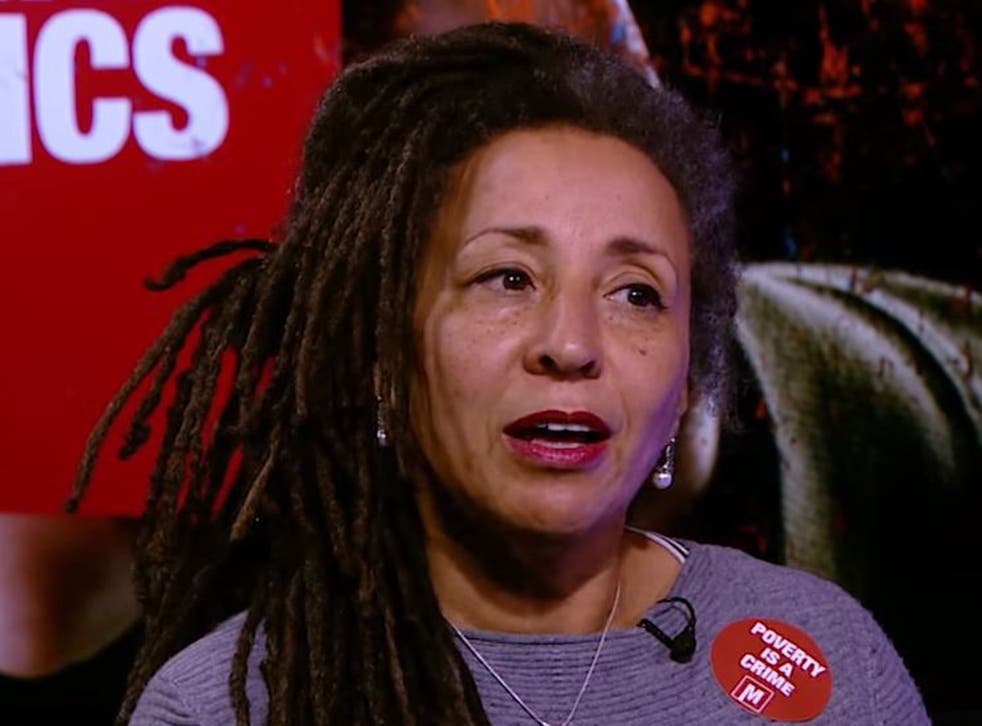 Momentum's vice-chair is under pressure to resign from the organisation after she appeared to criticise Holocaust Memorial Day for commemorating only Jewish victims.
Jackie Walker, vice-chair of the grassroots organisation set up shortly after Jeremy Corbyn's election as Labour leader last year, reportedly made the comments at a Labour Party anti-Semitism training event.
"In terms of Holocaust day, wouldn't it be wonderful if Holocaust day was open to all people who experienced holocaust?" she told organisers.
During the meeting Ms Walker was recorded by The Daily Telegraph as saying: "I came in here ... and I was looking for information and I still haven't heard a definition of anti-Semitism that I can work with ... [shouting from audience] and in terms of Holocaust day, wouldn't it be wonderful if Holocaust day was open to all people who experienced Holocaust ... [shouting from audience] in practice, it's not actually circulated and advertised as such."
According to the newspaper, Ms Walker's comments led to one activist shouting "you're telling lies", while others corrected her to say that not just Jews can commemorate the day.
Jeremy Newmark, chair of the Jewish Labour Movement, called on her to resign and said he was "appalled" at Ms Walker's comments.
"I am appalled that somebody who has already caused great hurt and pain to so many Jewish people by promoting an anti-Semitic myth would come to a training session designed to help party activists address anti-Semitism and use the occasion to challenge the legitimacy of the training itself," he said.
"To denigrate security provision at Jewish schools, make false claims about the universality of National Holocaust Memorial Day and to challenge recognised definitions of anti-Semitism is provocative, offensive and a stark example of the problem facing the Labour Party today.
"As vice-chair of Momentum, Jackie Walker has consistently failed to demonstrate any sensitivity to the impact of her words and actions upon the Jewish community. She must now consider her position, show some sensitivity and contrition or resign."
The Holocaust Education Trust accused Ms Walker of undermining and belittling "the distinct nature of the tragedy itself".
Jeremy Corbyn's campaign team tackle accusations of antisemitism
They added: "The Holocaust was a defining episode in history where 6 million men women and children were brutally murdered simply for being Jewish, the very epitome of man's inhumanity to man.
"Whilst Holocaust Memorial Day rightly and proudly commemorates the Holocaust and subsequent genocides, one has to wonder why Ms Walker takes issue with commemorating the mass extermination of Jews in its own right.
It comes after Ms Walker, speaking to activists at Momentum's festival in Liverpool, accused Mr Corbyn's critics of attempting to "weaponise" anti-Semitism allegations in a bid to undermine the leader.
Labour antisemitism row: What Livingstone said

Show all 14
Despite various allegations during the summer, Mr Corbyn himself calling an inquiry into allegations and a string of suspensions including those of Ken Livingstone and Naz Shah, Ms Walker argued there was "little if any" evidence of racism.
"Let me make it clear: all racism is abhorrent and I am not saying that anti-Semitism does not exist in the Labour Party," she said.
Senior Labour sources told The Independent it was "very likely" Ms Walker would be suspended from the party after Ian McNicol, the party general secretary, had looked into the claims. They added her suspension could go ahead without an investigation.
The Independent has sought comment from Momentum.
Register for free to continue reading
Registration is a free and easy way to support our truly independent journalism
By registering, you will also enjoy limited access to Premium articles, exclusive newsletters, commenting, and virtual events with our leading journalists
Already have an account? sign in