Momentum official calls on Labour to 'disaffiliate' from trade unions
'Nothing would induce me to support a candidate from a major trade union, they stick it to the ranks and file members time after time after time. It's also time to support disaffiliation of the unions from the Labour Party'
Ashley Cowburn
Political Correspondent
Wednesday 07 March 2018 11:10 Comments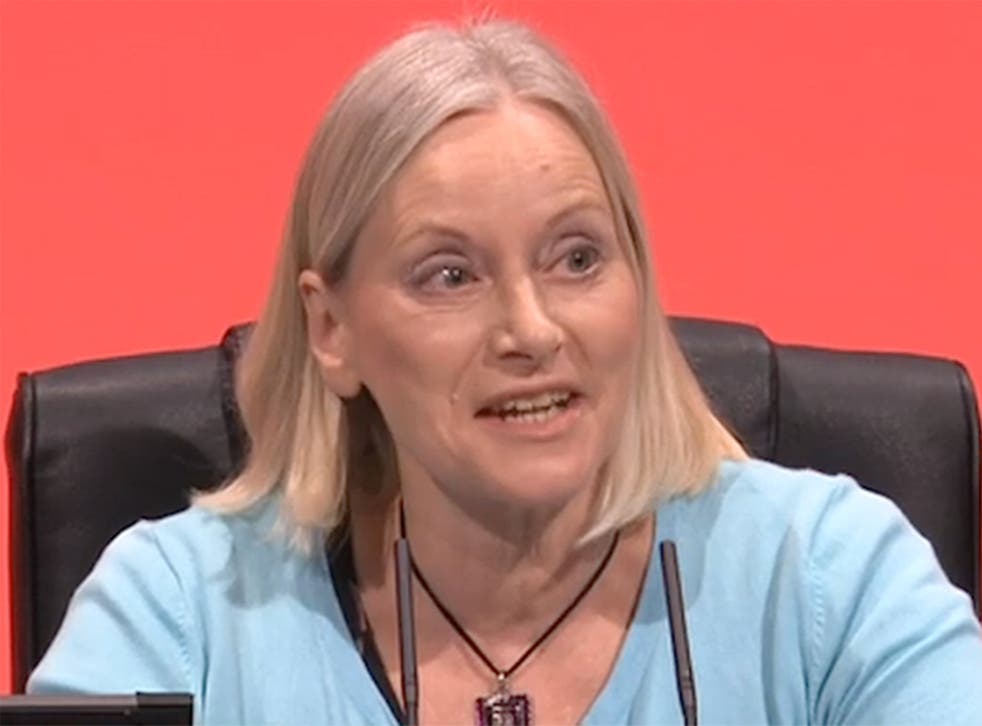 A Momentum official has sparked a row after calling on Labour to disaffiliate from trade unions who "stick it" to the rank and file members of the party.
Christine Shawcroft, who was elected by the party's governing body last month to head up Labour's disputes body, also said she was throwing her support behind Momentum founder Jon Lansman in the contest for general secretary.
Her comments come amid a division on the left of the party over the desired successor of Iain McNicol, who stood down after seven years in the position last month.
Mr Lansman thew his hat into the ring last week and decided to run against Jennie Formby, the chosen candidate of Unite, in order to "open up the contest" and encouraged other Labour members to apply for the top job.
On her Facebook post, seen by Politics Home, Ms Shawcroft, who is on Momentum's steering committee, wrote on Tuesday evening: "I was supporting Jon Lansman for general secretary before today's NEC subcommittee meetings, but after today I am even more determined. Only someone from his tradition will support the rights of rank and file members in the CLPs.
"The major trade unions are actively opposed to us, a very cursory examination of trigger ballots in mayoral 'selections' will tell you that. Look at their track records before you rush to support someone."
In response to one user, Ms Shawcroft added: "Unfortunately, reviewing the disciplinary process is going to come too late for some of our comrades.
"This is why I am supporting Jon Lansman, or a woman in that tradition, for general secretary. Nothing would induce me to support a candidate from a major trade union, they stick it to the rank and file members time after time after time. It's also time to support disaffiliation of the unions from the Labour Party. The party belongs to us, the members.
Dave Prentis, the general secretary of Unison, however, said Ms Shawcroft's comments were wrong on "every count".
"Trade unions are an integral and historic part of the Labour Party," he said. "This is no time for this kind of divisive nonsense – we need to focus on getting Labour elected."
But Momentum immediately distanced itself from Ms Shawcroft's remarks, making clear her views do not represent the organisation.
UK news in pictures

Show all 50
A spokesperson told The Independent: "We're very proud of the strong links Momentum has to the trade union movement. From running digital campaigns in support of striking McDonald's workers to making viral videos highlighting Tory cuts to public services with the CWU and the TSSA – we believe Labour is strongest when trade unions and member organisations work closely together.
"The unions were central to the formation of the Labour Party, and every day they represent millions of people fighting for better rights at work.
"We firmly support Labour's trade union link, and hope to see more unions affiliate in the future."
Register for free to continue reading
Registration is a free and easy way to support our truly independent journalism
By registering, you will also enjoy limited access to Premium articles, exclusive newsletters, commenting, and virtual events with our leading journalists
Already have an account? sign in
Join our new commenting forum
Join thought-provoking conversations, follow other Independent readers and see their replies