Scottish independence supporters are 'bullying mobs', says MP Jim Murphy after getting hit by eggs
Jim Murphy was hit by eggs and heckled by opponents
Nigel Morris
Friday 29 August 2014 19:59 Comments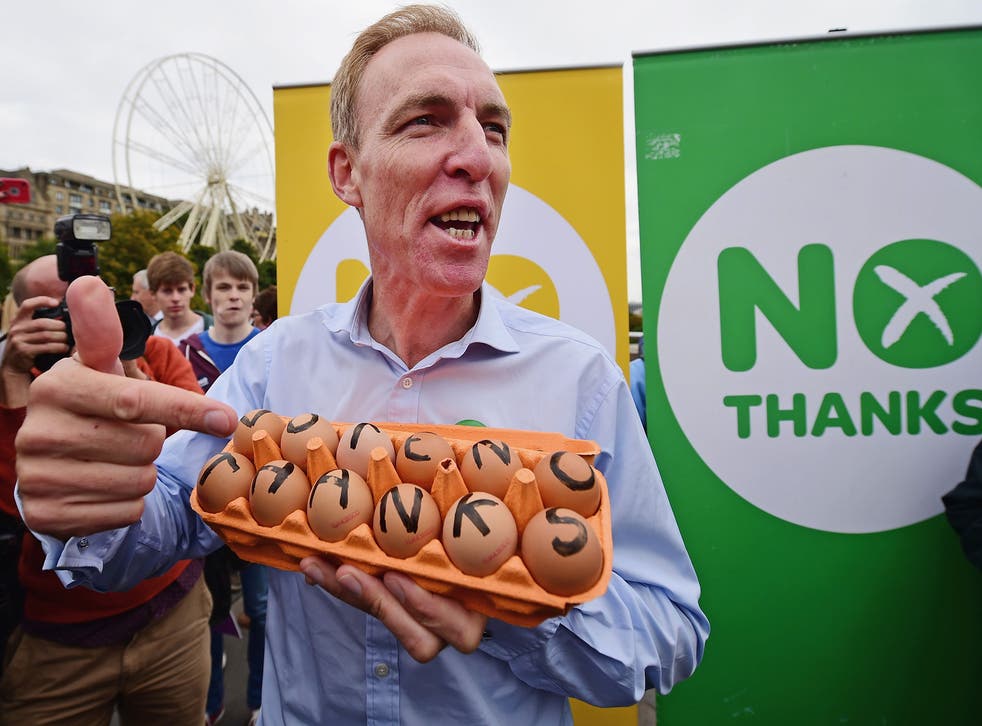 A prominent Scottish MP accused supporters of independence of bully-boy tactics yesterday as he suspended his 100-date speaking tour of the country.
Jim Murphy was hit by eggs and heckled by opponents as he appeared at the 79th stop, the Fife town of Kirkcaldy.
He said he had also been challenged recently to fights and labelled a terrorist, quisling and defender of paedophiles.
In Motherwell, tables of pro-Union campaign literature were overturned by opponents. Mr Murphy, the shadow International Development Secretary, claimed Yes Scotland was co-ordinating appearances by mobs of noisy and abusive protesters at his meetings. The egg-throwing was condemned by the Scottish First Minister, Alex Salmond, who said he had been subjected to "road rage" intimidation from an opponent of independence.
He added: "I don't make the death threats from a few daft people I've had an issue, because I know 99.9 per cent of people in Scotland are enjoying and being energised by a wonderful political debate."
Scottish Independence: For and against

Show all 24
Mr Murphy began his "100 towns in 100 days" tour in June, getting on a soapbox made of two Irn-Bru crates to make the case for the Union.
He said: "In the past fortnight, things have taken a sinister turn for the worse, and it has been organised and orchestrated by Yes Scotland."
He claimed the intimidation was being co-ordinated via social media sites such as Facebook and by local Yes Scotland offices. The tour has been suspended for 72 hours to seek guidance on safety from police, who are already investigating the Kirkcaldy incident.
Speaking during his visit to Scotland, David Cameron condemned the incident. He said: "The responsibility for the people doing these things lies with the people doing these things."
A Yes Scotland spokesman said: "For the most part, the independence debate has been conducted in a responsible, peaceful and enthusiastic manner with only a very small minority on both sides behaving badly. "The eyes of the world are on Scotland and it is vital that everybody – regardless of which side of the debate they are on – helps to show off Scotland at its best."
With less than three weeks to the referendum on 18 September, a survey suggested that supporters of independence had narrowed the No camp's lead to just six points.
Mr Salmond is judged to have scored a decisive victory in his televised encounter five days ago with Alistair Darling, the leader of Better Together.
The First Minister claimed that the last seven days had been the "defining week" of the campaign.
He said neither Mr Darling nor the Prime Minister had been able to identify a single new power to create jobs that would come to Scotland in the event of a No vote, which he said was the fatal flaw in the No campaign.
Register for free to continue reading
Registration is a free and easy way to support our truly independent journalism
By registering, you will also enjoy limited access to Premium articles, exclusive newsletters, commenting, and virtual events with our leading journalists
Already have an account? sign in
Join our new commenting forum
Join thought-provoking conversations, follow other Independent readers and see their replies