MPs accuse Jeremy Corbyn of giving David Cameron an easy ride in PMQs because of Labour 'loyalty list'
Mr Cameron easily survived a potentially difficult session following last week's unravelling Budget
Andrew Grice
Wednesday 23 March 2016 23:48 Comments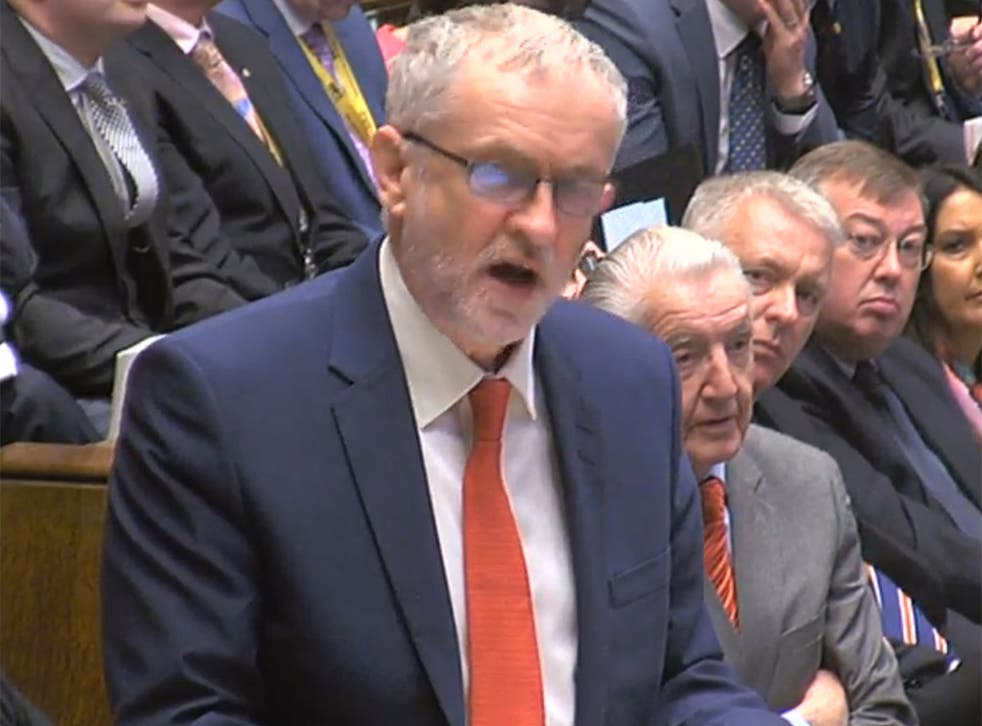 Furious Labour MPs accused Jeremy Corbyn of letting David Cameron off the hook after the Prime Minister exploited a list drawn up by Labour ranking the loyalty of all its MPs to the party leader.
Mr Cameron brushed off Mr Corbyn's attack at Prime Minister's Questions by repeatedly citing a "loyalty list" allegedly drawn up by the Labour leader's office. Mr Cameron easily survived a potentially difficult session following last week's unravelling Budget, the U-turn over disability benefit cuts and Iain Duncan Smith's resignation from the Cabinet. Mr Cameron said: "I thought I had problems".
Fewer than 20 of Labour's 232 MPs voted for Mr Corbyn to be party leader. The leaked list said his 19-strong "core group" included Mr Corbyn himself and "RIP Michael Meacher", a left-winger who died last October. Rosie Winterton, the Opposition Chief Whip, and Sadiq Khan, Labour's candidate in the May election for Mayor of London, were among 36 listed as "hostile."
John Woodock, chairman of Labour's backbench defence committee, who was ranked "hostile," tweeted: "F****** disaster. Worse week for Cameron since he came in and that stupid f****** list makes us into a laughing stock."
Michael Dugher, who was sacked as shadow Culture Secretary in January, said: "That 'list' is particularly stupid". Rachel Reeves, a former shadow Work and Pensions Secretary, described the list as "totally ridiculous and counter-productive". Pat Glass, Labour's spokeswoman on Europe, said: "The most important thing for me was it gave Cameron a shield at PMQs."
John Spellar, a former frontbencher, wore a self-made badge branding himself "core group negative" as he was listed. Some MPs jokingly suggested they had not been described as hostile enough towards to Mr Corbyn. "I am bemused; I want to appeal," said one frontbencher in the 56-strong "core group plus", seen as Mr Corbyn's "outer circle." This includes the Shadow Cabinet members Emily Thornberry, Owen Smith and Lisa Nandy.
Ed Miliband, the former Labour leader, and four current Shadow Cabinet members --Hilary Benn, Lucy Powell, Maria Eagle and Kerry McCarthy --were among 49 MPs in a "core group negative." Andy Burnham, Angela Eagle, and Chris Bryant were among 72 MPs listed as "neutral but not hostile".
Labour sent an email to its MPs saying: "This has nothing to do with Jeremy Corbyn's office and does not reflect his views. Jeremy Corbyn supports and works closely with the Chief Whip and the Whips' Office."
Labour denied that the list had been drawn up by Katy Clark, Mr Corbyn's political secretary. A Labour source said: "The reality is that the list has caused some problems, clearly, but it hasn't come from the leadership, it hasn't come from the leader's office and doesn't reflect the views of Jeremy Corbyn….There are no lists in the leader's office that categorise MPs and we have no knowledge of its origin." He added: "Katy Clark had no involvement in that list."
A similar "loyalty list" was drawn up by Labour for Tony Blair when he won a landslide victory at the 1997 general election. His allies admitted that they did not know much about the views of some Labour candidates who unexpectedly won Tory-held seats. Blairites feared that they might be left-wing and would rebel in Commons votes.
Register for free to continue reading
Registration is a free and easy way to support our truly independent journalism
By registering, you will also enjoy limited access to Premium articles, exclusive newsletters, commenting, and virtual events with our leading journalists
Already have an account? sign in
Join our new commenting forum
Join thought-provoking conversations, follow other Independent readers and see their replies