MPs accused of 'back-door party funding'
Public money is going into local political coffers when office space is rented from constituencies
Brian Brady
Saturday 24 August 2013 23:11 Comments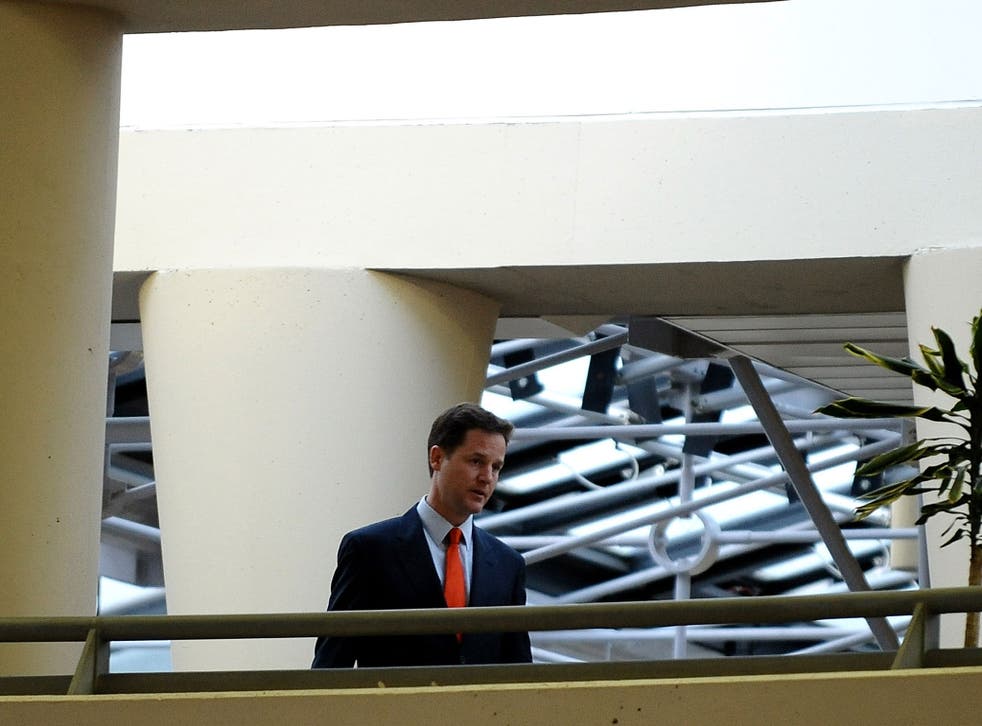 Parliament's expenses watchdog is to name scores of MPs who are channelling thousands of pounds of public money into their own party coffers, amid complaints that the practice amounts to "back-door party funding". The Independent Parliamentary Standards Authority (IPSA) is planning to publish details of more than 160 MPs who rent office space or administrative services from their local constituency party, as part of its campaign to crack down on the abuse of expenses regulations.
The amount of taxpayers' money finding its way to local parties has now soared beyond £1m a year.
The standards authority, having noted the "potential for a conflict of interests", is considering banning the practice and providing all MPs with office space in local council buildings instead.
An Independent on Sunday investigation has identified dozens of MPs, including Nick Clegg, Iain Duncan Smith and Chris Grayling, who pay their local parties thousands of pounds a year for offices or secretarial help. The MPs insist the arrangements are within the rules, claiming the deals represent a cost-effective method of maintaining a presence in their local area, as renting from their party colleagues is usually cheaper than the open market.
Critics claim the contracts in effect subsidise local party organisations which would otherwise struggle to balance their books. Constituency parties often use the expenses money to fund staff members who are shared with the MP.
Senior Tory MP Bernard Jenkin made an unsuccessful attempt to urge Parliament's standards watchdog to "abolish" the practice, stating: "There must be no impression that parliamentary expenses are being used as back-door funding for political parties."
The little-noticed funding stream was among practices targeted by the IPSA when it took over responsibility for MPs' allowances after the expenses scandal of 2009. The watchdog began forcing MPs to produce an independent valuation of the local party offices "which demonstrates that the MP is not paying higher than the market rent". The IoS understands that details of the contracts will be disclosed as part of a wider publication of MPs' office expenses.
But the IPSA is planning a more drastic solution. The authority's blueprint for a fairer expenses system states: "In the longer term, we are giving thought to a system in which the largest local authority within each constituency would provide an MP's office and basic equipment, with a standard reimbursement from IPSA." A former Conservative MP told The IoS that local party officials "directed" him to claim the money on his first day in Parliament. "They saw it as 'theirs'," he said. "It was a way of supplementing their income."
An analysis of annual accounts from hundreds of local constituency parties has revealed that the Lib Dems in Mr Clegg's Sheffield Hallam constituency reported that the Deputy Prime Minister paid them £8,700 for "office space sublet to MP" in 2012, the latest year for which figures are available. Work and Pensions Secretary Iain Duncan Smith's contribution to his local Conservative Association in Chingford was £19,474 "to cover costs in providing for his constituency duties", while in Epsom and Ewell, Justice Secretary Chris Grayling's local party recorded £3,693 in "payments from MP for non-political services".
The value of the MPs' contributions was underlined in Central Devon, where the local Tory party's 2010 annual return reported: "This year has seen a slight fall in our income, mainly due to lower fundraising activities. Later in the year, the MP started to contribute 40 per cent towards our office expenses, thus improving our cash position."
Matthew Sinclair, chief executive of the TaxPayers' Alliance, said: "There is something rather unseemly about MPs paying for office space or other facilities within the premises of their own local political party or association: it blurs the lines between their parliamentary duties and party political activities in a way that is very difficult to police."
A spokesman for the pressure group Unlock Democracy said the group was concerned about the long-term viability of funding parties at a local level. But he added: "We agree that the current set-up is unsatisfactory, not simply because it gives the impression of back-door funding for parties but because it also provides the incumbent MP's party an unfair advantage over their rivals."
Romford Tory MP Andrew Rosindell, who paid up to £3,000 to his local party, said: "In my case, I have no choice, as renting commercial premises in my constituency would be far too costly. If I did not share offices and facilities from my local association, it is most likely that I would not have a constituency office at all."
Register for free to continue reading
Registration is a free and easy way to support our truly independent journalism
By registering, you will also enjoy limited access to Premium articles, exclusive newsletters, commenting, and virtual events with our leading journalists
Already have an account? sign in
Join our new commenting forum
Join thought-provoking conversations, follow other Independent readers and see their replies