MPs' Iraq vote: Cameron warns Isis air strikes not enough to defeat 'bunch of psychopathic terrorists'
PM warns: 'There isn't a walk-on-by option'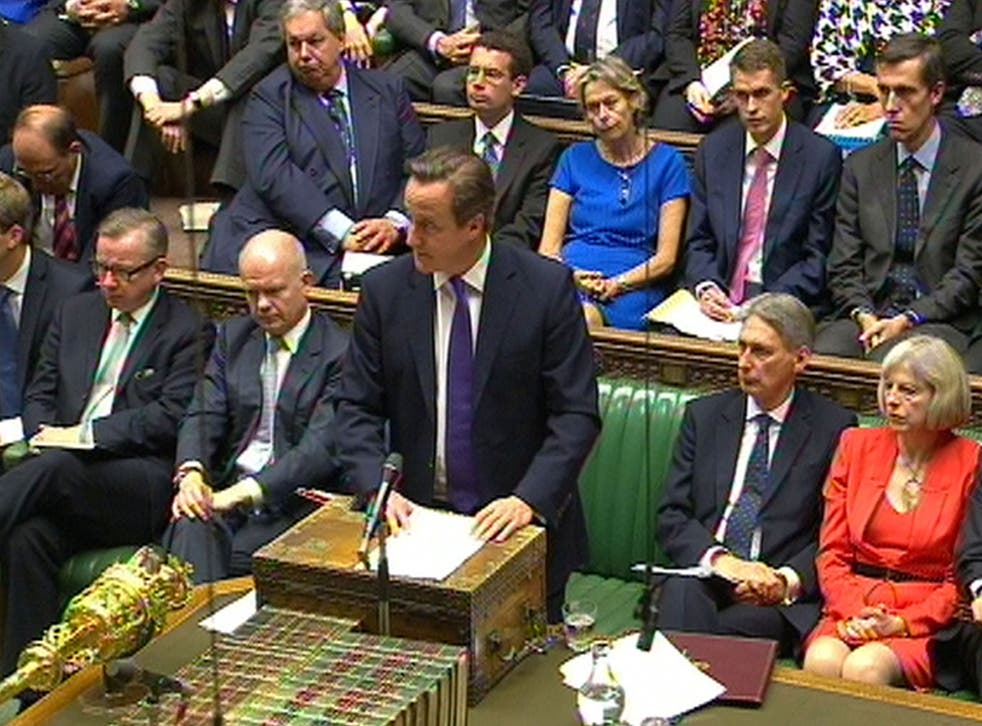 David Cameron warned today that Isis had declared war on Britain and the West as he set out the case for air strikes on militants in northern Iraq – and signalled that he was prepared to extend strikes to include Syria.
Opening an emergency Commons debate following the recall of Parliament, he told MPs: "There isn't a walk-on-by option, there isn't an option hoping it will go away."
MPs are expected to give overwhelming backing this afternoon for Britain to join US-led bombing raids in Iraq, with the first RAF planes likely to go into action this weekend.
But several MPs questioned the wisdom of the move, doubting whether Iraqi troops were disciplined and determined enough to take the fight to Isis fighters following bombing raids.
Speaking at the beginning of the session, the Prime Minister said there is a strong case for the UK to do more in Syria, saying there is "no legal barrier".
He told MPs: "I do believe there is a strong case for us to do more in Syria. But I did not want to bring a motion to the House today which there wasn't consensus for."
However, he said he would be prepared to intervene in Syria without seeking the approval of Parliament should there be a "humanitarian catastrophe".
Mr Cameron, who repeatedly stressed that UK ground troops would not be deployed to the warzone, warned that British military involvement would last years rather than months.
"The hallmarks of this campaign will be patience and persistence, not shock and awe," he said.
"We are dealing with a generational struggle caused by the perversion of one of the world's great religions, Islam."
Referring to Isis (also known as Islamic State) fighters as "psychopathic terrorists who want to kill us", he said: "This is not a threat on the far side of the world. Left unchecked, we will face a terrorist caliphate on the shores of the Mediterranean, bordering a Nato member [Turkey], with a declared and proven determination to attack our country and our people.
"This is not the stuff of fantasy - it is happening in front of us and we need to face up to it."
Mr Cameron said that Isis had "already murdered one British hostage and is threatening the lives of two more", plotted attacks which would have affected British tourists and were "a terrorist organisation unlike those we have dealt with before".
Ed Miliband, the Labour leader, said Britain "cannot simply stand by against the threat of Isil." He said: "In acting against them, we need to learn the lessons of the past and we should be clear about this with the British people - that means a comprehensive strategy, humanitarian and political, as well as military, and crucially routed in the region."
He said any action against Isis targets in Syria ought to be taken only with the backing of a United Nations resolution.
Register for free to continue reading
Registration is a free and easy way to support our truly independent journalism
By registering, you will also enjoy limited access to Premium articles, exclusive newsletters, commenting, and virtual events with our leading journalists
Already have an account? sign in
Register for free to continue reading
Registration is a free and easy way to support our truly independent journalism
By registering, you will also enjoy limited access to Premium articles, exclusive newsletters, commenting, and virtual events with our leading journalists
Already have an account? sign in